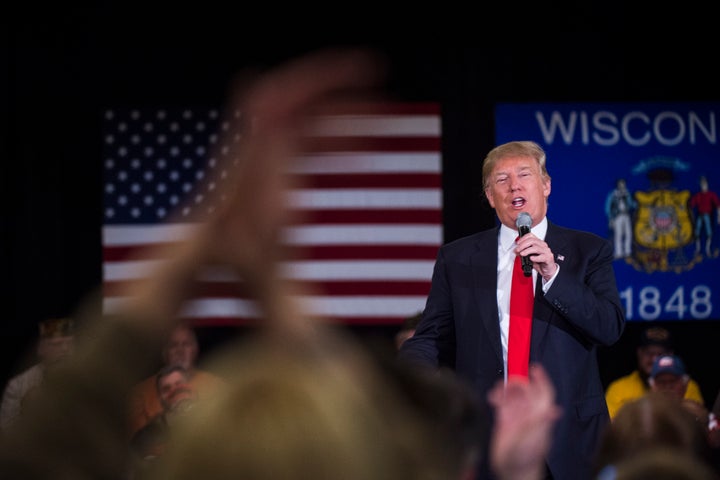 Dual interviews with Donald Trump published Saturday gave different perspectives of the GOP front-runner: The Washington Post exploring what Trump would do as president, and The New York Times' Maureen Dowd pressing the mogul on some of the many controversies in his campaign.
Much like how he has upended the 2016 campaign, he would seek to shake up nearly every aspect of domestic and foreign policy: taxes, trade, military alliances, the economy, nuclear proliferation and foreign relations.
Speaking with Woodward and Costa, Trump sounded the alarm about the economy, saying that despite indicators of improvement, the U.S. is heading for a "very massive recession." His administration would cut taxes, and Trump said that he would eliminate the $19 trillion national debt "over a period of eight years," which economists say is impossible. "I'm renegotiating all of our deals, the big trade deals that we're doing so badly on," Trump said.
Trump also broke an unwritten rule of American political leadership in his interview with Costa and Woodward, saying "it's a terrible time right now" to invest in the stock market. A comment like this reminds Wall Street, and Washington, of how inexperienced Trump is with presidential protocol. American presidents (and party leaders) are expected to be vocal, global cheerleaders for American markets, and to use their platform to encourage investors to buy into U.S. companies, stocks and products.
Trump went on to reveal that he would have high-level government employees to sign nondisclosure agreements, to keep a lid on what is said about his administration.
Without condemning the violence that has followed his campaign events, Trump said that he had been trying to tone it down: "We've purposefully kept the crowds down this past week."
"I bring rage out. I do bring rage out. I always have," Trump confessed, saying that he had been "nasty" and "rough" in debates. But he maintained he could mend fences and build the coalition needed to govern. "I've had many occasions like this, where people have hated me more than any human being they've ever met," he said. "And after it's all over, they end up being my friends."
He cited stories of Muhammad Ali and Vince Lombardi to justify his approach of first winning, then working on gaining the respect of others.
As far as alliances abroad, Trump said it was time for the U.S. to reconsider its involvement in international groups, including NATO -- which he called "obsolete" -- even in what he accepts will be a world where nuclear weapons are a fact of life.
In a video, Woodward, who reported on the Watergate scandal for the Post, said of the interview, "He was in the mood, 'I wanna answer all your questions.'"
Dowd, a New York Times columnist, took a different approach with Trump, holding him to the fire on some of the more incendiary aspects of his campaign, and provoking a rare expression of contrition. Trump admitted that it was a mistake to retweet an unflattering image of the wife of Sen. Ted Cruz (R-Texas) last month: "If I had to do it again, I wouldn't have sent it."
When Trump tried to dismiss the incident by saying he didn't view the photo "necessarily as negative," Dowd put her foot down, saying, "It was clearly meant to be nasty."
Dowd went after Trump on the "draconian" position he took on abortion this week, asking him if he was ever involved with a woman who underwent the procedure. Trump, formerly pro-abortion rights, declined the question.
The next big contest for Trump is Tuesday's primary in Wisconsin, where he trails Cruz in the polls. 
Calling all HuffPost superfans!
Sign up for membership to become a founding member and help shape HuffPost's next chapter
BEFORE YOU GO
PHOTO GALLERY
Trump On HuffPost Front Pages