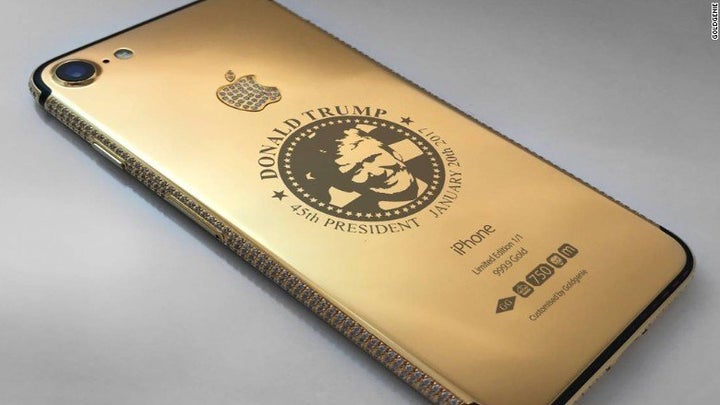 What can you buy for that extremely flush Republican on your shopping list? Jet to the United Arab Emirates and fork over $155,000 for a diamond-encrusted, gold-plated, Donald Trump-stamped iPhone 7.
The phones, which feature a photo of Trump's face, are being created by Goldgenie, a company that will gold-plate just about anything. Its motto is "Luxury gifts for the ungiftable."
The Trump iPhone was born when a Chinese woman requested one in a Goldgenie store in Sharjah, near Dubai, according to Frank Fernando, the company's managing director. He told CNN Money that he believes the woman is hoping to give it to Trump after his inauguration.
There have since been another nine orders for the phones.
"There are very wealthy, high-net-worth individuals all over the world and sometimes it's very difficult to buy gifts for them because they have everything," Fernando said.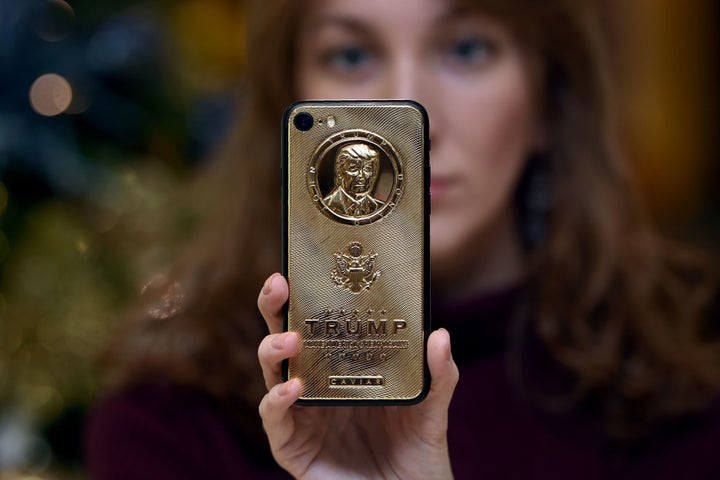 Is $155,000 a trifle high? Russian-Italian company Caviar Phones is offering a less-gold-plated smartphone with a relief of the president-elect's image and the slogan "Make America Great Again" for $3,000.
The company honored Russian President Vladimir Putin with a similar phone, the Moscow Times noted.
A Caviar representative told journalists that the Trump phone is a symbol of hope for better Russian-U.S. ties and that the company would do "everything possible" to deliver one of the phones directly to the president-elect.
The flashy phones are among a range of Trump-related products offered this holiday season, from the cheap to the expensive.
On the other side of the political aisle, some Trump opponents are buying friends and relatives who voted for him "get-back gifts" — mostly donations to organizations like Planned Parenthood and the Sierra Club in the name of the Trump supporter.
"With my oldest brother, who I know voted for Trump, I'm going right for the jugular. I'm donating to the Democratic National Committee on his behalf," Hillary Clinton voter John Tereska told the Guardian.
"It's revenge giving," he said.
Popular in the Community