The U.S. will not extend waivers on sanctions targeting Iran's nuclear program, effectively ending its compliance with the 2015 international agreement under which Iran accepted restrictions on its nuclear program in exchange for economic relief.
"I am announcing today that the U.S. will withdraw from the Iran nuclear deal," Trump said at the White House. "We will be instituting the highest level of economic sanctions."
Trump accused the deal ― officially called the Joint Comprehensive Plan of Action (JCPOA) ― of being poorly negotiated and lacking enforcement mechanisms. He said it allows Iran to develop a nuclear weapon in a short time, but offered no evidence to back these assertions. Trump also cited Israeli Prime Minister Benjamin Netanyahu's April 30 presentation on Iran's nuclear program, which alleged that Iran lied about its past nuclear activities before negotiating the nuclear deal.
"At the heart of the Iran deal was a giant fiction: that a murderous regime desired only a peaceful nuclear energy program. Today, we have definitive proof that this Iranian promise was a lie," Trump said.
Nuclear experts and European officials criticized Netanyahu's speech for pandering to Trump and offering essentially no new information on Iran's nuclear activities. Much of Netanyahu's presentation centered on information that was publicly available in a 2007 declassified intelligence report, and Netanyahu did not state that Iran was in current violation of the deal.
European officials, who pushed for Trump to uphold the deal, condemned the president's decision to pull out. French President Emmanuel Macron tweeted shortly after Trump's speech that France, Germany and the United Kingdom regret the U.S. decision and that "we will work collectively on a broader framework." The European Union's top diplomat Federica Mogherini said that the deal was working and fulfilling its promise.
Former President Barack Obama, who touted the Iran deal as one of his chief foreign policy accomplishments, put out a statement criticizing Trump's decision to undo the agreement.
"Walking away from the JCPOA turns our back on America's closest allies, and an agreement that our country's leading diplomats, scientists, and intelligence professionals negotiated," Obama said.
It is not immediately clear what will happen next. The 2015 nuclear agreement was negotiated among Iran, the U.S. and five other countries — the U.K, France, Germany, China and Russia ― which urged the U.S. not to withdraw. Last month, Iranian Foreign Minister Javad Zarif suggested that if the U.S. pulled out of the nuclear accord, his country could also exit the deal and resume its nuclear program at a "much greater speed." Iran has no reason to continue to abide by the agreement if the economic benefits "start to diminish," he said.
But most of the economic benefits Iran receives through the nuclear deal do not come directly from the U.S., which maintains a primary embargo against Iran. When Trump previously waived sanctions, he suspended secondary sanctions, which penalize other countries for doing business with Iran.
"If you take away U.S. sanctions relief, you are taking away probably the most powerful incentive the Iranians had to do their part," said Richard Nephew, a former State Department official who worked on Iran sanctions policy.
When Trump threatened to pull out of the nuclear agreement last year, the European Union's ambassador to the U.S., David O'Sullivan, warned that the EU could invoke a blocking statute that would protect European businesses from U.S. secondary sanctions. Theoretically, this means that Iran could continue receiving economic benefits under the 2015 deal and would be compelled to maintain the restrictions on its nuclear program.
But implementing this blocking mechanism or other steps to preserve the deal would be technically difficult and diplomatically risky for European countries.
"It's going to be a herculean task," said Reza Marashi, a National Iranian American Council analyst and former State Department official who just returned from two weeks of meeting with officials and experts in Europe.
"The real meat on the bones would take at least a year to implement, and they have no plan for anything ... they've spent most of their energy trying to figure out a way for Trump to stay in."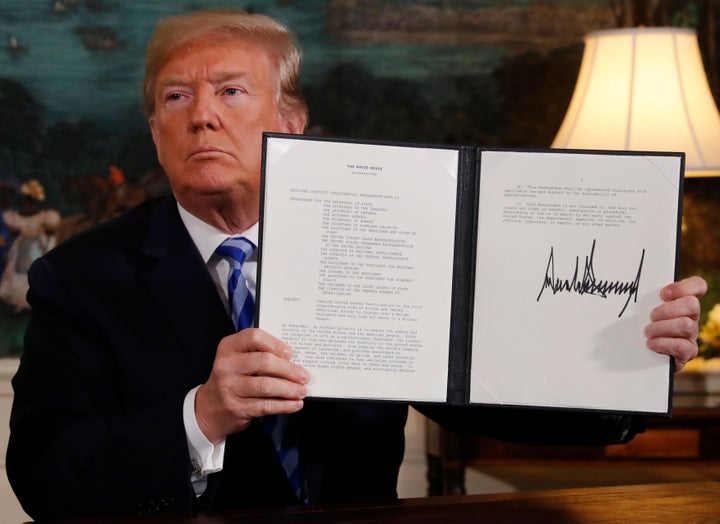 Iranian President Hassan Rouhani said after Trump's announcement that Iran will continue its commitment to the deal and negotiate with the remaining countries. If talks fail, he said that Iran could once again begin enriching uranium. Ahead of Trump's announcement, Rouhani warned that Iranians could face "some problems" in the coming months.
The International Atomic Energy Agency, which monitors the use of nuclear energy, has verified Iranian compliance with the agreement multiple times since 2015, most recently in March. Defense Secretary James Mattis, an outspoken critic of the Iranian government, testified before Congress on April 26 that the nuclear deal provided "robust" measures to inspect Iran's nuclear program and verify that it is complying with the deal.
Trump has called the Iran nuclear agreement the "worst deal ever" and has long pressed his advisers to come up with an alternative strategy to contain Iran's nuclear efforts. When his advisers failed to deliver, Trump ordered Congress in October to pass legislation that would unilaterally change U.S. commitments under the deal. Two Republican lawmakers briefly tried but failed to attract enough supporters. So Trump turned to the Europeans with an ultimatum: Find a way to fix the deal before May 12, when sanctions waivers would need to be extended, or the U.S. will walk away.
Trump wanted the Europeans to cobble together a supplemental agreement that would impose further limits on Iran's ballistic missile program and get rid of the deal's sunset clauses — expiration dates on some of the restrictions on the country's nuclear program.
Getting rid of the sunset provisions would require fundamentally changing the terms of the 2015 deal — a move that would require approval from all parties.
The leaders of the U.K., Germany and France have argued that the U.S. should remain in the nuclear deal and work with European countries to address Iran's missile program and develop a plan for what to do after parts of the agreement expire.
Even as the Europeans worked to create a solution that would appease Trump, he ousted two of his advisers who reportedly advocated sticking with the JCPOA: Secretary of State Rex Tillerson and national security adviser H.R. McMaster. They were replaced by Mike Pompeo and John Bolton, respectively, hawkish figures who have pushed for military confrontation with Iran.
On April 30, Netanyahu said Israeli intelligence had uncovered a trove of documents that showed Iran lied about its past nuclear work when it signed the nuclear agreement in 2015 — which is widely acknowledged, including by proponents of the nuclear deal.
The dramatic televised presentation appeared to be part of an effort to bolster Trump's argument for exiting the nuclear deal. Israeli officials briefed Trump on the documents two months ago, Barak Ravid of Israel's Channel 10 News reported.
In some ways, Netanyahu's presentation highlighted key reasons to keep the 2015 deal alive, nonproliferation experts argued.
"If you think Iran lied — which it did — then the last thing you should ever contemplate doing is killing the JCPOA, removing the limits that it places on Iran's nuclear program, and cutting off the extraordinary access that the agreement provides to the IAEA," Jeffrey Lewis, the founder of the nonproliferation blog Arms Control Wonk, wrote in Foreign Policy on May 1. "If you do that, Iran's nuclear program is very likely to end up looking like North Korea's."
Akbar Ahmed contributed to this report.
Popular in the Community