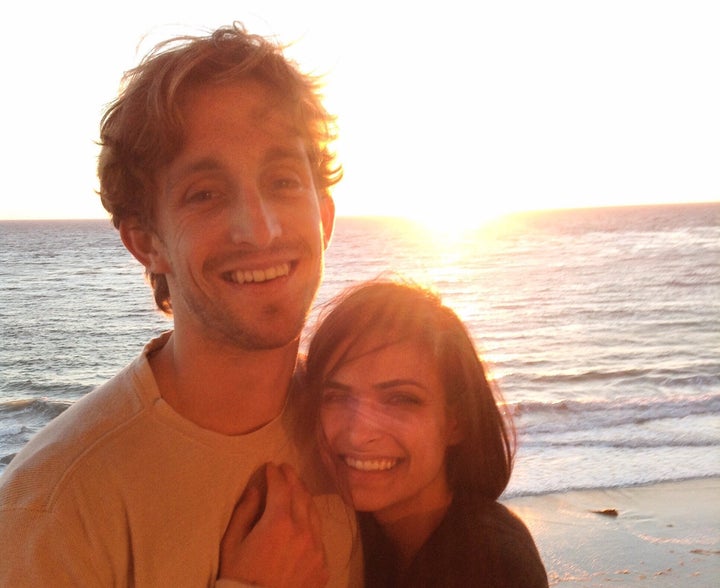 Planning a big, multicultural interfaith wedding is stressful enough for any bride. Last week, Iranian-American bride Nassim Alisobhani received the news that her nuptials will also be complicated by international politics.
Alisobhani, a 27-year-old Muslim woman from Newport Beach, California, is marrying her fiance, Justin Yanuck on May 20, 2017, during a wedding that aims to bring together their Persian and Jewish heritages. The interfaith couple has encountered a number of stumbling blocks while planning their wedding, but through it all, the one thing Alisobhani was looking forward to the most was having her entire family together in the same room for the first time in decades.
But President Donald Trump's executive order on immigration may prevent that from happening. The order bans citizens from seven Muslim-majority countries, including Iran, for at least 90 days. The particulars of that ban are still being parsed through, as legal challenges to the order emerge around the country.
In addition to temporarily targeting these seven countries, the executive order also asks the Secretary of Homeland Security, the Secretary of State and the Director of National Intelligence to review the United States' visa and admission procedures and to come up with a list of countries who don't comply with requests for information. Nationals of those countries are at risk of being banned in the future.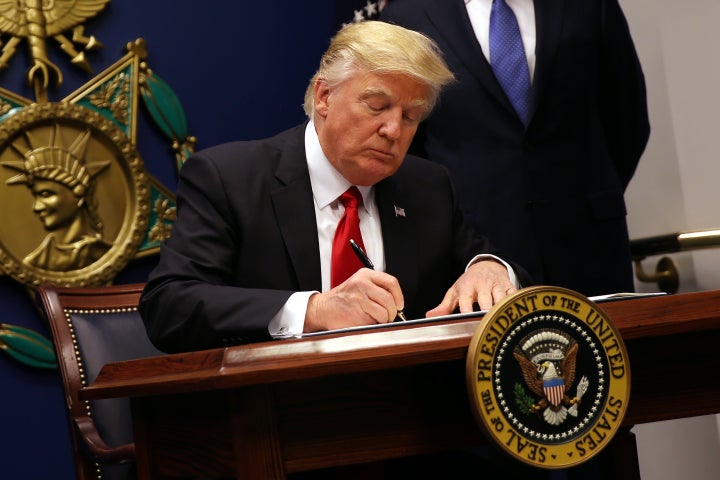 When she heard the news, Alisobhani immediately thought of some of her closest family members, who have dual citizenship with Iran. The executive order has left Alisobhani worried that some of her closest family members won't be there for her big day.
Iranian-Americans are concerned about whether people with Iranian nationality who also hold valid passports from non-restricted countries will be allowed to the enter the United States. The State Department initially stated that people with dual citizenship from one of the seven banned countries would be banned. But the Department of Homeland Security later said that dual nationals with visas and passports from a non-restricted country would be allowed to enter.
Because of Iran's policies about nationality, anyone born in Iran, or born to an Iranian father, is considered to be an Iranian national. It's very difficult to renounce Iranian citizenship. Immigrants who move to other countries often end up getting dual citizenship, which is unrecognized by Iran.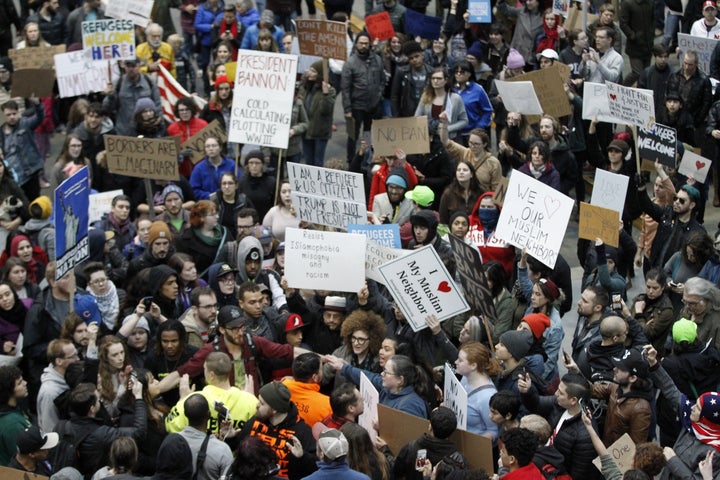 After the Iranian Revolution in 1979, Alisobhani said her extended family spread out all over Europe. She has family members in France, Switzerland, Austria, Germany, Sweden and the U.K.
"We really wanted this to be a celebration, not just a wedding," Alisobhani told The Huffington Post. "I could care less about the wedding. It's about having everyone together."
"There are different reports coming in meaning that the policies are not being
implemented consistently," Rezvani wrote in an email. "The good thing is that the dual citizens should be allowed to board their flights and arrive to the US. Once here, the hope is that they will be admitted with their 'other' passport."
Still, Rezvani said that it's possible that dual citizens admitted on the non-restricted country's passport will face scrutiny and be detained at the airport. And after the 90 days of the ban are over, she isn't sure what's in store for dual nationals with Iranian heritage, or how the U.S. will handle people whose visas are expired. She's also concerned about the review of visa admission procedures currently being conducted by the U.S. government. Because of Iran's tense relations with the United States, she's worried Iran won't comply with the U.S.'s requests for information ― meaning Iran could make a forthcoming list of countries whose nationals could be denied entry.
"We sincerely hope the ban will be lifted and the applying and processing of visas will resume ― with an even bigger backlog of course," she said. "It's such a sad situation that seems put in place for worse things to happen."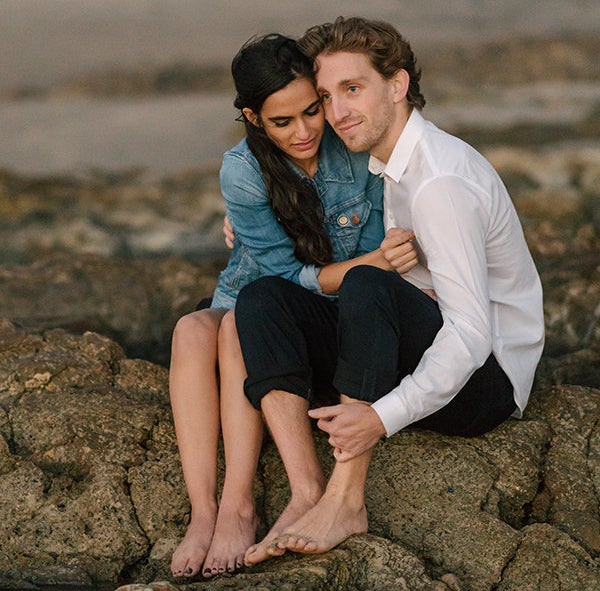 Trump's ban is expected to affect the lives of thousands of refugees and immigrants seeking to build a new life in America. While her story is just a small part of that, Alisobhani said she wanted to come forward with her story to showcase the many ways the ban is affecting America's immigrant communities.
"It just feels like this is a real-life example of the effects of the [ban]," she said. "It's not something so serious, but it's something people can relate to and sympathize with."
For Alisobhani's family, the ban on immigration feels all too familiar. Her mother's wedding took place in 1986, when tensions between the United States and Iran were high and movement between the two countries was restricted. Many her mother's family members were unable to attend the wedding. Coming from a big family of six siblings, the situation left Alisobhani's mother feeling alone in a new country.
Knowing that the same thing could happen to her daughter has left the mom "devastated," Alisobhani said.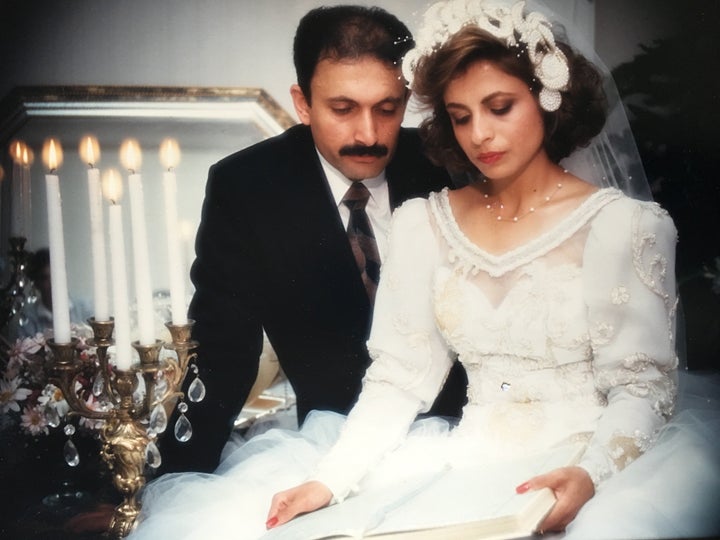 "My parents' wedding was great, but my mom always spoke of it as a sad moment for her," Alisobhani said. "I'm not going to be as lonely as her, but it's still going to be a dark spot."
But, Alisobhani said, it's more than just about her family ― it's about the Syrian refugees who are being turned away, students whose educations are at risk of being disrupted, and others looking to come to America.
"These are great people who love America," she said. "It's just not fair to treat someone like this. "