As the political press focused on Donald Trump's contradictory statements about abortion Wednesday, his campaign quietly released an unusual letter from his tax lawyers claiming the businessman has been under "continuous examination" by the IRS since 2002.
The letter, signed by Sheri Dillon and William Nelson of the firm Morgan, Lewis & Bockius, gives no advice to Trump on his refusal to release any of his tax returns to the public. Every presidential nominee since Jimmy Carter has publicly disclosed at least a few years of tax returns.
But the lawyers' three-paragraph letter does provide official-sounding backup to Trump's claims that he's being audited, so he can't release his returns.
Trump's tax returns have been under "continuous examination" by the IRS since 2002, "consistent with the IRS' practice for large and complex businesses," the lawyers wrote.
IRS examinations of Trump's tax returns from 2002 to 2008 have been "closed administratively," the lawyers wrote, "without assessment or payment." That means the examination of those returns is finished.
IRS examinations of returns for the years since 2009 are "ongoing," the lawyers said.
But here's the catch: The lawyers said Trump's recent tax returns -- the ones the IRS is still auditing -- are just extensions of his older returns, because they include "items that are attributable to continuing transactions or activities that were also reported on returns for 2008 and earlier."
"In this sense, the pending examinations are continuous of prior, closed examinations," the lawyers wrote.
This gives Trump legal backing for claiming all his returns are being audited, not just those under active examination.
Trump's argument for not releasing his returns is silly for a few reasons, chiefly that there is absolutely no reason why a person being audited can't release tax returns to the public. The returns belong to Trump. And while the IRS can't release confidential taxpayer information, Trump could do what he wants.
Listening to Trump speak at a GOP debate in late February, you'd think he couldn't wait to release his returns. "As far as my return, I want to file it, except for many years, I've been audited every year," he told moderators. "I will absolutely give my return, but I'm being audited now for two or three [years of returns] now so I can't."
Shortly after Trump said he was being audited for the last few years, Mitt Romney, the GOP's 2012 presidential nominee, tweeted that Trump should release "earlier returns no longer under audit."
This appears to be what the letter from Trump's lawyers was helping him to avoid. By having his lawyers lump together 13 years of his tax returns into one giant "continuous" audit, and then claiming that, for some reason, he can't release tax returns that are being audited, Trump is saying he can't release any of his returns.
The lawyers' letter is dated March 7, 2016, raising questions about why the Trump campaign waited three weeks before releasing it. A campaign spokeswoman declined to comment on the timing.
The campaign released the letter as Trump tried to shake off controversy over his comments earlier in the day that women who have abortions should be punished if it ever became illegal. He later said abortion providers, not women, should face the consequences.
When the subject of his tax returns comes up again, which it surely will, expect to hear Trump dismiss the importance of returns. "You don't learn anything from a tax return," he said in February.
If that doesn't work, Trump may paint himself as a victim of bias at the IRS, a diversionary tactic he used on Feb. 25. "I'm always audited by the IRS, which I think is very unfair," Trump told CNN. "Maybe because of religion ... because of the fact that I'm a strong Christian, and I feel strongly about it. And maybe there's a bias."
The idea that the New York real estate mogul's personal income tax returns for a decade would be subjected to the same scrutiny the IRS placed on tax-exempt nonprofit social welfare groups is absurd. But that doesn't mean Trump won't say it.
"You see what's happened. I mean, you have many religious groups have been complaining about that," Trump said in February. "They've been complaining about it for a long time."
Read the full letter from Trump's lawyers below.
Support HuffPost
The Stakes Have Never Been Higher
Before You Go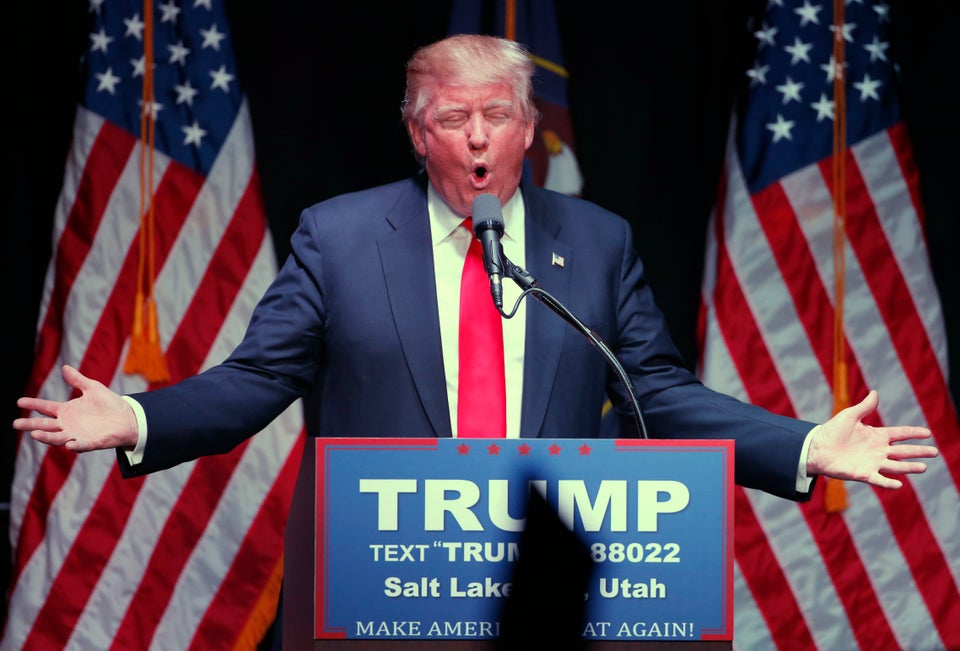 Scenes Of Hate At Donald Trump Rallies
Popular in the Community