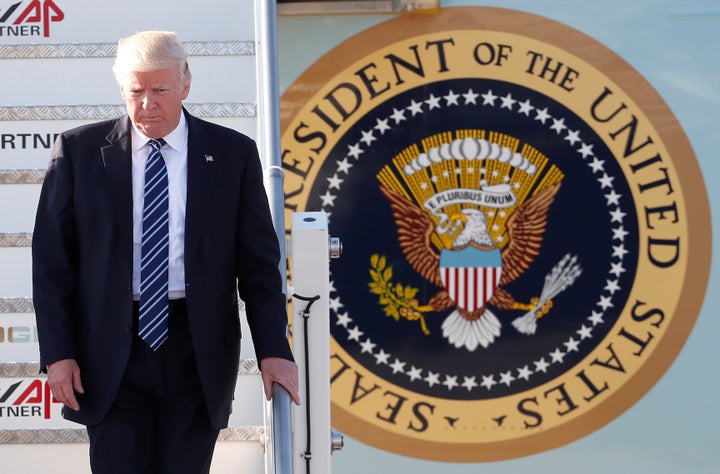 WASHINGTON ― President Donald Trump promised during his campaign to "drain the swamp" in Washington by cracking down on lobbyists who move into government jobs and back again. But now Trump's White House has sought to block the government's top ethics official from getting certain information about ex-lobbyists working in his administration. That means the public doesn't know if all staffers are abiding by Trump's own ethics pledge — or whether they're working to enrich their previous clients.
Trump signed an executive order in January banning executive branch appointees from working on a "particular matter" they lobbied on within the two previous years. The ban lasts for two years from the employee's appointment. The order also banned executive appointees from lobbying the agencies where they worked for five years after they leave office. But the Trump administration has broad power to grant exceptions, called waivers, to this rule, and Trump's team is trying to keep them secret.
The lobbying pledge may have led people to believe Trump was draining the swamp. But Trump doesn't seem to be doing that, a group of Democratic senators wrote to the president on April 20: "It appears you have undermined [the order] by freely and secretly issuing waivers to allow former lobbyists to work on matters that could benefit their former clients."
Shaub gave agencies a June 1 deadline to comply with the directive. Some agencies appear to have responded, but the White House sought to stop disclosure across the whole government, according to the New York Times. (A White House spokesperson did not immediately respond to a HuffPost request for comment.)
The public is already feeling potential consequences. Senior White House budget adviser Marcus Peacock was granted a waiver to the five-year ban, and was only recusing himself from lobbying the Office of Management and Budget for six months, Bloomberg reported last month.
Michael Catanzaro, a former industry lobbyist, faced potential conflicts as a White House energy adviser, as did Shahira Knight, a former lobbyist for Fidelity, with her work on the National Economic Council, according to a New York Times and ProPublica report from April. The White House did not say whether they were granted waivers.
At HHS, White House liaison Timothy Clark ran a political consulting firm whose prior clients included the pharmaceutical industry group PhRMA, according to a ProPublica report from March. Similarly, HHS Secretary Tom Price's chief of staff Lance Leggitt was registered as a lobbyist for 10 different companies or organizations involved in the health care industry as recently as the final three months of 2016.
Chad Wolf, now chief of staff at the Transportation Security Administration, was working as a lobbyist for Analogic Corporation, a company marketing airport security devices, through the end of 2016. Wolf's law firm amended its final filing of 2016 to remove him as a lobbyist on Jan. 19 ― one day before Trump's inauguration.
Byron Anderson was a lobbyist for the insurance holding company TransAmerica as recently as the end of 2016 before moving into the Department of Labor. At TransAmerica, Anderson lobbied to stop the Obama-era Department of Labor's fiduciary conflict of interest rules for investors.
On Tuesday, Democratic senators sent a letter to OMB's Mulvaney, urging him to withdraw his request for a stay or provide legal justification by May 25. They also said that if OMB does not stand down, they would attempt to seek the waivers themselves.
The secrecy "suggests that they [the White House] view ethics as a source of potential embarrassment more than a policy goal," John Wonderlich, executive director of the pro-transparency Sunlight Foundation, told HuffPost.
Calling all HuffPost superfans!
Sign up for membership to become a founding member and help shape HuffPost's next chapter