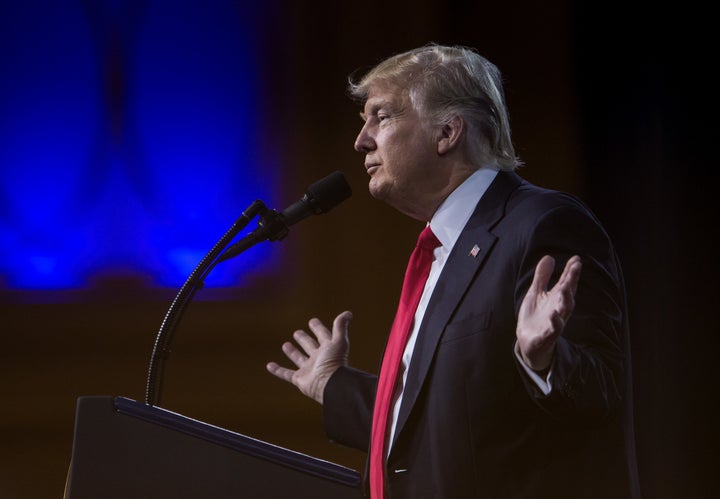 But Trump and his administration has had very little to say that would reassure America's 3.3 million Muslims that their leaders, institutions, and sacred spaces are safe.
Corey Saylor, a leader at the Council on American-Islamic Relations, said that this organization is waiting on Trump to speak out, after a significant rise in anti-Muslim incidents over the past year.
"It is [Trump's] duty to repudiate bias. President Bush went to a mosque to push back against anti-Islam sentiment in 2001," Saylor told HuffPost in an email. "We are still waiting for President Trump to demonstrate the same leadership."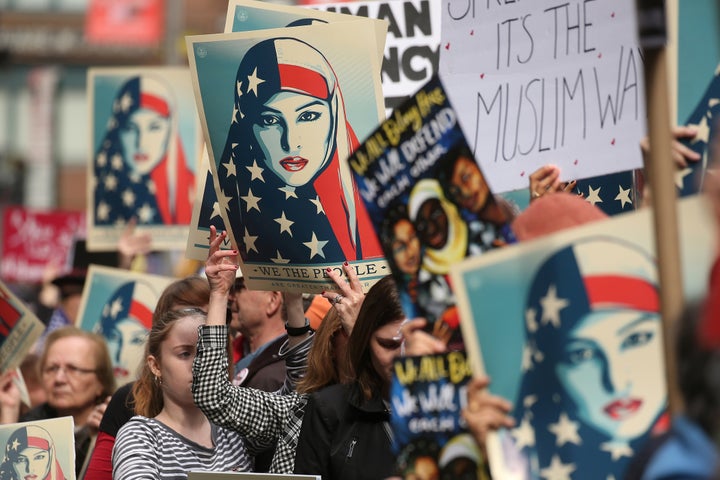 Trump's inability to understand the fears and concerns of American Muslims was apparent even before he won the election. During a presidential debate, when an American Muslim asked him directly how he would combat Islamophobia, he turned the question into an opportunity to rant about "radical Islamic terrorism" ― glazing over the woman's concerns about anti-Muslim bigotry.
Catherine Orsborn is the campaign director of Shoulder to Shoulder, an interfaith organization dedicated to ending anti-Muslim bigotry. She told HuffPost that it's clear from Spicer's comments that "there is a huge disconnect between what our fellow Americans are facing, in terms of anti-Muslim hate incidents, and how the administration is thinking about these issues."
"They're not demonstrating any level of concern for American Muslims to live in peace and security," Orsborn said. "And we need our government to not only speak out against attacks on Muslims, but also show by their actions that they do indeed respect the rights and freedoms of American Muslims as part of the fabric of our country."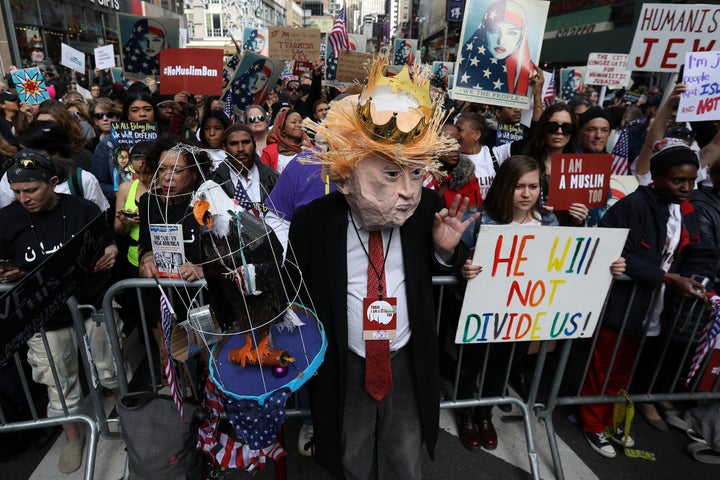 Rabiah Ahmed, communications director of the Muslim Public Affairs Council, told HuffPost that she holds Trump and his administration accountable for the increase in hate crimes against Jews, Muslims, and other minorities.
"It is their divisive rhetoric that has emboldened many to act out on their biases and feel justified in doing so," Ahmed wrote in an email. "And it is their responsibility to undo this increasing tide of hate that we are witnessing."
The Anne Frank Center for Mutual Respect is one of the Jewish organizations that have been calling for the administration to speak out on the rise of anti-Semitism in the country. The center called Trump's statement against anti-Semitism a "pathetic asterisk of condescension."
"Just as we saw the President denounce anti-Semitism earlier this week, albeit far overdue, we demand and expect the same be stated when it comes to anti-Muslim bigotry."
And like CAIR, the center is also waiting for Trump to speak out against the abuse that Muslims have had to face.
"The President's Islamophobia, marked by his repeated phony portrayals of Muslims as more prone to terrorism than others, is responsible for creating the incubator of hate that foments the crimes we are seeing against Muslims in America today," executive director Steven Goldstein told HuffPost.
Goldstein said that he was "devastated", but not surprised, by the President's silence in condemning anti-Muslim attacks. He called it the silence a "double-barreled danger" to Jews and Muslims.
"We have no pecking order in which we fight Antisemitism first, and Islamophobia and other hatred second," he said. "We have to save every Anne. Never again must mean never again to anyone. Never again is now."
Rabbi Jonah Dov Pesner, Director of the Religious Action Center of Reform Judaism, also called out Trump's silence on anti-Muslim bigotry.
"Just as we saw the President denounce anti-Semitism earlier this week, albeit far overdue, we demand and expect the same be stated when it comes to anti-Muslim bigotry," Pesner told HuffPost.
Orbsorn said that while a condemnation of Islamophobia is critical, interfaith activists like her need to see "more than words."
"We need to see action that demonstrates that American Muslim rights are given the same respect as that that should be given to Americans of any other religious faith or background," she said. "So, yes, we need to hear the condemnation of Islamophobia, but we're going to need more than words as well to stop the waves of hate crimes."
Before You Go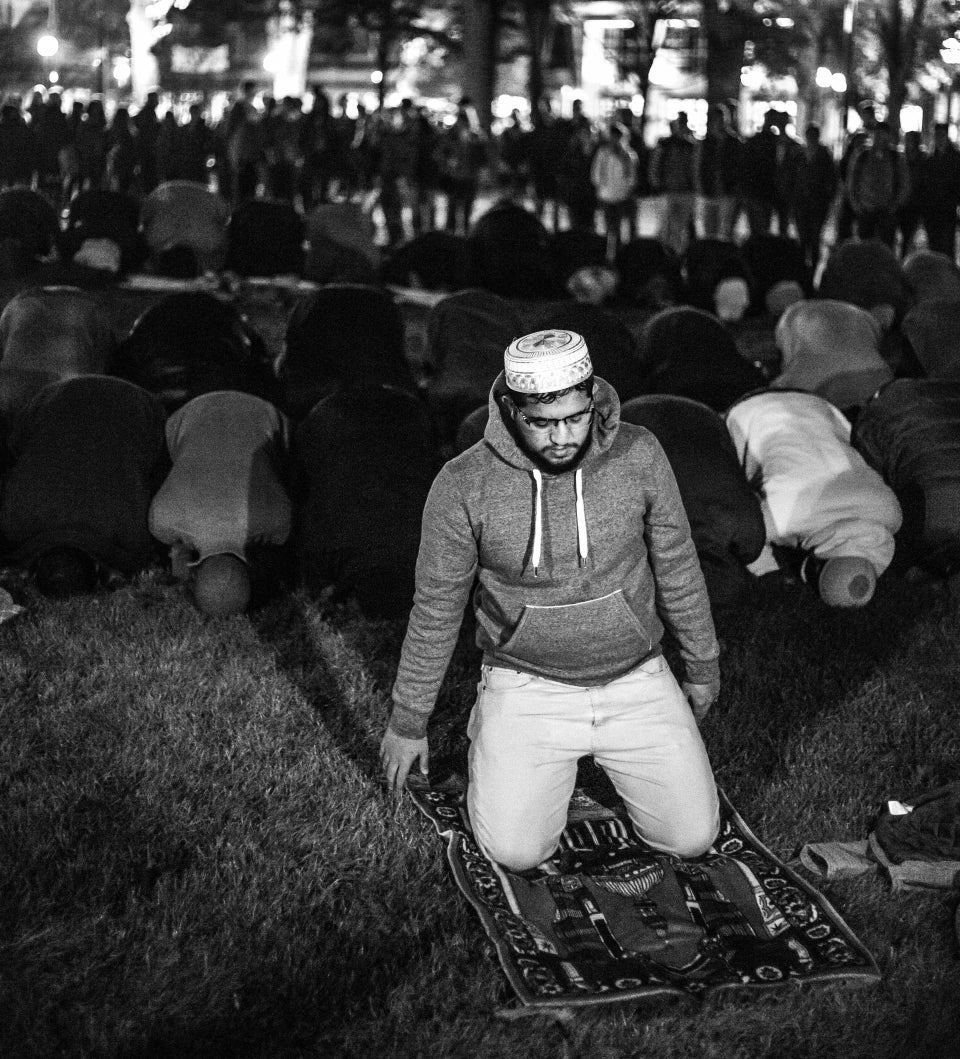 Interfaith Allies Surround Praying Muslims With Circle Of Protection
Popular in the Community