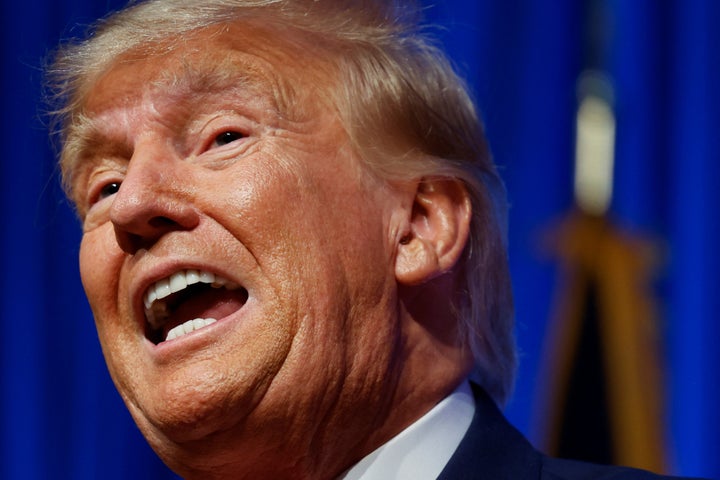 GREENSBORO, N.C. ― Coup-attempting former President Donald Trump on Saturday attacked the special counsel who indicted him for withholding and conspiring to hide secret national security documents, calling him a "thug," "deranged" and a "Trump hater" in his first public appearances since a federal grand jury handed up 37 felony counts against him.
"They cheated like dogs," he told the North Carolina Republican Party's annual convention, repeating his familiar lies that the 2020 election had been stolen from him.
In the Greensboro Sheraton's ballroom, and earlier at a campaign stop in Georgia, he railed against the new indictment against him, claiming it was politically motivated.
"The ridiculous and baseless indictment of me by the Biden administration's weaponized department of injustice will go down as among the most horrific abuses of power in the history of our country," he told attendees at the Georgia Republican Party's state convention in Columbus. "This vicious persecution is a travesty of justice... Biden is trying to jail his leading political opponent."
Trump stands charged with possessing classified documents at his Florida country club, conspiring to hide them from federal authorities and a grand jury, revealing national defense documents to unauthorized people and making false statements about it all to investigators.
The most serious charges carry sentences of 20 years in federal prison if he is convicted.
Trump, though, Saturday repeated that he had a right to the documents and that he did nothing wrong. "We didn't do any obstruction," he said. He went on to call special counsel Jack Smith a "thug," "deranged" and a "Trump hater" in an extended rant about how he had been indicted but that former Secretary of State Hillary Clinton and President Joe Biden had not been. Several hours later, he added "maniac" to his list of insults.
Thursday's indictment details how Trump instructed an aide to move boxes of documents out of a storage room where they could not be found by one of his lawyers who was scheduled to search through them to look for classified material so that it could be turned over to the FBI. It also describes how Trump suggested to his lawyers that they simply get rid of classified documents that, if found by authorities, could cause problems for him.
Trump on Friday told his millions of followers on his social media site: "SEE YOU IN MIAMI ON TUESDAY!!!" ― reminiscent of his Dec. 19, 2020, Twitter post urging his followers to converge on Washington, D.C., on Jan. 6: "Be there, will be wild!"
Trump will be arraigned on the new indictment at 3 p.m. at the federal courthouse in Miami on Tuesday. Trump's followers on Jan. 6, 2021, became an angry mob that assaulted the Capitol, especially after he attacked his own vice president, Mike Pence, for lacking the "courage" to overturn his election loss for him. Five police officers ended up dead, and 140 others were injured because of the melee.
Trump, who last year urged his followers to stage massive protests were he to be charged, on Saturday hinted about violence during his 83 minutes of remarks. "Our people are angry," he said. "And sometimes you need strength. You have to have strength, more than just normal strength. And we have to get a change because we're not going to have a country left."
Trump now is under two indictments: Last week's in Miami's federal court and one from March in New York City on charges he falsified business records to hide a $130,000 hush money payment to a porn star in the days leading up to the 2016 election.
He also faces two open criminal investigations that could produce even more indictments: A second DOJ probe into his actions leading up to and on his Jan. 6, 2021, coup attempt and one by Georgia prosecutors looking into his attempt to coerce state officials into overturning his election loss in that state.
In his Columbus remarks, Trump also attacked the Fulton County district attorney, Fani Willis, calling her a "lunatic Marxist prosecutor." She is expected to announce indictments from her investigation in August.
Popular in the Community