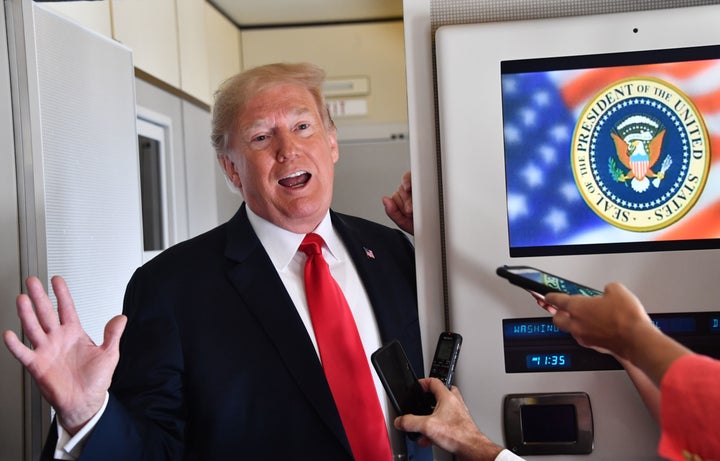 President Donald Trump called on Attorney General Jeff Sessions to investigate who wrote an anonymous op-ed published by The New York Times earlier this week that claimed members of the president's staff are actively working to undermine his agenda.
Speaking to reporters Friday aboard Air Force One, the president described the piece as an issue of "national security" and said the Justice Department should try to find out who wrote it.
"I would say Jeff [Sessions] should be investigating who the author of that piece was because I really believe it's national security," Trump said, according to a pool report. He added that he is "looking at" whether action should also be taken against the newspaper for publishing the op-ed.
"We're going to take a look at what he had, what he gave, what he's talking about, also where he is right now," Trump said of the anonymous writer. "Supposing I have a high-level national security, and he has got a clearance, we talked about clearances a lot recently, and he goes into a high-level meeting concerning China or Russia or North Korea or something. I don't want him in those meetings."
It's unclear what possible crime the Justice Department could investigate in this situation. But Trump's comment once again illustrated his willingness to use the department as a weapon against his opponents.
On Wednesday, The New York Times ran an op-ed written by a senior official in the Trump administration. The author, who has not been identified, described being part of a "resistance" movement within the Trump White House and said that several staffers "are working diligently from within to frustrate parts of his agenda and his worst inclinations."
The op-ed instantly sparked national speculation over who wrote it, prompting many administration officials to deny they were responsible for the piece.
Later Friday, The New York Times released a statement condemning Trump's call for an investigation and said the newspaper is "confident" the DOJ "would not participate in such a blatant abuse of government power."
This story has been updated with a statement from The New York Times.