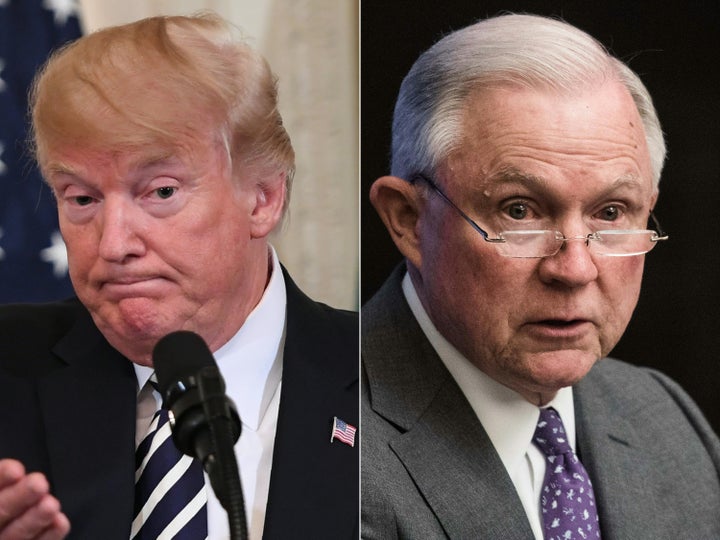 WASHINGTON ― The president of the United States has, in recent days, explicitly called on the attorney general to prosecute his political opponents and criticized him for failing to shut down investigations into members of their own party. In another era, those extraordinary suggestions would have set off a political firestorm, calls for congressional hearings and even talk of impeachment.
But Republican lawmakers reacted to President Donald Trump's online statement Monday ― in which he suggested that the Justice Department should wield its power to do the president's bidding to help two indicted congressmen ― the way they've predictably responded to any inflammatory tweet the president has sent.
"I'm not going to comment on tweets," Sen. Ted Cruz (R-Texas) said Tuesday, echoing a familiar refrain. "My focus is on the Kavanaugh hearing," he said, referring to Supreme Court nominee Brett Kavanaugh.
The Senate Judiciary Committee member, who in another life accused President Barack Obama's administration of politicizing the Department of Justice on much flimsier evidence, then walked away after a reporter began to describe a hypothetical scenario in which a Democratic president wanted his attorney general to lay off prosecuting congressional allies before an election.
Other GOP senators similarly declined to address Trump's Monday tweet by begging ignorance, as well as arguing that senators had little business responding to it.
"I haven't been following it," Sen. John Barrasso (R-Wyo.) said when asked about Trump's tweet.
Sen. John Kennedy (R-La.), meanwhile, said he was not aware of any provisions of the U.S. Constitution that required him to respond to the president's Twitter missives.
"As a member of the United States Senate, I am not given the authority or the right to advise and consent on the president's tweets. The president obviously has opinions, and he's entitled to express those opinions," Kennedy, who also serves on the Senate Judiciary Committee, told reporters Tuesday.
There were a few ― albeit unsurprising ― exceptions. Sen. Susan Collins of Maine called Trump's tweet "appalling," while Lisa Murkowski of Alaska said it "upset" her. Bob Corker of Tennessee said it reminded him of the dictatorship in Venezuela, and Ben Sasse of Nebraska similarly condemned it as something one would hear in a "banana republic."
"That is why a lot of people are concerned about this administration and why they want to ensure that our institutions hold," Sen. Jeff Flake (R-Ariz.), another prominent critic of the president, said Tuesday during the Kavanaugh confirmation hearing.
None of the Republicans who voiced criticism of Trump's latest attack on Attorney General Jeff Sessions, however, suggested taking any concrete action that might change the president's behavior.
"Two easy wins now in doubt because there is not enough time," Trump complained in a tweet. "Good job Jeff."
It's an implication that presidents in normal circumstances would avoid at all costs: the suggestion that they wanted their attorney general to interfere with investigations into their political allies. Trump, however, simply tweeted it out to his millions of followers.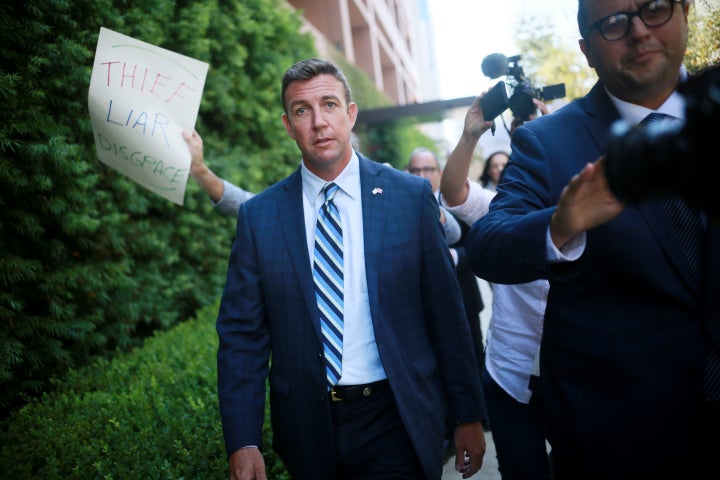 Trump's advisers and allies are reportedly increasingly worried about the prospect of a Democratic takeover of the House, a result that is currently looking more likely than not, according to recent polls. If they do succeed in winning the majority, Democrats have signaled they'll unleash dozens of investigations into Trump and his administration's numerous scandals, a scenario that appeared to weigh heavy on the president's mind this week.
David Iglesias, a Republican who served as a U.S. attorney in the George W. Bush administration and was fired after he didn't bring charges against a Democrat, called Trump's tweets "beyond shocking" and said that what Trump is doing is "much worse" than what happened during the Bush administration.
"This takes it to a new low. The president seems to think the Justice Department is a department in a private organization that he runs, and it's not. It's a public institution that has a long and proud history of being independent," he said.
Iglesias said that infecting the justice system with "raw partisan politics" was the type of thing you typically only see in "countries that Ronald Reagan would've called tinhorn dictatorships," rather than from the president of the United States.
William Cummings, who became the top federal prosecutor in the Eastern District of Virginia under former President Gerald Ford, said Trump's tweets were like nothing he'd ever seen before.
"There's no cover at all, it's so blatant," Cummings said. The Justice Department, Cummings said, has "bent over backwards" ever since Nixon to "make sure that there was a dividing line" between the president and the Justice Department.
"This blatant stuff with this president ― it's almost like he's asking for trouble. I don't think he realizes sometimes how foolish his acts are," Cummings said. "It's just an incredible display of arrogance or stupidity or ignorance of the lines, or he has no conception of the lines that divide the president and the attorney general."
It's been clear since early on in Trump's presidency that he either doesn't acknowledge or respect the Justice Department's independence. But he's previously said it was improper for politics to get in the way of the enforcement of the law. Trump attacked Attorney General Loretta Lynch for meeting with former President Bill Clinton on an airport tarmac at a time when the Justice Department was investigating his wife, Democratic presidential candidate Hillary Clinton. He questioned whether Lynch was "promised a Supreme Court seat, or AG, in order to lay off Hillary." 
"I don't know if it's just an appalling ignorance of a basic component of American democracy or a rejection of that," Iglesias said. "Both of those options are pretty bad."
Calling all HuffPost superfans!
Sign up for membership to become a founding member and help shape HuffPost's next chapter