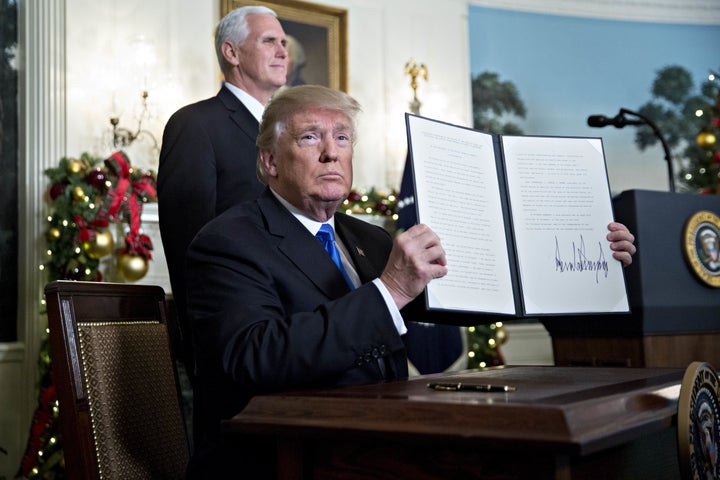 For decades, fundamentalist Christians, even more so than American Jews, have strongly supported various Israeli governments' efforts to consolidate control over the disputed city and expand settlements in the Palestinian territories.
And unlike many Jews in Israel who see a possible Palestinian state in the West Bank in terms of long-term security, most American evangelicals have a simpler justification for their view: the Bible.
"Israel and her right to the land is a key theme in the Hebrew Scripture," said Darrell Bock, a senior research professor at Dallas Theological Seminary. "It is tied to divine promises many Christians believe are still in force."
A 2013 survey by Pew Research found that 82 percent of white evangelical Christians believe God gave Israel to the Jews. By contrast, only 40 percent of Jews in the United States believed that.
In recent months, as Trump's polling numbers have declined, white evangelical Christians, who make up about a quarter of the electorate, have become the only sizable segment of voters who continue to support him strongly. A Fox News poll in October showed 66 percent of white evangelicals supporting Trump. While that figure was down from 77 percent in September, it was still nearly 30 percentage points higher than the population as a whole.
For years, presidential candidates have vowed to move the U.S. Embassy in Israel from Tel Aviv to Jerusalem ― only to continue the existing policy of leaving the status of Jerusalem to be resolved in a final negotiated settlement between Israel and the Palestinians. George W. Bush did this after taking office in 2001, as did Barack Obama in 2009. Both men continued signing a waiver every six months to assert that moving the U.S. Embassy to Jerusalem, as mandated by a 1995 law passed by Congress, was not in the national interest.
Trump, like his two predecessors and like the other Republicans who sought the 2016 presidential nomination, also promised to move the embassy to Jerusalem. Unlike the others, though, he evinced little knowledge of or interest in Mideast affairs, frequently answering questions on the topic by pointing out that he had once led an Israel Day parade in New York City.
Trump did sign a six-month waiver this summer, but he made it clear he was not pleased about it and directed his staff to find a way to deliver on his campaign promise.
There was no shortage of countervailing advice to Trump prior to the announcement. The leaders of Jordan, Saudi Arabia and France, among many other nations, warned Trump that his actions would harm prospects for a lasting peace agreement. U.S. diplomatic posts in the Middle East, including the Jerusalem consulate, warned Americans of potentially violent protests.
Ministers and priests of 13 Christian churches in Jerusalem ― from Coptic to Catholic to Lutheran ― wrote Trump and asked him to hold off. "Any sudden changes would cause irreparable harm," the pastors wrote. "We are confident that, with strong support from our friends, Israelis and Palestinians can work towards negotiating a sustainable and just peace, benefiting all who long for the Holy City of Jerusalem to fulfill its destiny."
Even the senior administration officials sent to explain the new policy to the media sought to downplay its significance.
"Nothing in this decision speaks to a final status resolution of the boundaries of sovereignty issues here," one administration official said Tuesday evening, on the condition that he not be identified.
Trump echoed that language in his brief White House remarks Wednesday, which he read off of teleprompters. But even in that set speech, he made sure to nod to the religious claim that so many of his supporters believe.
"It was 70 years ago that the United States, under President Truman, recognized the state of Israel," Trump said. "Ever since then, Israel has made its capital in the city of Jerusalem ― the capital the Jewish people established in ancient times."
That acknowledgement, Bock said, is important to evangelical Christians. "Those promises are still seen as relevant by many believers," he said. "For them it is a matter of God keeping his promises to the people genealogically tied to Abraham through Isaac."
Popular in the Community