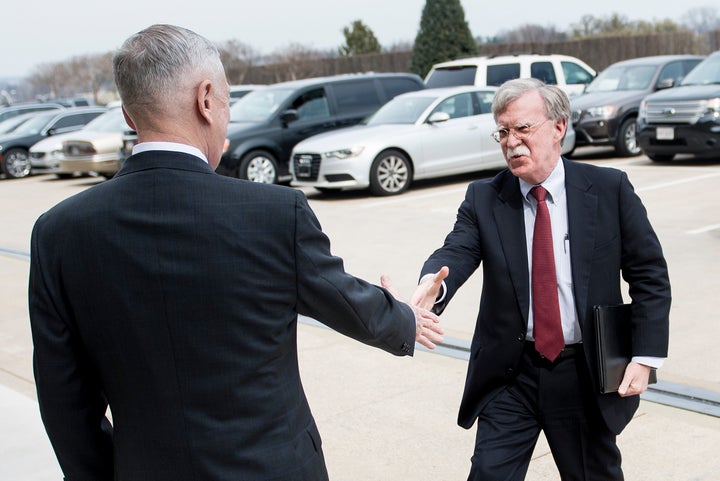 WASHINGTON ― A little-noticed appointment to the National Security Council staff on Friday could be the first skirmish between President Donald Trump's new security adviser and the defense secretary.
John Bolton has named as his deputy Mira Ricardel, a longtime official in GOP presidential administrations past. A year ago, she was reportedly the reason Pentagon chief Jim Mattis threatened to resign after she repeatedly blocked his choices for top Defense Department positions in her Office of Presidential Personnel role.
One Republican adviser close to the White House, who spoke on condition of anonymity, called Bolton's move a "shot across the bow" directed at Mattis and a clear statement of his new authority within the Trump White House.
Mattis could not be reached for comment. Neither the Department of Defense nor the White House responded to HuffPost queries on the matter.
Former Secretary of State Rex Tillerson, former national security adviser H.R. McMaster and Mattis had become known as the "Axis of Adults" ― a trio of top aides whose calmer temperaments would mitigate Trump's most impulsive and potentially dangerous foreign policy instincts.
Trump loyalists, though, saw all three not as calming influences but as obstructionists blocking the president's efforts to replace a "globalist" foreign policy with an "America first" one that favors withdrawing from existing military and trade alliances.
In the past two months, Trump has fired both Tillerson and McMaster ― Tillerson via a morning tweet that appointed his successor.
Opponents of the traditional foreign policy establishment see Bolton's rise as diminishing Mattis' influence, possibly even leading to his departure, the Republican adviser said.
Mattis' disagreements with Ricardel last year were a relatively open secret. After Trump won the presidency in November 2016, Ricardel was named to Trump's transition team charged with finding and screening thousands of names for high-level political appointments in the executive agencies.
She had previously served in the Republican administrations of Ronald Reagan and George W. Bush as well as the office of former Sen. Bob Dole of Kansas, the GOP presidential nominee in 1996.
She had wanted to be named undersecretary for policy at the Pentagon last year, according to several former Pentagon and State Department officials, but couldn't get the post because Mattis wanted someone else. Ricardel, in turn, worked with other White House officials to block Mattis' choice for that job as well as a number of others because they had not been considered loyal to Trump prior to his election.
At one point, the situation became so bad that Mattis reportedly gave the White House an ultimatum: Either Ricardel had to leave or he would.
Eventually, Ricardel received a high-level position at the Department of Commerce, where she remained until Bolton named her to her new position in a Friday evening news release.
"I look forward to her joining our team and working together to ensure President Trump's foreign policy agenda is executed," Bolton wrote.
Bolton did not respond to a HuffPost request for comment, and Ricardel could not be reached.
Popular in the Community