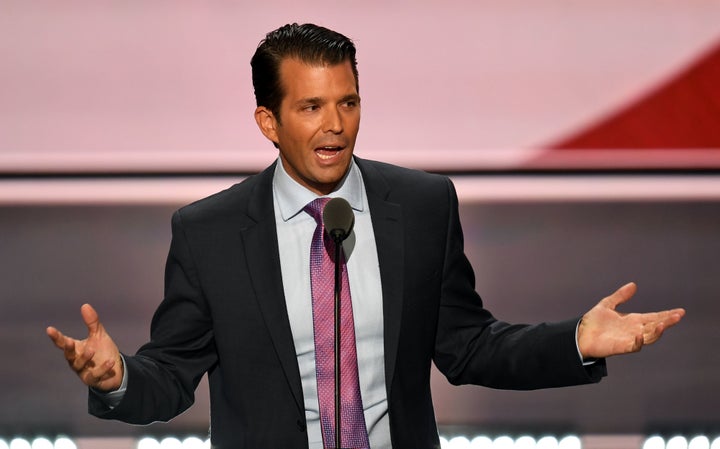 Dori Monson, host of Seattle's "Dori Monson Show" on KIRO, told Trump Jr. that Donald Trump's 2005 remarks on a hot microphone made him hesitate about voting for the GOP presidential nominee.
"If I heard somebody talking around my girls like we heard on the 'Access Hollywood' [tape], it'd be done for me," Monson said, in audio first flagged by CNN's Andrew Kaczynski.
"I understand that," Trump Jr. responded. "Obviously, he's not happy about that."
But the younger Trump, who has been among the most visible surrogates for his father's presidential campaign, quickly pivoted to downplaying the comments' significance.
"We all probably know guys who have had conversations with other guys that go a little bit in that direction," he said. "That's a fact of life."
He even argued that it was a positive characteristic, contrasting his father's comments with Democratic nominee Hillary Clinton's highly managed public persona.
"He hasn't spent his whole life sitting there polishing every statement he's ever made, every conversation he's ever had," Trump Jr. added. "He doesn't run a focus group so he can tell you what he's thinking. He speaks from the heart."
The latest explanation coming from Trump's oldest son is a variation of the "locker room talk" dismissals the nominee himself has made. Earlier this month, Trump Jr. offered a similar excuse, claiming his father's remarks made him "a normal person not a political robot."
Trump Jr. has also claimed ― in 2013 ― that women who cannot "handle" sexual harassment "don't belong in the workforce." In 2011, he also tweeted that a celebrity like Marc McGrath "can sexually harass the hell out of anyone."
There is likely no explanation comprehensive enough to undo the damage that Trump's 2005 comments have inflicted on his campaign. In the weeks following the release of the leaked video, a growing number of women have stepped forward with allegations of assault at Trump's hands, seemingly contradicting the claims that the businessman's comments were "just words."
As of Saturday, HuffPost Pollster's election forecast predicted that Clinton had a 96.1 percent chance of winning the presidency.
HUFFPOST READERS: What's happening in your state or district? The Huffington Post wants to know about all the campaign ads, mailers, robocalls, candidate appearances and other interesting campaign news happening by you. Email any tips, videos, audio files or photos to scoops@huffingtonpost.com.
Calling all HuffPost superfans!
Sign up for membership to become a founding member and help shape HuffPost's next chapter
BEFORE YOU GO
PHOTO GALLERY
Republicans Who Have Withdrawn Their Support For Donald Trump