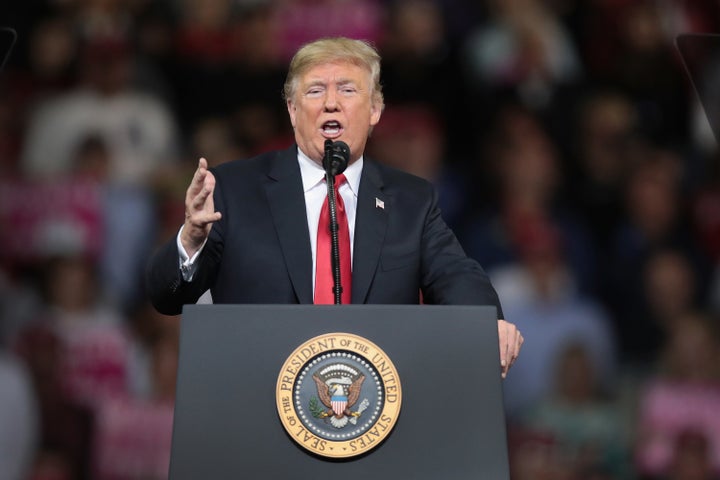 The president resurrected the joke while speaking at his campaign rally in Topeka, Kansas, on Saturday night.
"Pocahontas, Pocahontas," Trump said, referring to Warren. "I have more Indian blood in me than Pocahontas and I have none. I mean, sadly, but I have more than she does."
"They said to her, 'Why do you say you're of Indian heritage?' 'Well my mother said that I have high cheekbones,'" he continued.
"Well, I have high cheekbones too. Hey! Maybe I'm an Indian and I'm going to do very well."
Almost immediately, Donald Trump Jr. reacted enthusiastically to his dad's joke, complete with cry-face emojis and American flags.
"So epic," Trump Jr. tweeted.
After the rally, Warren jabbed back at Trump with a joke of her own.
"Too bad you're the least popular incumbent president in modern history," the senator tweeted. "And in the meantime, we are coming for your pathetic rubber-stamp Republicans in Congress in 31 days."
Jefferson Keel, president of the National Congress of American Indians and a Vietnam veteran, criticized Trump for using the offensive term during the ceremony.
"We regret that the President's use of the name Pocahontas as a slur to insult a political adversary is overshadowing the true purpose of today's White House ceremony," he said in a statement released after the event.
"Once again, we call upon the President to refrain from using her name in a way that denigrates her legacy."
In July, Trump pretended to apologize for the slur at a rally in Montana.
"Pocahontas, they always want me to apologize for saying it," he said.
"Pocahontas, I apologize to you," he said. "To you, I apologize. To the fake Pocahontas, I won't."
Warren has said that her mother is part Native American, but declined to take a DNA test in a March interview with NBC's "Meet The Press."
Popular in the Community