Most Americans believe it was inappropriate for Donald Trump Jr. to agree to meet with a Kremlin-linked Russian lawyer who was said to have damaging information about Hillary Clinton, a new HuffPost/YouGov survey finds.
A majority of poll respondents, 53 percent, said it was inappropriate for Trump Jr. to take the meeting. Just 22 percent considered it appropriate, with the remaining quarter unsure.
More than three-quarters of the public say they've heard at least something about the story, although only a third say that they've heard a lot.
Just 1 percent of voters who supported Clinton in last year's election consider the meeting appropriate, while 89 percent said it was inappropriate.
Trump voters were largely unbothered by the meeting, although their reaction was more divided ― with 60 percent saying it was appropriate, 17 percent calling it inappropriate and 24 percent unsure.
Self-described members of the Republican Party were even less united, with just 47 percent calling the meeting appropriate, and 22 percent calling it inappropriate.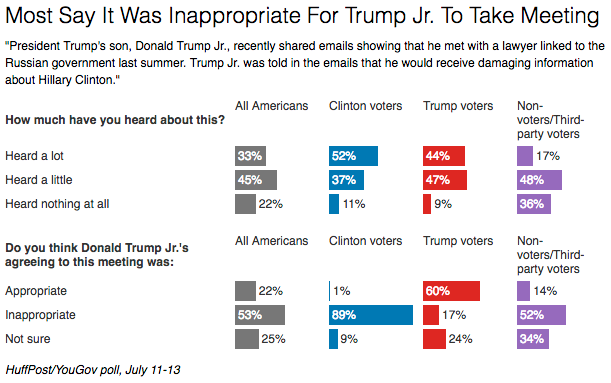 While stories about the Trump campaign's alleged ties to Russia during the 2016 election have repeatedly dominated the news cycle, they have more or less failed to move the needle on public sentiment about the issue, including after the latest development involving Trump Jr.
Forty-six percent of the public considers the Trump administration's relationship with Russia "a legitimate issue," entirely unchanged from the percentage who said so in a survey taken last week, before the newest story broke.
Those who consider the administration's Moscow ties to be a very serious problem (34 percent) or to be at least a somewhat serious problem (48 percent) are also little changed from what polls have shown since this spring.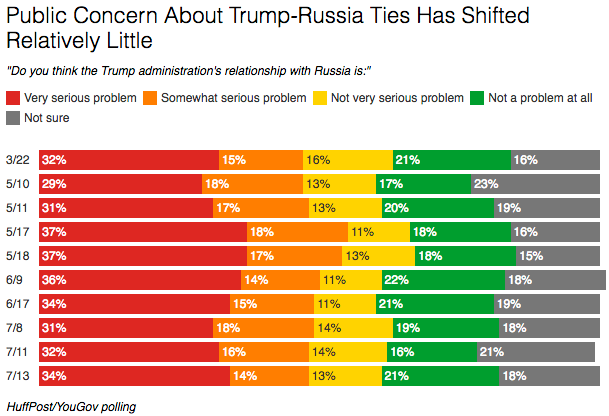 Views about the Trump administration's Russia connections remain deeply segmented along political lines, with Trump voters largely unbothered by the issue, Clinton voters almost universally outraged and the rest of the nation concerned, but paying relatively little attention.
Even among Trump voters who think that the meeting was inappropriate or who aren't sure about its propriety, just 24 percent consider the administration's Russia ties to be even a somewhat serious problem.
The latest controversy also doesn't seem to have affected Trump's overall approval rating, which stands at an average of 41 percent as of Thursday afternoon, close to where it's been since June.
Russia continues to rank relatively low on the public's list of priorities. Twelve percent of Americans currently name Trump's relationship with Moscow as one of the two issues most important to them, ranking it behind health care (49 percent), the economy (37 percent) and immigration (20 percent), and on par with the environment (13 percent) and the way things work in Washington (12 percent).
Use the widget below to further explore the results of the HuffPost/YouGov survey, using the menu at the top to select survey questions and the buttons at the bottom to filter the data by subgroups:
The HuffPost/YouGov poll consisted of 1,000 completed interviews conducted July 11-13 among U.S. adults, using a sample selected from YouGov's opt-in online panel to match the demographics and other characteristics of the adult U.S. population.
HuffPost has teamed up with YouGov to conduct daily opinion polls. You can learn more about this project and take part in YouGov's nationally representative opinion polling. More details on the polls' methodology are available here.
Most surveys report a margin of error that represents some, but not all, potential survey errors. YouGov's reports include a model-based margin of error, which rests on a specific set of statistical assumptions about the selected sample rather than the standard methodology for random probability sampling. If these assumptions are wrong, the model-based margin of error may also be inaccurate. Click here for a more detailed explanation of the model-based margin of error.
Popular in the Community