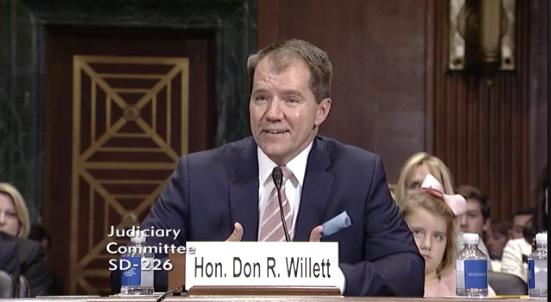 WASHINGTON ― One of President Donald Trump's judicial nominees, Don Willett, said Wednesday he was just kidding that time he compared gay people's constitutional right to marriage with a right to marry bacon.
Willett, nominated for a lifetime seat on the U.S. Court of Appeals for the 5th Circuit, told the Senate Judiciary Committee he wasn't mocking same-sex marriage when he tweeted in April 2015 that he "could support recognizing a constitutional right to marry bacon" ― a day after the Supreme Court heard arguments in the landmark marriage equality case.
In what was surely a first for the committee, Sen. Patrick Leahy (D-Vt.) asked Willett why senators should believe he would respect Supreme Court precedent, if he's confirmed as a federal judge, given that he compared marriage equality to cured pork.
"You've equated that constitutional right to same-sex marriage, which the Supreme Court has upheld, with a constitutional right to marry bacon," Leahy said. "I don't think one would see that as praising Supreme Court decisions."
Willett, who has been a Texas Supreme Court justice since 2005 and is known for being active on Twitter, said he was trying to lighten the mood with his bacon post.
"That was the day after the [marriage equality] decision was issued," he said. "It was my attempt to inject a bit of levity. The country was filled with rancor and polarization. It was a divisive time in the nation."
"And you think that cut back the divisiveness?" Leahy asked, appearing incredulous. "With a comment like that?"
Moving on from the bacon defense, Willett said he believes everyone is "entitled to equal worth and dignity," and that he "never intended to disparage anyone."
Regardless of his tweets, Willett has a record of not recognizing same-sex marriage. In response to a Texas judge allowing two women to marry before the state's ban on same-sex marriage had been struck down ― the judge cited special circumstances since one of the women had ovarian cancer ― the state Supreme Court last year dismissed the Texas attorney general's challenge to their marriage. Willett filed a dissenting opinion.
Willett also dissented in a 2015 decision by the state's high court to not take up a case on the validity of a Texas judge divorcing two women who had been legally married in Massachusetts. He argued the attorney general should have been allowed to enter the case to defend the state's ban on same-sex marriage.
Texas is one of the few state with partisan judicial elections. In Willett's 2012 race, he was endorsed by rabidly anti-LGBTQ advocates, including Focus On The Family founder James Dobson, Christian revisionist historian David Barton, Liberty Institute CEO Kelly Shackelford and Gov. Greg Abbott, the Republican who was then the Texas attorney general and now is the state's governor.
The Judiciary Committee could send Willett's nomination to the Senate floor in a matter of weeks. The 5th circuit appeals court hears cases from federal judicial districts in Texas, Louisiana and Mississippi.
Willett, 51, is on Trump's list of potential Supreme Court nominees. Trump repeatedly said on the campaign trail that he would only nominate people willing to overturn Roe v. Wade, the landmark Supreme Court decision that recognizes women's constitutional right to have an abortion.
Before You Go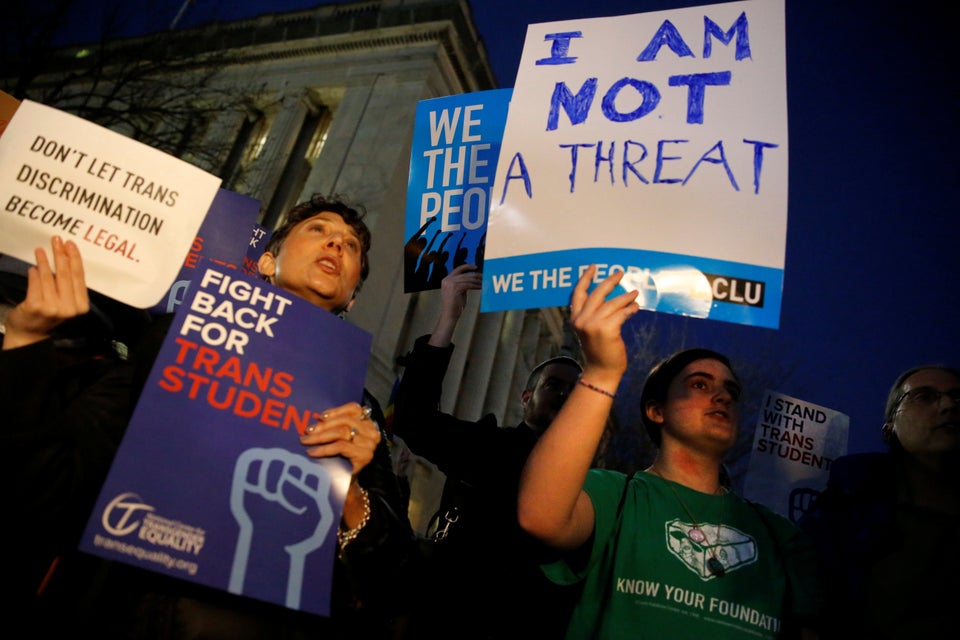 LGBTQ Groups React To Trump Revoking Trans Protections
Popular in the Community