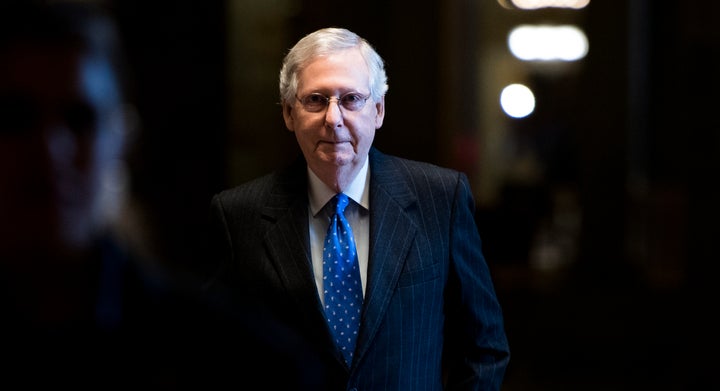 WASHINGTON ― With the Republicans' loss of the House, President Donald Trump is going to have a much harder time passing bills through Congress. But he can keep chugging along with one of his legacy-defining efforts: confirming conservative judges in the Senate.
Senate Republicans are in a good position to pick up as many as three seats once all the midterm election votes have been counted. That will make it even easier for Majority Leader Mitch McConnell (R-Ky.) to put Trump's nominees into lifetime federal court seats.
McConnell has already been confirming judges at a breakneck pace, but given the GOP's slim majority in the Senate, he couldn't really afford to lose a single Republican on those votes. Now he'll have more wiggle room if a GOP senator or two wants to vote no.
McConnell has said all along that judicial confirmations are his No. 1 priority as Senate leader. That won't change going forward.
"We intend to keep confirming as many as we possibly can for as long as we're in a position to do it," he told reporters on Wednesday. "It will still be my top priority in setting the agenda here in the Senate. In the next Congress as well."
There's not much Democrats can do over the next two years to prevent Trump from drastically reshaping the courts. Republicans have been blowing up Senate rules and traditions to get as many judges through as possible, weakening the few tools the minority has to put a check on unqualified or egregiously ideological judicial nominees. Minority Leader Chuck Schumer (D-N.Y.) has also made it easier for Republicans: He cut deals two times this year with McConnell to expedite votes on batches of lifetime federal judges in exchange for letting Democrats go home to campaign for re-election.
A Schumer spokesman did not respond to a question on whether the Democratic leader is willing to cut more deals to expedite votes on judges in exchange for something else.
But a senior Senate Democratic aide, who requested anonymity, defended Schumer's last such deal. He argued that it minimized the total number of judges who might have been confirmed before the midterm elections because McConnell could have kept senators in town and teed up votes on even more nominees than the agreed-on 15.
"If we had stayed in session, McConnell could've confirmed more than the deal yielded," said this aide.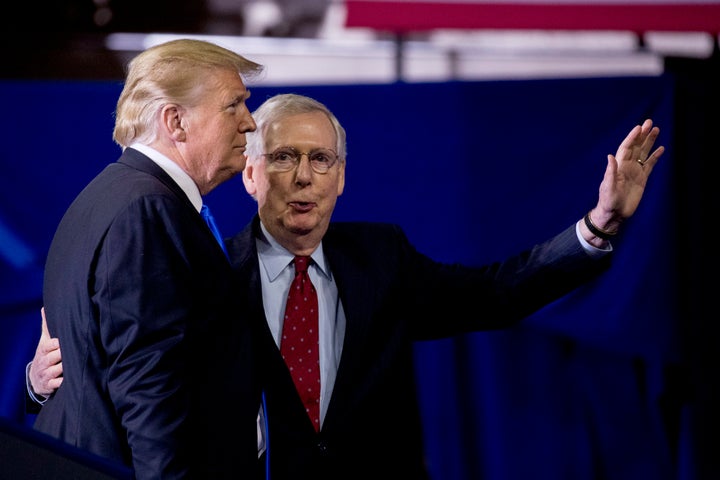 The reality is that the GOP's strengthened hand in the Senate won't change much when it comes to lower court nominees. Republicans already vote in lockstep to confirm all of them ― including the two pro-abortion rights GOP senators, Lisa Murkowski (Alaska) and Susan Collins (Maine), who have voted for piles of anti-abortion judges. To date, only one Republican senator, John Kennedy (La.), has voted against one of Trump's circuit judges.
But if another Supreme Court seat opens up in the next two years, McConnell's increased majority means Trump could nominate someone even further to the right and have a better chance of getting that person through.
Carl Tobias, a University of Richmond law professor and expert on judicial nominations, said his hope is that Republicans will return to "real regular order" in the next Senate session. That would mean restoring bipartisan traditions like considering American Bar Association evaluations of judicial nominees before giving them hearings, allowing for meaningful consultations with Democrats on nominees from their states, and honoring "blue slips," which give senators veto power over nominees from their states.
He's not holding his breath.
"My hope is some GOP institutionalists will speak out, but it is difficult to see who that might be," said Tobias. "One possibility is more nominees who are not qualified and the issues that can create, but shame and embarrassment don't seem to matter."
"The GOP acts like it will never be in the minority again," he said.
Support HuffPost
The Stakes Have Never Been Higher
Popular in the Community