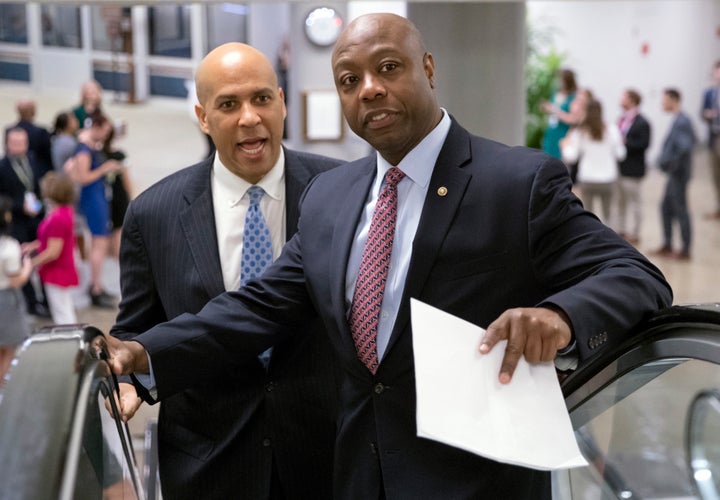 WASHINGTON ― In a shocking defeat for President Donald Trump, Sen. Tim Scott (R-S.C.) announced Thursday that he can't support his controversial judicial nominee Thomas Farr, torpedoing the nomination.
Scott said in statement, first reported by The State, that a 1991 Justice Department memo leaked this week raised concerns for him over Farr's role in a voter suppression scheme that took place during the 1984 and 1990 campaigns of Sen. Jesse Helms (R-N.C.). Farr worked with Helms' campaign at the time.
"I am ready and willing to support strong candidates for our judicial vacancies that do not have lingering concerns about issues that could affect their decision-making process as a federal judge," Scott said in his statement. "This week, a Department of Justice memo written under President George H.W. Bush was released that shed new light on Mr. Farr's activities. This, in turn, created more concerns. Weighing these important factors, this afternoon I concluded that I could not support Mr. Farr's nomination."
Without Scott's support, and with Sen. Jeff Flake (R-Ariz.) already saying he was a no vote, Farr doesn't have the votes to be confirmed to the U.S. District Court for the Eastern District of North Carolina. Every Democrat opposed him.
Civil rights groups and the Congressional Black Caucus have been trying to sink Farr's nomination for nearly a year. The 64-year-old attorney wrote North Carolina's extreme voter ID law in 2013, which was later struck down by a federal appeals court. The court found the law targeted black people "with almost surgical precision."
Farr also defended the state's racially discriminatory gerrymandering in federal court in 2015 (and lost), and he may have lied to the Senate about his role in disenfranchising tens of thousands of black voters when he worked for Helms in 1990.
"It is unconscionable that the Senate would even consider someone with Thomas Farr's record," Sherrilyn Ifill, president of the NAACP Legal Defense Fund, said Tuesday. "In 2018, this should simply be unacceptable."
Scott's rejection of Farr marks the second time he's opposed one of Trump's court picks. In July, the South Carolina Republican refused to support circuit court nominee Ryan Bounds, citing his record of racist writings in college. His vote killed that nomination, too.
Popular in the Community