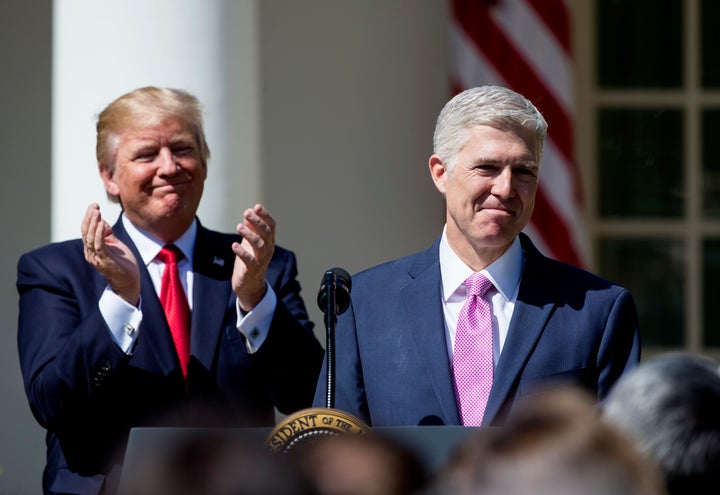 WASHINGTON ― Most days, it seems like President Donald Trump is sabotaging his own agenda, one tweet at a time. But the White House has been quietly plowing ahead in one area that will affect generations of people: the courts.
Trump is unbelievably well-positioned to fill up federal courts with lifetime judges. He inherited a whopping 108 court vacancies when he became president ― double the number of vacancies President Barack Obama inherited when he took office.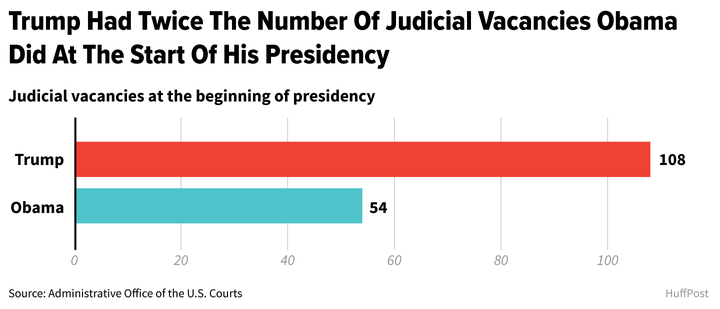 Court vacancies have only increased since Trump took office, as older judges have steadily retired. Trump has already nominated more than three times as many judges as Obama had at this point in his presidency ― 21 compared with six for Obama.
With Republicans in control of the Senate, Trump's court picks will have a relatively easy time getting confirmed, too. The chairman of the Judiciary Committee, Sen. Chuck Grassley (R-Iowa), has hinted that he may tweak the committee's rules to make it easier for Republicans to advance some of Trump's nominees without Democratic support. And once nominees make it to the Senate floor, it takes only 51 votes to advance their nominations and confirm them. There are 52 Republicans, which means they could confirm all of Trump's district and circuit court nominees without a single Democratic vote.
It used to take 60 votes to advance district and circuit court nominees, but Senate Democrats changed the filibuster rule in 2013 in order to get around a Republican blockade on Obama's court picks. Now Trump benefits from that change.
It is, in effect, the perfect combination of factors for conservatives eager to tilt the nation's courts to the right. Trump has piles of seats to fill, a list of nominees recommended to the White House by outside conservative groups, and a Republican Senate eager to confirm them.
"It is a huge opportunity," said Carl Tobias, a University of Richmond law professor who specializes in judicial nominations. "The question is how quickly they will move in the future. A lot of what they've done so far is low-hanging fruit and pretty easy to do."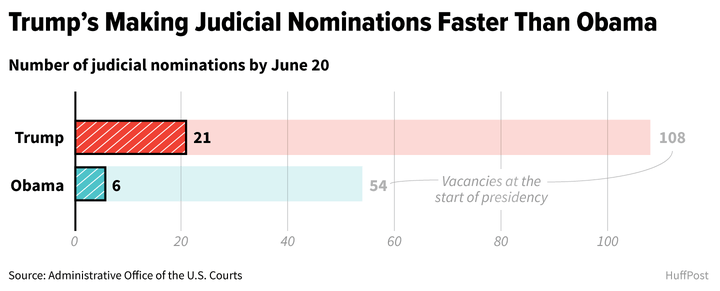 A good chunk of Trump's judicial nominees so far have come through recommendations from The Federalist Society, a right-wing legal organization. Its executive vice president, Leonard Leo, was instrumental in helping the White House put Neil Gorsuch on the Supreme Court. He recommended Gorsuch to Trump last fall and took a temporary leave from his job earlier this year to help prepare Gorsuch for his Senate confirmation hearing.
Leo also gave Trump a list of names of potential judicial picks that conservatives would like to see on the federal bench. Trump has already nominated several of them.
Both of those nominees had their Senate confirmation hearings last week. They're now waiting for the Judiciary Committee to reconvene and vote out their nominations.
It's not unusual for a president to consult with outside groups for potential judicial nominees. What's different, says Tobias, is how heavily Trump seems to be relying on this particular group versus working directly with senators for judicial recommendations from their states, which is the standard path.
"I think Leonard Leo is just feeding him those people," he said. "There are real questions about that, whether that's good for the courts and gets us the finest nominees."
A White House spokeswoman did not respond to a request for comment on the president's working relationship with The Federalist Society.
A spokesman for The Federalist Society did not respond to a request for comment, though a woman who works for a consulting firm that represents The Federalist Society said the organization does not take positions on judicial nominees.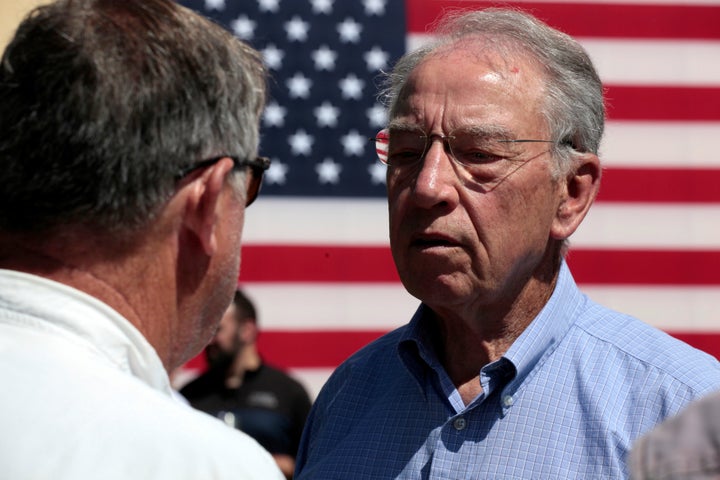 Alliance for Justice, which advocates for a more progressive judiciary, is horrified that the president seems to be outsourcing his selection of federal judges to a right-wing group.
"We're seeing an assortment of fringe candidates," said Nan Aron, president of AFJ. "They're taking advantage of the moment to realize their dream of putting judges hostile to civil rights and civil liberties on the bench, who will be there long after Donald Trump leaves office."
Of course, Trump could blow this. His erratic tweets about the Russian probe and "crooked Hillary" often force Republicans to spend time defending him instead of focusing on their agenda. It won't be long before Republicans up for reelection turn their attention to 2018 campaigns. And depending on how serious Democrats get about stopping Trump's agenda, they could use obscure Senate rules to stall his nominees.
Some of Trump's success also comes down to whether Grassley is willing to bend the Judiciary Committee's rules to help him. He's under pressure from conservatives to do away with the committee's "blue slip" rule, which requires both senators from a nominee's home state to turn in blue slips of paper in order for the nominee to get a hearing.
Senators are typically involved in the judicial selection process, so it's rare for them not to turn in a blue slip for a nominee from their home state. But if Trump is nominating judges based on what The Federalist Society recommends, for example, blue slips allow Democrats in the Senate to block those nominations indefinitely if they are appointed to courts in their home states.
Grassley has suggested he may not require blue slips for circuit court nominees, but he hasn't been definitive. Given the intra-party pressure he's under, he may just be trying to appease conservatives by saying as much. Such a change would mean that circuit court nominees from states with one or two Democratic senators could get a hearing and a vote without the support of those senators. But that change could come back to bite Republicans down the road, when they're back in the minority and want to use that tool.
Blue slips are more of a committee tradition than a hard rule, but chairmen typically uphold it. Grassley's predecessor, Sen. Patrick Leahy (D-Vt.), stuck by the practice for years when he was chairman ― even when Republicans routinely abused it to block Obama's nominees. He suspects Grassley will abide by the tradition, too.
"Sen. Grassley made it very clear that he appreciated what I did when there was a Republican president and Democratic president, applying the blue slips," Leahy told HuffPost.
"He told me he was going to follow the same procedures as chairman. And I take him at his word," he added. "I've known him for over 30 years. He's never broken his word to me."
Before You Go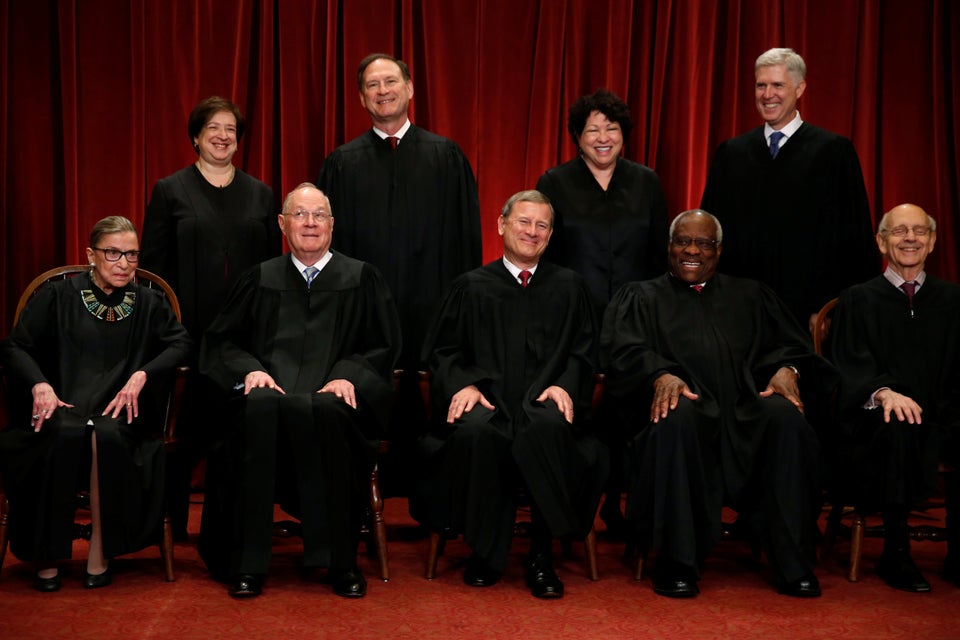 The Supreme Court's 'Family' Photos
Popular in the Community