The former president was triggered by McEnany mentioning a poll that showed him ahead of Florida Gov. Ron DeSantis ― a rival for the 2024 Republican presidential nomination ― by 25 percentage points.
He also said "the RINOS & Globalists can have her" and urged Fox News to "only use REAL stars" in his rant: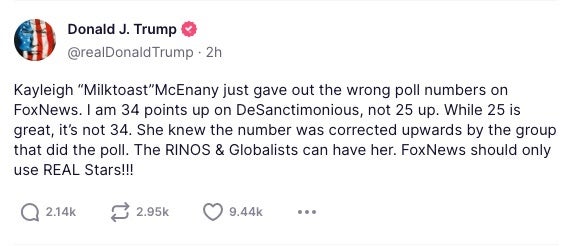 Rep. Chip Roy (R-Texas) took a thinly veiled shot at McEnany on the air by using the word "milquetoast" during a Fox News interview:
Trump once promised he would surround himself "with only the best and most serious people" but has since turned on many of those people, as they have on him.
But the attack on McEnany drew mostly laughter on social media ― largely because of the odd "milktoast" typo:
Popular in the Community