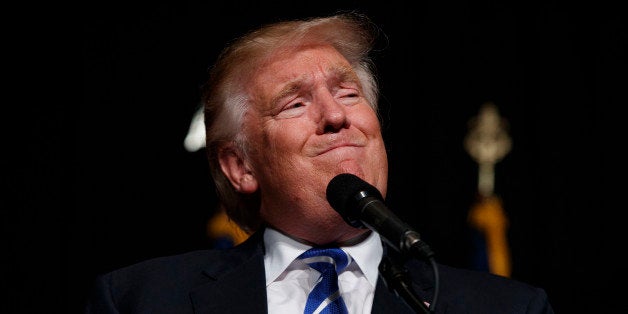 I don't know where it ends with Donald Trump. He is somehow able to weather controversy after controversy, and dodge every criticism of his countless offensive statements. Yet, one would think that of all groups to insult, a Gold Star family would be off limits for the GOP nominee's fiery rhetoric. For years, support for our troops and respect for military families have unified both parties in an increasingly polarized climate. Surely, no presidential candidate would disrespect a Gold Star family.
That is not the case with Donald Trump.
The GOP nominee continued his war of words with the parents of Captain Humayun Khan, a Purple Heart recipient, who was killed defending his unit in Iraq in 2004.
By now, you all know the backstory: Capt. Khan's parents, Khizr and Ghazala Khan, took to the DNC stage last week and delivered arguably the most electrifying moment of both conventions, when Mr. Khan held up a copy of the U.S. Constitution and challenged Trump to read it, accusing him of "sacrificing no one and nothing."
Trump responded promptly, lashing out at Mr. Khan, and accusing Mrs. Khan of having nothing to say. Trump heartlessly suggested she might have been silenced, playing on the chauvinist notion that Muslim women are somehow required to be subservient to their husbands. While it is true that Mrs. Khan stayed silent on stage, she did so because of the overwhelming emotion that overcomes her upon seeing pictures of her son. She said as much in a Washington Post op-ed, and declared on CNN's New Day, "I can say that my religion or my family or my culture never stopped me saying whatever I want to say."
Yet, Trump didn't back down from those initial comments made to ABC's George Stephanopoulos over the weekend. Trump went so far as to compare the Khan family's sacrifice to the sacrifices he made in building his business. "I think I've made a lot of sacrifices," Trump insisted. "I work very, very, hard; I've created thousands and thousands of jobs -- tens of thousands of jobs; built great structures; I've had tremendous success..."
Yes, Trump equated the loss of a child during wartime to his business successes.
For someone who repeatedly states how much he "loves the vets," and touts his donations to veteran charities, why Trump wouldn't just apologize and move on to focus on his campaign is beyond reason. This is more than that, though. This doubling down on his criticism of the Khan family shows a basic lack of empathy and leadership required of a president.
Trump has received nearly universal condemnation for his comments. Gold Star families issued a repudiation of Trump , as did Arizona Senator and former POW John McCain. In his statement, McCain praised Khan and assured "the memory of his sacrifice will make us a better nation -- and he will never be forgotten."
Of course, Trump supporters are firmly (and blindly) in his corner, diverting the conversation to one about radical Islamic terrorism, and engaging in the playground argument of "Well, they started it!"
His supporters cling to the campaign's clarifying statement, which praised Capt. Khan as a war hero. Of course, that statement came after Trump's initial attacks. Surrogates like Corey Lewandowski and Jeffrey Lord conveniently leave out the fact that Trump continues to criticize Khan's father, and refuses to apologize to Khan's mother.
I need to ask, where does it end with this man? Where is his moral compass? When does the bar get so low that he says, "You know what? I misspoke. I apologize." Why does he continue to double down? Even as children, we're taught that not every attack warrants a response. I'll always remember my mom telling me, "Jess, sometimes you need to walk away, and be the bigger man."
But this situation isn't even about that. It should transcend politics. It's about human decency, empathy, and respect for those who have endured personal loss. Yes, Mr. Khan criticized Trump in a political forum, but running for the highest office in the land requires a higher moral standard and knowledge that criticism comes with the job. How can we expect Trump to react to criticism on his policies if he can't even handle criticism to his ego? How can we elect a man incapable of expressing sympathy to a family who has paid the ultimate sacrifice?
Mr. Khan and his wife continued their press tour on Monday, speaking on CNN's New Day and MSNBC's Morning Joe. Some Trump supporters believe this media blitz serves to further politicize the loss of Capt. Khan. To that I ask, where were you when Pat Smith, mother of Benghazi victim Sean Smith, spoke out at the RNC, personally blaming Hillary Clinton for her son's death? Was that not political? Besides, the Khans did not blame Trump for their son's death, or call for Trump to be imprisoned, as Smith did with Hillary Clinton at the RNC.
This is how absurd some Trump supporters' mindsets have become. They will cling to anything to defend what is essentially indefensible. I don't know how they do it.
Last year, I wrote a blog post entitled, "How Long Can Donald Trump Remain the Teflon Don?" Well, one year later, it's about time something sticks. This latest offense cannot slide. It shows a blatant lack of character traits needed to become President of the United States: A moral compass, a sense of empathy, and an ability to admit fault.
In last year's blog post, I brought up Trump's questioning of Senator McCain as a war hero. So, for my final point, I'll share another portion of McCain's statement issued Monday morning: "I hope Americans understand that the remarks do not represent the views of our Republican Party, its officers, or candidates."
If that is true, Senator, it is time for you and other Republican leaders to withdraw your endorsements of Trump. It is simply not enough to denounce the comments, and continue to support the man who made them. This family has paid the ultimate sacrifice, and for Trump to criticize that is a bridge too far. His disparaging attacks are not just unbecoming of a man worthy of the presidency; they are unbecoming of a man worthy of our respect.
Calling all HuffPost superfans!
Sign up for membership to become a founding member and help shape HuffPost's next chapter