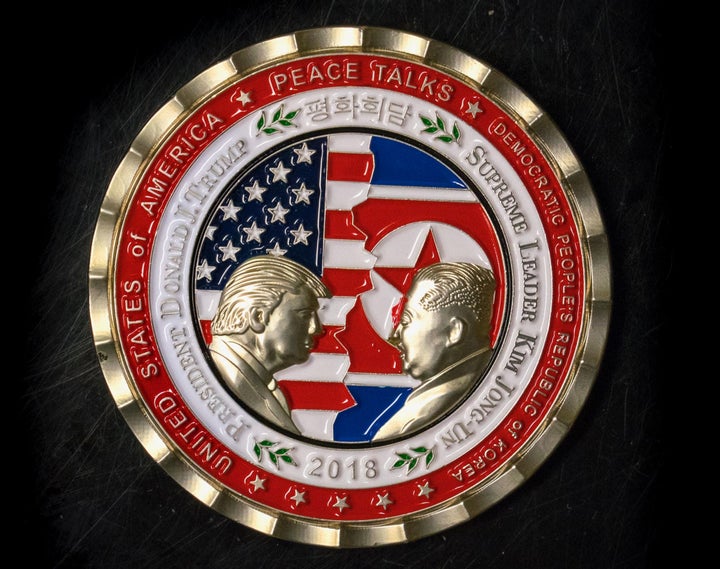 A commemorative coin released by the White House is drawing ire over its depiction of President Donald Trump face-to-face with North Korean dictator Kim Jong Un.
The flashy coin, known as a challenge coin, shows the two men's portly profiles with the words "Peace talks" above them. Both men's names are printed along the coin's border, with Kim referred to as "Supreme Leader" ― a title that the U.S. government is not known to use.
The coin was released to memorialize the pair's planned peace summit — which, as of this week, may not happen.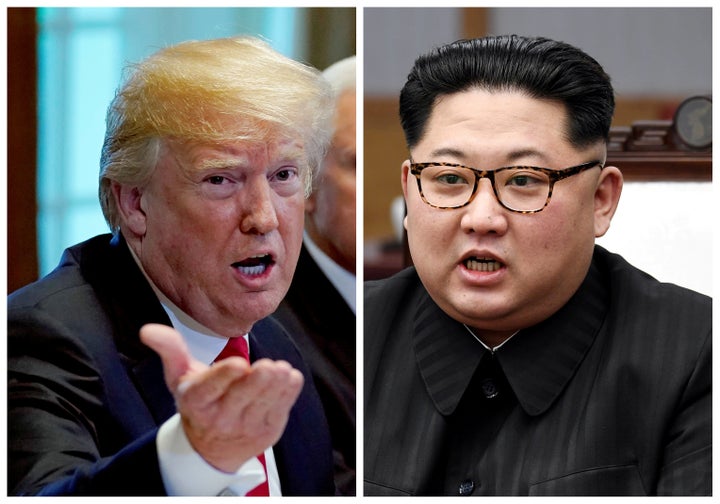 White House press secretary Sarah Sanders waved off questions about the coin during a press briefing on Tuesday, saying the White House Communications Agency, a special military unit that provides support to the president and his staff, is the organization responsible for its design. The agency did not immediately respond to a request for comment from HuffPost.
In addition to the status of the two leaders' announced June 12 meeting in Singapore being up in the air as of this week, critics are expressing concern over Kim's being given such a prestigious recognition while sharing a platform with the U.S. president.
In addition to torturing and causing the death of American college student Otto Warmbier, North Korea is widely known for human rights abuses against its people and foreigners. It has threatened to wage a nuclear attack on the U.S. and South Korea. It most recently refused to dismantle its nuclear arsenal unless it first sees some benefits.
Senate Minority Leader Chuck Schumer is among those urging Kim's removal from the coin.
"Challenge coins are a time honored tradition and certainly appropriate in this situation, but Kim Jong Un's face has no place on this coin. He is a brutal dictator and something like the Peace House would be much more appropriate," Schumer tweeted.
The Peace House, on the border between North and South Korea, has been proposed by Trump as a meeting place for the men. It's where Kim met with South Korean President Moon Jae-in last month.
Robert E. Kelly, a political analyst on Korean international affairs and a professor at South Korea's Pusan National University, also decried the design on Twitter, calling it "gross" and "un-American."
As far as their relationship goes, placing the two men's faces side by side appears to blanket over what has been a pretty volatile relationship.
REAL LIFE. REAL NEWS. REAL VOICES.
Help us tell more of the stories that matter from voices that too often remain unheard.