SINGAPORE ― The highly anticipated summit between U.S. President Donald Trump and North Korean leader Kim Jong Un is underway in Singapore.
The two world leaders were photographed together on the steps of the Capella Hotel in Sentosa, a tiny island off Singapore's southern coast. This marks the first time that a sitting U.S. president has met with a North Korean leader.
Shortly after a working lunch with their aides, Trump and Kim appeared before reporters just before 1 p.m. local time. The U.S. president said the meetings were "going great."
"I think better than anybody could've expected," Trump said. "Top of the line, really good."
He then said the pair were heading to a "signing," although he did not elaborate what kind of document they had formulated, if any. When pressed by a reporter, he said they would make an announcement later in the day.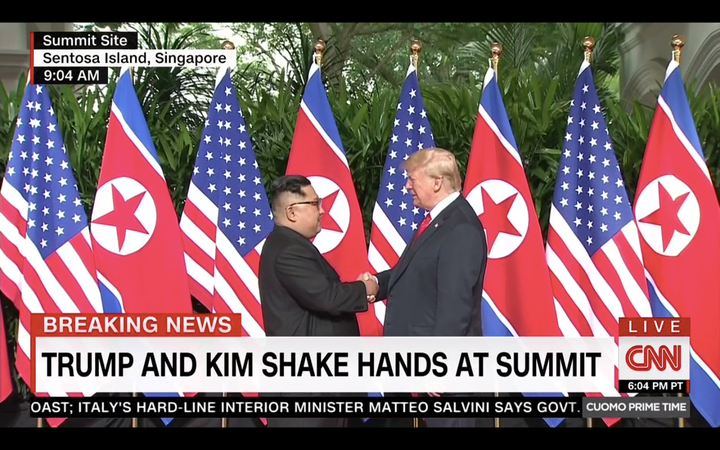 The day's events began when Trump left the Shangri-La Hotel in downtown Singapore just after 8 a.m. Tuesday, arriving at Capella soon after.
Known to have a personal obsession for punctuality, Trump ― who, however, arrived late to a G-7 event on Saturday ― was about 45 minutes early for his tête-à-tête with the North Korean leader, which kicked off a few minutes after the scheduled time of 9 a.m.
Kim's heavily guarded motorcade departed a few minutes after Trump's from the St. Regis Hotel, located just down the road from the Shangri-La. There was a carnival-like atmosphere around the two leaders' hotels as journalists and onlookers thronged to catch a glimpse of the departing motorcades.
"We're going to have a great discussion," Trump said shortly after the two shook hands. "It's my honor, and we're going to have a terrific relationship."
"Well, it was not easy to get here," Kim said through an interpreter, before noting the two were able to overcome "obstacles" to start the summit.
The pair met behind closed doors for several hours on Tuesday, first privately (with interpreters) and then with members of their respective delegations. It's unclear how successful the meeting will be and what demands either leader will make, if the negotiations even get that far.
Diplomats have scrambled in recent weeks to determine what specific policy items are up for negotiation. The talks are expected to focus on North Korea's nuclear weapon program, but officials have largely failed to come away with anything substantive.
Trump said last week that he'd know how successful the talks are "within the first minute" of meeting Kim, but he expressed cautious optimism that the two would come away with some sort of deal.
"Meetings between staffs and representatives are going well and quickly ... but in the end, that doesn't matter," Trump tweeted Tuesday morning. "We will all know soon whether or not a real deal, unlike those of the past, can happen!"