SINGAPORE ― After hours of closed-door discussions in a Singapore hotel on Tuesday, President Donald Trump and North Korean leader Kim Jong Un concluded their historic meeting with the signing of a joint agreement.
The document outlines four points the two leaders agreed upon: establish new U.S.-DPRK relations, build a stable peace regime, a commitment from North Korea to work toward the "complete denuclearization" of the Korean peninsula, and the repatriation of American POW/MIA remains.
The agreement doesn't appear to contain any firm promises from Pyongyang to abandon its nuclear weapon program, but rather, opens the door to ongoing discussions. An analyst told HuffPost the agreement doesn't contain much more than North Korea has promised in decades past.
And this isn't the first time in recent months that North Korea has vaguely promised to denuclearize ― Kim pledged to do so following his meeting with South Korean President Moon Jae-in in April as part of the so-called Panmunjom Declaration.
In a lengthy solo press conference later, Trump mentioned other topics the leaders apparently discussed, such as ending U.S.-South Korea joint military exercises.
Trump called the document "very important" and "comprehensive," adding that it would be discussed "at great length."
"I think both sides are going to be very impressed with the result," he said during the signing ceremony.
Speaking after Trump, Kim said, "Today we had a historic meeting and decided to leave the past behind. We are about to sign a historic document. The world will see a major change."
Trump praised Kim as a "worthy negotiator" and talented man who "loves his country very much." Before they parted ways, he promised that the pair would meet many times and, when asked if he'd extend an invitation for his North Korean counterpart to visit the White House, he said: "Absolutely I will."
"We have developed a very special bond," Trump said. "It worked out for both of us far better than anybody could've expected, far better than even anybody would've even predicted. This is going to lead to more and more and more, and it's an honor to be with you."
The president later told reporters during his news conference that he was open to visiting Pyongyang and planned to invite Kim to the White House ― both at the "appropriate time."
Kim left the Capella Hotel just moments after the declaration was signed and ducked questions from reporters about whether he had spoken about giving up any of the North's nuclear weapons.
Trump said during the press conference that the two leaders had agreed to engage in "vigorous negotiations to implement the agreement as soon as possible." When pressed to explain what exactly "complete denuclearization" means or what it would entail, Trump said only that the process would be done as "fast as can be done scientifically [and] mechanically." He did not provide a concrete timeframe.
He said the U.S. had agreed to stop playing "war games" with Pyongyang, referring to the joint military exercises with South Korea that have angered Kim in the past.
Trump added that he wants to "bring our soldiers back home" from South Korea, but said it was "not part of the equation right now."
The document signed by the two leaders included no language about human rights protections. When asked about this, Trump said human rights had been covered during the meeting and would be discussed "more in the future."
Trump told reporters that any denuclearization efforts "will be verified." When asked how that would be accomplished, however, he replied that it would be "achieved by having a lot of people there ... combinations of both" American officials and international representatives.
Disarmament experts have long said any deal with the North should contain firm commitments about what, exactly, "denuclearization" means and how the country would go about it. Secretary of State Mike Pompeo himself on Monday told reporters the "only outcome the United States will accept" was the "complete and verifiable and irreversible denuclearization of the Korean Peninsula."
The terms "verifiable" and "irreversible" were not in the document that Kim and Trump signed.
Vipin Narang, a professor of international relations at MIT, said the language in the document echoed statements made by North Korea 25 years ago in a similar joint declaration with the U.S. and appears to contain little more than what the North has already promised in the past. He did note, however, that Kim's first handshake with Trump shows his nuclear weapons have officially given him legitimacy on the world stage.
"Get nukes and you are taken seriously and get to meet with the president of the United States," Narang said in an email to HuffPost.
Other analysts noted that despite how Trump may speak about the summit going forward (or any new chatter about a Nobel Peace Prize), the North hasn't yet made a single promise to disarm.
"A summit is inherently asymmetric, because its very existence confers international recognition to the North Koreans," Jeffrey Lewis, a nuclear policy expert at Middlebury Institute of International Studies, wrote on Sunday. "Kim Jong Un is desperately looking for international recognition of North Korea as a country in good standing, of his right to rule it, and of the legitimacy of his possession of nuclear weapons. That's why his motorcade had, not one, but two camera-mounted vehicles."
He continued: "North Korean propaganda will be living off this summit for a long time."
Still, North Korea experts have hailed the outcome as a positive one as it suggests a thaw in decades-long tensions between Washington and Pyongyang.
"It was not easy to get here," Kim said before Tuesday's talks began. "The past worked as fetters on our limbs, and the old prejudices and practices worked as obstacles on our way forward. But we overcame all of them, and we are here today."
The highly anticipated summit kicked off a few minutes after 9 a.m. local time with the two world leaders meeting at the steps of Capella Hotel.
"Nice to meet you, Mr. President," Kim was overheard telling Trump. It marked the first time in history that a North Korean leader was meeting with a sitting U.S. president.
"We're going to have a great discussion," Trump said shortly after the two shook hands. "It's my honor, and we're going to have a terrific relationship."
The two leaders first met privately with interpreters, and then with members of their respective delegations. They then had a working lunch (prawn cocktail, Korean stuffed cucumber and beef ribs were on the menu) before taking a quick stroll through the hotel's grounds.
"I think better than anybody could've expected," Trump told reporters at the time, as Kim smiled beside him. "Top of the line, really good."
At the press conference, Trump acknowledged that there was much more that needed to be done. "If you don't get the ball over the goal line, it doesn't mean enough," he said.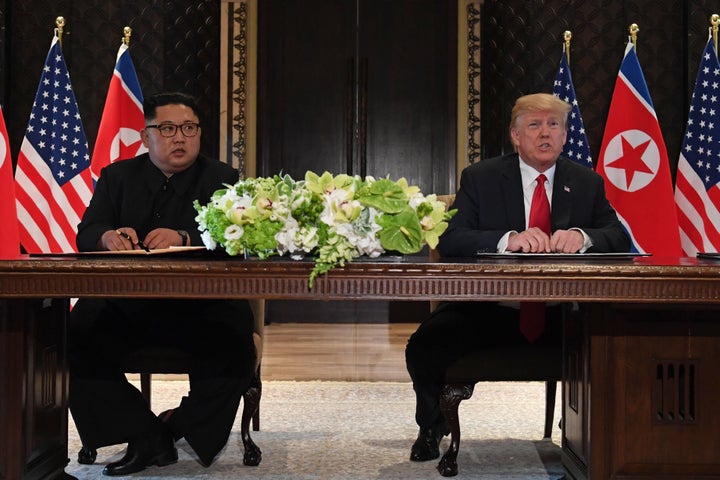 This story has been updated with analysis and comments from Trump's press conference.