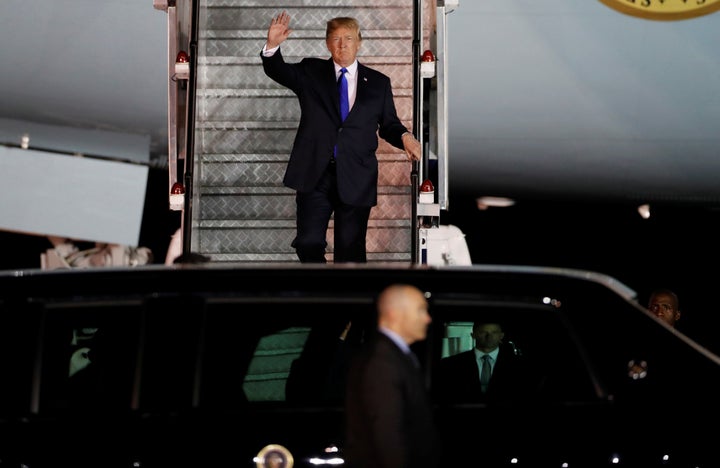 WASHINGTON ― The first-ever North Korea-United States summit will start with a one-on-one meeting between a brutal dictator known for breaking his word and a president famous for his daily dishonesties.
With two unreliable narrators in Kim Jong Un and Donald Trump, how will Americans know what they actually said and agreed to with each other?
"We won't," said Jeffrey Lewis, director of the East Asia program at the James Martin Center for Nonproliferation Studies. "The whole Trump team has been an unreliable narrator throughout this process. It's like 'Rashomon,' but really stupid."
In Akira Kurosawa's classic movie, the murder of a samurai is told through the vastly differing recollections of a handful of witnesses. For the meeting scheduled to begin in Singapore Tuesday morning ― Monday night on the United States East Coast ― there will only be two witnesses: each nation's translator.
"And I don't think either interpreter will be in a position to correct the record if the self-reporting by Kim and Trump doesn't reflect what was actually said in the same manner and tone," said Jenny Town, assistant director of the U.S.-Korea Institute at Johns Hopkins University.
The White House said it does not believe there is any cause for concern about getting an accurate description of the two men's words.
Trump, nevertheless, on almost a daily basis says and writes things that are demonstrably untrue ― sometimes doing so even though he knows what he is saying is untrue.
Even White House press secretary Sarah Sanders has been forced to acknowledge, multiple times, that information she received from Trump and relayed to the public has not been correct.
Tom Nichols, a Russia scholar with expertise in Soviet Union-era arms control talks at the Naval War College, said Trump's propensity for falsehoods makes getting an accurate rendering of the conversation essentially impossible. "There will no way of knowing what happens in that room, unless it's being recorded ― knowingly or otherwise," he said.
On top of Trump's habit of untruths is Kim's record of failing to honor his word.
Trump's own White House, in fact, has already laid out the ways in which Kim broke various promises along the way to the summit.
Deputy White House press secretary Raj Shah said in early May that North Korea had agreed not to criticize upcoming joint military exercises between the United States and South Korea. North Korea criticized them anyway within a few days, leading the United States to call off the part of the exercise involving B-52 bombers.
And the day Trump announced he was canceling the summit (just hours before reversing himself to say he was open to having it), a senior White House official said North Korea had promised to let in international observers to watch the purported destruction of a nuclear test site, but had failed to do so. The official said North Korea's "trail of broken promises" had led to the summit's cancellation.
Yet the next day Trump ― eager for a foreign policy accomplishment ahead of the November midterm elections ― suggested the June 12 summit could be held, after all, and he announced on June 1 that it would.
Trump's one-on-one is scheduled to be followed by a broader meeting that will include national security adviser John Bolton, Secretary of State Mike Pompeo and chief of staff John Kelly. And that will be followed by a lunch, which is expected to also include Sanders and the National Security Council's senior director for Asia, Matt Pottinger.
Trump is scheduled to leave Singapore Tuesday evening ― Tuesday morning in Washington ― for the long flight home.
Trump immediately accepted Kim's offer of a meeting when it was made in March ― possibly failing to understand that Kim, his father the previous dictator and his grandfather before that had all sought an audience with the U.S. president for the purpose of enhancing their own status both domestically and around the world.
Instead, Trump has boasted of the planned meeting as a great coup, something he managed to obtain where others before have tried and failed.
Trump's advisers, meanwhile, have from the start of the summit discussions pushed the idea that there would be no letting up of economic sanctions against North Korea unless Kim agrees to complete "denuclearization."
Yet Lewis said that was the exact word used by Kim Jong Il and Kim Il Sung before him, and it does not mean what Pompeo and Bolton would like it to mean. "As a factual matter, the North Koreans have never offered to give up their nuclear weapons. Not once," he said. "Denuclearization" as the Kim family has used it, Lewis added, is an aspirational goal that involves everyone on the Korean peninsula, including the United States, giving up nuclear weapons.
Still, he said, having a meeting and talking in vague generalities is better than threatening each other and boasting about their respective arsenals. "Because 2017 was really dangerous. It was tense. In a tense situation, things can get out of control," he said. "This is better. It's bullshit, but it's better. An endless series of summits that accomplishes nothing is better than 2017."