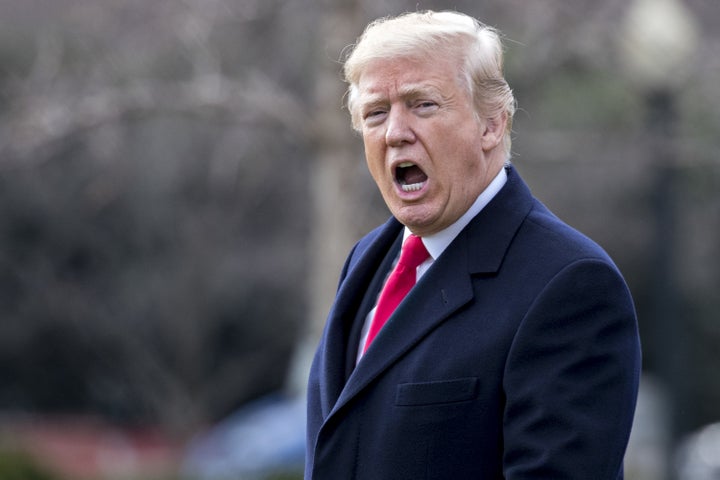 President Donald Trump may be vacationing at his Mar-a-Lago estate, but he has dedicated part of his holiday weekend to berating top FBI officials.
Trump on Saturday took aim at FBI deputy director Andrew McCabe, the second highest ranking official at the bureau who has received many political jabs from the Republican Party in recent years.
McCabe faced more than 16 hours of questioning this week from several House committees about his role in the FBI's investigations into Russia's election meddling and Hillary Clinton's private email server, according to CNN.
"How can [McCabe], the man in charge, along with leakin' James Comey, of the Phony Hillary Clinton investigation (including her 33,000 illegally deleted emails) be given $700,000 for wife's campaign by Clinton Puppets during investigation," the president tweeted Saturday.
Trump also pointed out that McCabe may be retiring soon, as The Washington Post reported Saturday.
Early Sunday morning, he referenced a Fox News segment that reported that McCabe allegedly used "his FBI Official Email Account to promote [Hillary Clinton's] campaign."
Trump's tweets were an apparent attempt to undermine McCabe's credibility in the wake of reports that FBI agent Peter Strzok had sent texts considered politically biased against Trump.
Strzok had mentioned "Andy," which could be a reference to McCabe, in an August 2016 text message to FBI attorney Lisa Page. Some Republicans believe the text messages show a conspiracy to take down Trump, possibly involving McCabe, according to the Post.
Trump's tweets also rehashed an alleged controversy surrounding 2016 campaign donations made by Virginia Gov. Terry McAuliffe, an ally of Hillary and Bill Clinton, to McCabe's wife, who was running for (and eventually lost) a seat in Virginia's Senate. Many Republicans found the donations suspicious and used it to draw ties between the Clintons and McCabe, who oversaw the FBI's Clinton email probe. They then called for McCabe's firing.
Later Saturday, Trump shifted his attention to reports that FBI general counsel James Baker was being reassigned.
According to the Post, which first reported the news, Baker's reassignment was FBI director Christopher A. Wray's attempt to assemble a new team of senior advisers while fending off GOP claims of political bias within the FBI.
The president's tweets echo the chorus of Republicans on Capitol Hill who have ramped up their criticism of the Department of Justice's investigation into ties between Trump's campaign and Russia.
Democrats have denounced the Republican attacks on the FBI and Justice Department, claiming they are attempts from the right to interfere with Special Counsel Robert Mueller's probe.
This story has been updated with Trump's Sunday morning tweet.
Popular in the Community