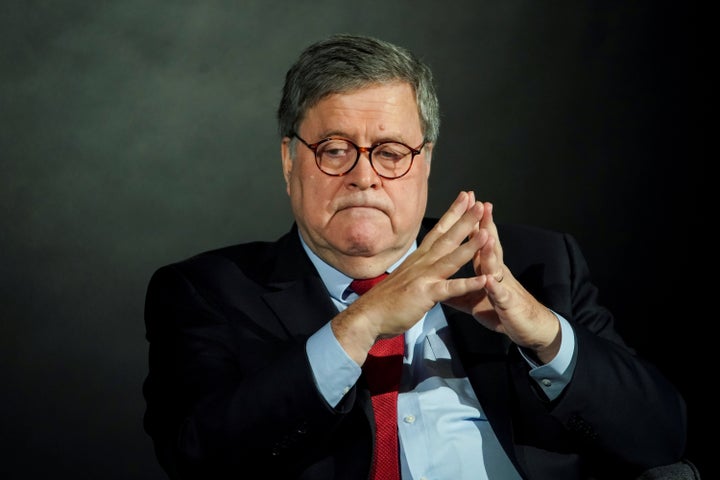 A federal judge on Thursday ordered the Trump administration not to release a report by the Presidential Commission on Law Enforcement and the Administration of Justice, finding that the group ― comprised entirely of current and former members of law enforcement ― had been "far from transparent."
Senior U.S. District Judge John Bates, a George W. Bush appointee, issued a 45-page ruling finding that commission ― which President Donald Trump announced with fanfare at a police conference last year ― had violated the Federal Advisory Committee Act (FACA), which requires that committees be "fairly balanced" in the viewpoints represented.
Attorney General William Barr said there was a need to hear from a "diversity of backgrounds and perspectives," but the commission was full of law enforcement officials. Bates' order requires Barr "to ensure the Commission has a fairly balanced membership."
Last month, as HuffPost previously reported, an elected prosecutor quit one of the commission's working groups because he worried that it was "providing cover" for a predetermined law-and-order agenda that "will only widen the divisions in our nation."
Bates wrote that the commission's membership "consists entirely of current and former law enforcement officials" and that no commissioner "has a criminal defense, civil rights, or community organization background."
"Especially in 2020, when racial justice and civil rights issues involving law enforcement have erupted across the nation, one may legitimately question whether it is sound policy to have a group with little diversity of experience examine, behind closed doors, the sensitive issues facing law enforcement and the criminal justice system in America today," he wrote.
The NAACP Legal Defense Fund had challenged the commission. Bates found that it had standing to do so, and that it had "also suffered an injury in fact because the government has denied LDF access to a representative voice on the Commission."
"LDF has an interest in and is directly impacted by the Commission's function of studying policing," he wrote. "Because Attorney General Barr appointed the Commissioners at the same time as establishing the Commission, and only selected from those with law enforcement backgrounds, it does not appear that LDF and its representatives had an opportunity to formally apply for Commission membership."
Noting that "all eighteen Commissioners are current or former law enforcement" and that the group included no members of civil rights organizations, nor "any criminal defense attorney, academic, civic leader, or representative of a community organization or social service organization," Bates said that FACA "aimed to ensure there would not be all law enforcement officials on a DOJ commission studying the broad subject of policing in America."
Bates wrote that it would be difficult to determine what precisely a commission with a "fair balance" would look like, but said Barr's commission didn't come even close to complying with the law.
"The Commission's function is to improve policing, including relations between law enforcement and the communities they protect. Yet the Commission does not include a single member who represents elements of those communities, rather than law enforcement," Bates wrote. "Indeed, the Court is hard pressed to think of a starker example of non-compliance with FACA's fair balance requirement than a commission charged with examining broad issues of policing in today's America that is composed entirely of past and present law enforcement officials."
Trump, who has proclaimed himself the candidate of "law and order" and who has been running a largely fear-based reelection campaign, was set to release the commission's report later this month. But Bates ordered that commission proceedings "be halted and that defendants may not submit, publish, or rely on any report or recommendations produced by the Commission until the requirements of FACA are satisfied."
Miriam Krinsky, founder and executive director of the group Fair and Just Prosecution, said that the commission "represents nothing more than a sham proceeding designed to further a political agenda" and that Thursday's judgement was "a victory for all those who are working towards building a more fair and just criminal legal system — one grounded in racial equity and that promotes community safety and well-being."
She said the "skewed makeup of the Commission and its working groups — and its secretive and closed process — underscores the bias and predetermined agenda inherent in the establishment of this group."
A Justice Department spokeswoman did not immediately respond to a request for comment.
Popular in the Community