President Donald Trump has jumped into the lawsuit filed against him by an adult film actress seeking to void a "hush agreement" about their relationship, while his longtime attorney is claiming that they have the right to sue her for at least $20 million.
The latest twist comes after the White House initially claimed Trump had nothing to do with Trump Organization lawyer Michael Cohen's payment of $130,000 to Stephanie Clifford ― better known by her stage name, Stormy Daniels ― just days before the 2016 presidential election.
Cohen filed papers Friday to move Clifford's lawsuit from state court in California to a federal court there. Trump, through Beverly Hills lawyer Charles Harder, filed papers indicating that he agrees with Cohen that the matter belongs in federal court.
"Mr. Trump intends to pursue his rights to the fullest extent permitted by law," Harder wrote.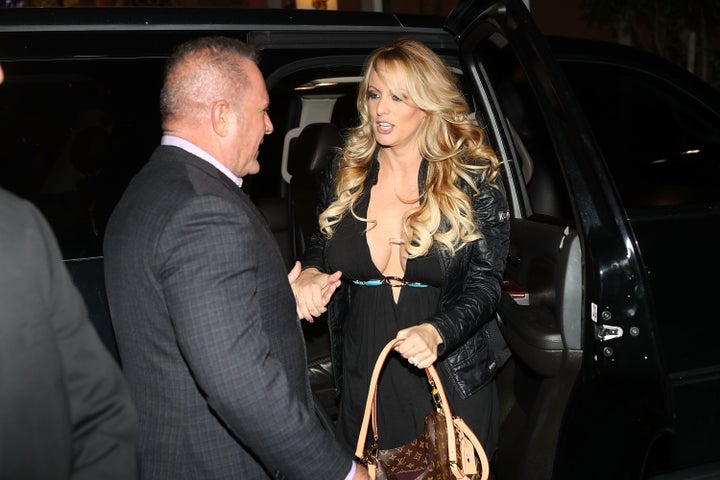 Clifford's lawyer, Michael Avenatti, early Friday told HuffPost he had heard nothing of Cohen's upcoming filing but that he welcomed it if it happened.
Friday night, after the papers had been filed, he responded on Twitter: "The filing today is yet another bullying tactic from the president and Mr. Cohen. They are now attempting to remove this case to federal [court] in order to increase their chances that the matter will be decided in private arbitration, thus hiding the truth from the public."
Cohen responded early Friday to a HuffPost query about his coming filing by asking for more specifics, but then he never replied to subsequent calls and text messages.
One Republican consultant close to the White House said he wasn't sure how Cohen's latest tactic serves Trump. "None of this is helpful. None of it," he said, guessing that Cohen had decided he needed to hit back hard to protect Trump. "If you go after Michael Cohen, he's going to come after you. He's going to leave a mark. It doesn't matter if you're an ice cream salesman or a porn star. That's just how Michael is."
How can President Donald Trump seek $20 million in damages against my client based on an agreement that he and Mr. Cohen claim Mr. Trump never was a party to and knew nothing about?

Michael Avenatti, Stephanie Clifford's lawyer
In Cohen's filing ― done in the name of Essential Consultants, the Delaware corporation he created for the purpose of paying Clifford ― he argues that the confidentiality agreement Clifford signed in October 2016 states that each time she violates it, she is liable for $1 million in damages. Cohen "is aware of at least twenty (20) violations by Clifford," the filing states.
"Therefore, EC and/or Defendant Trump have the right to seek liquidated damages against Clifford for her numerous breaches in an amount to be proven with certainty at the Pending Arbitration Proceeding, but which is approximated to already be in excess of twenty million dollars," the filing states.
Harder did not immediately respond to a HuffPost request for comment. He had earlier represented first lady Melania Trump in a lawsuit against the London-based Daily Mail. Before that, Harder had represented pro wrestler Hulk Hogan in his lawsuit against Gawker over its publication of a sex tape involving him.
Avenatti, on Twitter, wondered how Trump could simultaneously argue that he had nothing to do with Clifford while also suing her for millions for talking about it.
"How can President Donald Trump seek $20 million in damages against my client based on an agreement that he and Mr. Cohen claim Mr. Trump never was a party to and knew nothing about?" he wrote. "The fact that a sitting president is pursuing over $20M in bogus 'damages' against a private citizen, who is only trying to tell the public what really happened, is remarkable. Likely unprecedented in our history. We are NOT going away and we will NOT be intimidated."
Last week, Clifford filed a lawsuit against Trump, claiming that the agreement signed in 2016 is "null and void" because the president did not sign the agreement himself. 
Clifford's suit claims that she and Cohen signed the so-called hush agreement and a side letter agreement, which stated that her attorney at the time would be paid $130,000 in exchange for Clifford's silence.
Clifford's suit against Trump claims the two had an intimate relationship that started in the summer of 2006 and continued into 2007. That time period would have been shortly after Trump and new wife Melania's son was born.
White House officials, who have denied any relationship between Trump and Clifford, did not respond to HuffPost queries Friday evening.
Calling all HuffPost superfans!
Sign up for membership to become a founding member and help shape HuffPost's next chapter