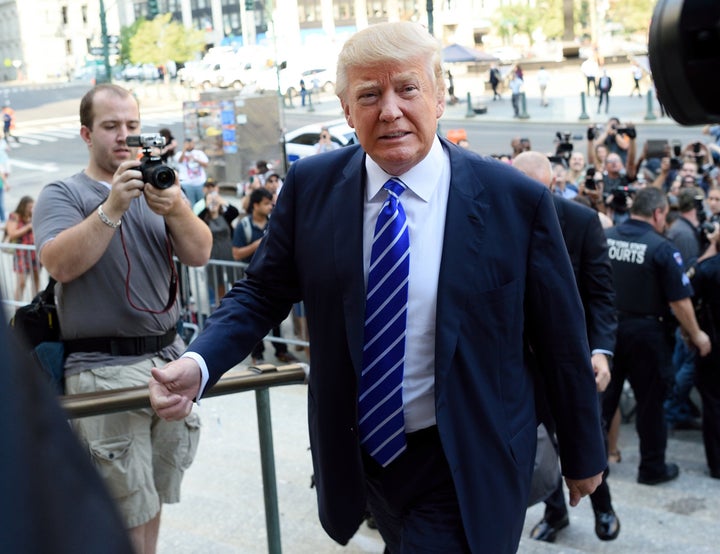 Two new national polls show Donald Trump continuing to lead in the race for the GOP presidential nomination. But a combination of basic arithmetic and Politics 101 helps explain why the real estate mogul remains a long way from the support necessary to secure the 2016 Republican nomination.
The two most recent polls from CNN and Fox News, the first live-interviewer telephone surveys to be conducted since the Fox News debate, both show Trump in the lead for the GOP nod with 24 and 25 percent of Republicans nationwide, respectively. The result falls into line with the current HuffPost Pollster average, which is based on all available public polls.
But let's set those predictions aside for the moment. What if Trump holds his current 25 percent support from Republicans nationwide? That number is obviously enough to put him ahead in a field of 17 Republicans, and it may prove sufficient to win an early state contest should the field remain that large. But it is not nearly enough to secure a presidential nomination.
Here, Trump's frontrunner status hits a straightforward barrier: To become the nominee, a candidate must win the support of a majority of delegates to their party's convention. Twenty-five percent won't cut it.
To put that number into context, consider what Rick Santorum, Mike Huckabee and Mitt Romney in 2008; John Edwards in 2004; Bill Bradley and Pat Buchanan in 1996; and Jerry Brown and Paul Tsongas in 1992 have in common: All sought presidential nominations and lost, despite receiving between 18 and 22 percent of the primary votes cast nationwide (as tallied by Leip's Election Atlas). John McCain did somewhat better in 2000 -- winning roughly a third of Republican primary votes -- but still lost to George W. Bush, who won nearly double that number. All of these runners-up experienced success or outright victory in at least one early primary or caucus state, but their support ultimately proved inadequate as the fields narrowed in subsequent primaries and voter support rapidly gravitated to the candidates that won in the end.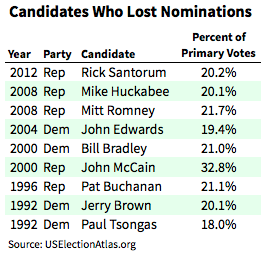 On the flip side, the party nominees in competitive nomination battles since 1992 received an outright majority of the primary vote or came very close, with only Barack Obama and John McCain falling just below 50 percent support from their respective parties in 2008.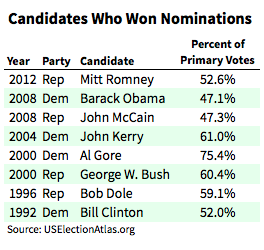 These statistics are related to a corollary finding highlighted recently by FiveThirtyEight's Harry Enten: Since 1980, candidates who led in polling at this stage of the campaign with a third or more of the primary vote were were far more likely to win than those who received a third of the vote or less.
The victories of Obama and McCain in 2008, despite falling just shy of an outright majority of primary voters, highlight another important aspect of the nomination process. Obama and McCain ultimately secured their nominations with two categories of delegates: those won in caucus states, and the party and elected officials who were officially unpledged.
Thus, one way or another, the nominating process requires that a presidential nominee win over a majority of delegates. Usually, they win a majority of primary voters. If they fall short, they get an assist from unpledged delegates, who are usually party officials and office-holders. These people tend to be most concerned with choosing a nominee with the best chance of winning in November.
Trump is unlikely to benefit from insider help. Republican insiders surveyed by Politico show little love for him. The HuffPost/YouGov survey of Republican activists in July found just 12 percent supporting Trump, but 38 percent with an unfavorable impression. More important, just 22 percent said Trump would be acceptable to most Republicans if nominated, and 26 percent considered him capable of winning a general election.
Could Trump grow his current support to a majority of Republican primary voters? A recent HuffPost/YouGov poll of all Republicans shows that he faces considerable resistance. On a two-way, forced-choice question, 26 percent of Republican registered voters said they preferred Donald Trump as their nominee -- a number roughly comparable to his standing in other polls -- but 54 percent said they prefer "someone else."
The new CNN poll found a similar result: Thirty-eight percent of Republican registered voters said their party has a "better chance of winning the presidency in 2016" if Trump is their nominee, while 58 percent said they will have a better chance with "someone else."
The population of actual Republican primary and caucus voters will be far narrower than all Republican-leaning registrants, but majority preference for someone other than Trump remains roughly constant in the HuffPost/YouGov poll across a variety of different Republican subgroups -- strong partisans and weak, conservative and moderate, part of the tea party or not, highly attentive to political news or disengaged.
Yes, in theory, Trump's support could grow to a majority of Republican primary voters, but right now his vote falls well short of a Republican consensus. His unique celebrity status may help protect the support he now receives. His voters already know him well and have learned little, so far, to change their existing opinions. However, that same characteristic -- the fact that Trump is already a known quantity -- may also make it very hard for that support to grow.
Popular in the Community