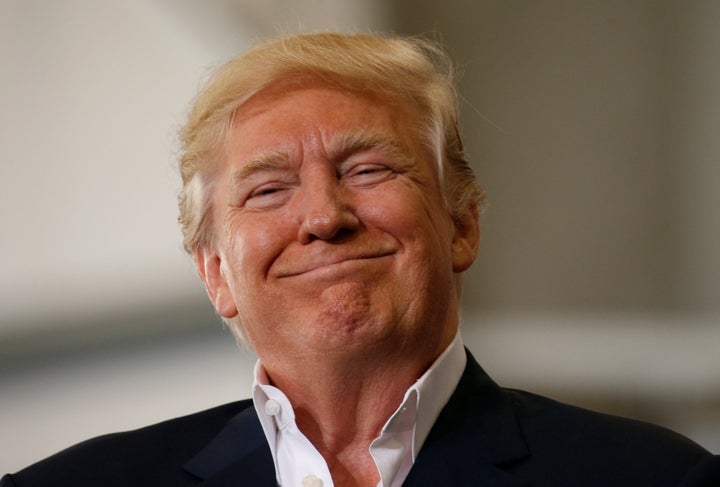 President Donald Trump characterized months of reported infighting within his administration as a battle between staffers competing for his affection in an interview published Tuesday in The Wall Street Journal.
Trump, asked about the Justice Department's role in quashing a spate of leaks to the media from anonymous sources within the White House and various federal agencies, said he hoped Attorney General Jeff Sessions would "go after the leakers in intelligence." However, the president, seemingly as an aside, appeared to quip that he wasn't bothered by staffers leaking positive things about his administration.
"I don't mean the White House stuff where they're fighting over who loves me the most, OK?" Trump said, with the transcript noting there was laughter in the room at the comment. "It's just stupid people doing that."
The president later said he was "very disappointed in the fact that the Justice Department has not gone after the leakers."
"They're the ones that have the great power to go after the leakers, you understand," he said. "So ― and I'm very disappointed in Jeff Sessions."
Trump's comments may be in reference to a Politico story from May that said aides within the Oval Office sometimes slip the president fake news stories "to press their advantage on policy; other times they do so to gain an edge in the seemingly endless 'Game of Thrones' inside the West Wing."
Westeros aside, the Trump administration has been rife with infighting since its early days, when media outlets described a White House "in chaos" or raging through a "civil war." Senior staffers have reportedly launched tense battles over issues including the Paris climate accord and the recent appointment of Anthony Scaramucci as communications director, and much of the drama has made its way into the media.
Scaramucci's new role reportedly led to Sean Spicer's resignation as White House press secretary last week in protest and drew disapproval from his deputy, Sarah Huckabee Sanders, and Chief of Staff Reince Priebus.
Trump has repeatedly raged at the press over any leaks and reportedly asked former FBI Director James Comey about jailing reporters who published classified information in February.
Scaramucci has vowed to end the leaks himself, going so far as to say he'd "fire everybody" if the leaks don't stop. He backed off those comments Tuesday, saying he had no plans to fire people, "at least for now."
Popular in the Community