He spars with the New York attorney general suing him for fraud, telling Letitia James "the whole case is crazy" and accusing her staff of trying to trip him up like TV lawyer Perry Mason did to witnesses.
Trump gave seven hours of sworn testimony in April as part of James' lawsuit, which accused the Republican and his company of defrauding banks, insurers and others with annual financial statements that inflated the value of assets and boosted his net worth by more than $2 billion in some years.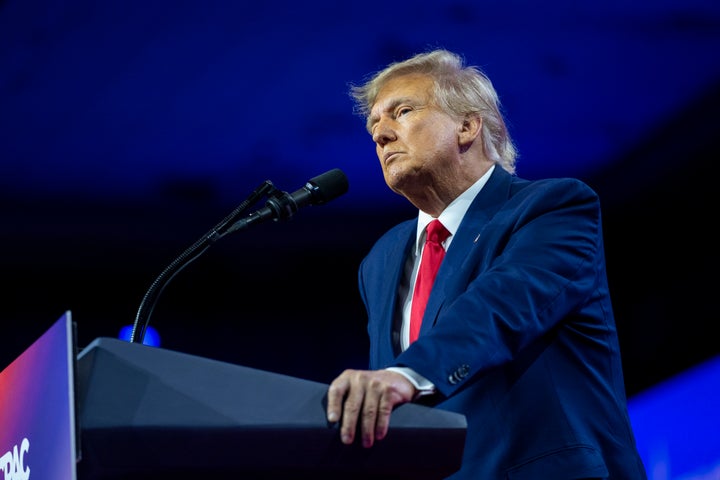 A 'Terrible Thing'
Trump decried James' lawsuit as a "terrible thing," telling her and her staff "you don't have a case."
He insisted the banks she alleges were snookered with lofty valuations suffered no harm, got paid in his deals and "to this day have no complaints."
"Do you know the banks made a lot of money?" Trump asked. "Do you know I don't believe I ever got even a default notice and, even during COVID, the banks were all paid. And yet you're suing on behalf of banks, I guess. It's crazy. The whole case is crazy."
Banks "want to do business with me because I'm rich," Trump told James. "But, you know what, they're petrified to do business because of you."
Trump complained New York authorities "spend all their time investigating me, instead of stopping violent crime in the streets."
"Now I have to come and justify myself to you," Trump groused.
Don't Take My Word For It
Trump said he never felt his financial statements "would be taken very seriously," and that people who did business with him were given ample warning not to trust them.
Trump described the statements as "a fairly good compilation of properties" rather than a true representation of their value. Some numbers, he noted, were "guesstimates."
Trump claimed the statements were mainly for his use, though he conceded financial institutions sometimes asked for them.
Even then, he insisted it didn't matter legally if they were accurate or not, because they came with a disclaimer.
"I have a clause in there that says, 'Don't believe the statement. Go out and do your own work," Trump testified. "You're supposed to pay no credence to what we say whatsoever."
What's In A Name? $10 Billion
Trump estimated that his "brand" alone is worth "maybe $10 billion."
He called it "the most valuable asset I have" and attributed his political success to the ubiquity of his name and persona.
"I became president because of the brand, OK," Trump said. "I became president. I think it's the hottest brand in the world."
'Most Important' Job In The World
After Trump was elected, he put the Trump Organization into a trust overseen by his eldest son, Donald Trump Jr., and longtime finance chief, Weisselberg.
Trump claimed he did so not because it was required but because he wanted to be a "legitimate president" and avoid appearance of a conflict of interest.
Plus, Trump said, he was busy solving the world's problems — like preventing North Korean dictator Kim Jong Un from launching a nuclear attack.
"I considered this the most important job in the world, saving millions of lives," Trump testified. "I think you would have nuclear holocaust if I didn't deal with North Korea. I think you would have a nuclear war, if I weren't elected. And I think you might have a nuclear war now, if you want to know the truth."
Now We're Talking
Trump's often garrulous testimony was a 180-degree turn from the approach he took when James summoned him for questioning in August 2022 — before her lawsuit or any of the four criminal cases against him were filed.
At that first deposition, Trump invoked his Fifth Amendment privilege against self-incrimination and refused to answer questions more than 400 times. Trump said he did so because he was certain politically motivated prosecutors would use his answers as a basis for criminal charges.
By April, Trump changed his mind and responded to even simple questions at such length that his interrogator, James' deputy Kevin Wallace, suggested he was trying to run out the clock.
"Chris, we're going to be here until midnight if your client answers every question with an eight-minute speech," he said to one of Trump's lawyers, Christopher Kise.
Trump, though, seemed aware there was a risk in going on and on.
In the middle of one of his protracted answers, expounding on the greatness of one of his golf courses, Trump said: "You are going to let me go on, hoping that I make a mistake. And that's OK. That's the way it is. Perry Mason. Perry Mason."
Obstructed View
Trump testified at the attorney general's Manhattan office, across the street from 40 Wall Street — a skyscraper labeled "The Trump Building" in big, gold letters.
Asked how the building was doing, financially, Trump answered: "Good. It's right here. Would you like to see it?"
"I don't think we're allowed to open the windows," Wallace said.
"Open the curtain," Trump suggested.
"Open the curtain, go ahead," Trump said. "It's right here. I just looked out the window."
"Can't open it?" Trump lawyer Clifford Robert asked, after a beat.
"I wouldn't," Wallace said.
'Beautiful' And 'Incredible'
Trump showed off his knack for superlatives, uttering the words "beautiful" and "incredible" 15 times each and "phenomenal" six times as he described his properties.
Trump called his Turnberry, Scotland, golf course "one of the most iconic places in the world," and the renovated villas at his Doral golf resort near Miami "the most beautiful rooms you've ever seen."
His golf courses in Aberdeen, Scotland? "Really incredible." Jupiter, Florida? "An incredible facility." Just outside Los Angeles? "An incredible property … an unbelievable property ... a phenomenal property that fronts on the ocean."
"I don't want to sell any of them," Trump testified. "But if I ever sold them — if I ever put some of these things up for sale — I would get numbers that were staggering."
He said he could get $1.5 billion for his Mar-a-Lago estate in Florida and maybe $2.5 billion for Doral.
Trump suggested he could get "a fortune" from the Saudi Arabia-backed LIV golf league for the Turnberry course, a former British Open site.
"There would be people that would do anything to own Doral. There are people that would do anything to own Turnberry or Mar-a-Lago or ... Trump Tower or 40 Wall Street."
__
Associated Press reporters Jennifer Peltz and David B. Caruso contributed to this report.
Support HuffPost
The Stakes Have Never Been Higher
Popular in the Community