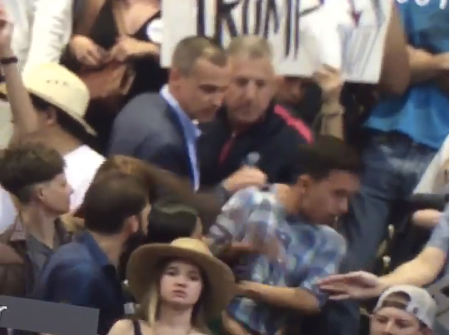 Video taken at a Donald Trump rally in Tucson, Arizona, on Saturday appears to show the GOP front-runner's campaign manager grabbing the collar of a protester, just 11 days after the Trump aide was accused of assaulting a reporter.
CBS News reporter Jacqueline Alemany identified the man as Corey Lewandowski in the video she posted from the rally in the Tucson Convention Center. The video shows the protester in a heated conversation with Lewandowski and a man wearing black, and then a hand grabs the young protester by the collar, pulling him back.
The Trump campaign claimed that it was not Lewandowski, but rather a person to his left, who grabbed the unidentified man's collar.
"The video clearly shows the protester reacting to the man who pulled him, not to Mr. Lewandowski," a statement read.
"Mr. Trump does not condone violence at his rallies," campaign spokeswoman Hope Hicks added.
While the presence of bystanders prevents an unobstructed view of the incident, the sleeve on the arm that grabs the protester is similar in color to Lewandowski's coat.
The incident adds to the controversy around Lewandowski and the Trump campaign.
Lewandowski and the Trump campaign have denied the allegations, and Trump has stood by his campaign manager. Lewandowski called Fields "totally delusional," and Trump said that she "made the story up."
Ken Vogel of Politico reported this week that Lewandowski has a history of inappropriate behavior. While working for Americans for Prosperity in 2013, Lewandowski reportedly castigated a female employee, calling her a "c**t" in front of her colleagues. An unnamed reporter told Vogel that Lewandowski has made sexual comments to and about female journalists that she described as "completely inappropriate."
On Sunday, Trump praised Lewandowski on ABC for "having spirit":
UPDATE: 3/20 -- The person who the Trump campaign said pulled down the protester was a member of Trump's private security detail, according to Politico. The campaign would not confirm the person was affiliated with Trump, but other sources and reporters said that he works for Trump's security team.
"Although we did not identify this individual, we did not make any suggestion as to his affiliation or lack thereof," Hicks told Politico.
In light of a string of incidents involving Trump campaign officials and protesters, Hicks said that the campaign "will be dedicating additional security resources to larger events in the future to prevent staff from having to intervene."
Calling all HuffPost superfans!
Sign up for membership to become a founding member and help shape HuffPost's next chapter
BEFORE YOU GO
PHOTO GALLERY
Trump On HuffPost Front Pages