President Donald Trump opened his first commencement speech as president, delivered Saturday at the evangelical Liberty University, by talking about the size of the crowd that had come to see him speak.
It was the only the second time a sitting U.S. president has spoken at the school's commencement, said Liberty President Jerry Falwell Jr. before Trump's address. Falwell noted more than 50,000 people attended the speech, a record size.
When Trump took the microphone, he congratulated the class of 2017, then immediately addressed the crowd size.
"I'm thrilled to be back at Liberty University. I've been here, this is now my third time, and we love setting records, right? We always set records," Trump said. "We have to set records, we have no choice." 
He referred again to the size of the crowd later in his speech, saying, "This is a beautiful stadium, and it's packed. I'm so happy about that."
It was the latest example of a seeming obsession with crowd size. After Trump's inauguration, White House Press Secretary Sean Spicer pushed back strongly on reports that the size of the crowd was smaller than the one at President Barack Obama's in 2009. During a rally in Pennsylvania last month, Trump said he had set an "all time" record for crowd size at an arena, but a journalist attending tweeted a photo of empty seats.
Trump, who was presented with an honorary degree but didn't wear academic regalia during his address, urged the Liberty graduates to remain persistent, never give up and, if necessary, to embrace being an outsider. Trump, who has frequently attacked the press for being critical of him, told graduates they should "turn your hopes and dreams into actions."
"Nothing is easier or more pathetic than being a critic, because they're people that can't get the job done," he said.
The president also offered a robust defense of public faith in American life, saying graduates shouldn't let other people tell them what to believe, "especially when you know that you're right."
"In America, we don't worship government, we worship God," he said.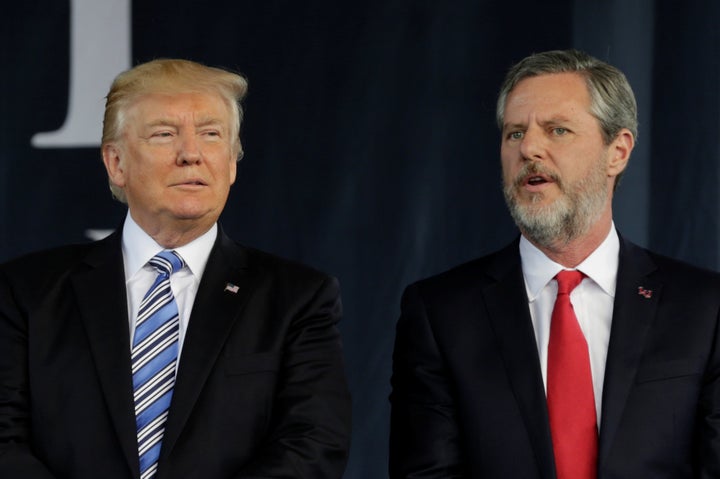 Trump also reprised some of his comic antics from the campaign trail with an extended riff on Liberty's rising standing in college football. Trump congratulated the Flames, as the school's team is known, on joining the NCAA's Division I, where it now plays some of the best teams in the country.
"Just wait until the world hears the football teams you'll be playing on your schedule, starting next season," the president said.
"Would you like me to read the names that just came out, would you like to hear them? I'm a little bit concerned. UMass, Virginia ― Auburn! Jerry, are you sure you know what you're doing?" Trump said, drawing laughs from the crowd as he turned toward Falwell. "Jerry, Auburn? I don't know about that, James. This could be trouble, Jerry." (It is not clear to whom Trump was referring when he said "James.")
Trump, who has bragged about committing adultery and is on his third marriage, has never been a particularly devout Christian. That was evident when he spoke at Liberty University on the campaign trail in January 2016, citing a verse from "Two Corinthians," a New Testament book that is more commonly called "Second Corinthians."
Days after the 2016 speech, however, Falwell endorsed Trump in the Republican presidential primary, giving him an advantage among social conservatives that competitors, including Sen. Ted Cruz (R-Texas), had hoped to lock down. Among the reasons Falwell cited was Trump's tendency to "speak his mind."
Introducing Trump on Saturday, Falwell praised the president for an executive order this month that would make it easier for religious institutions to get involved in politics without jeopardizing their tax-exempt status. The order stops short of overturning the Johnson Amendment barring churches and other tax-exempt religious entities from openly engaging in politics, but it instructs the Internal Revenue Service to enforce the policy as leniently as possible.
Falwell's closeness with Trump has not always sat well with Liberty University students. In October, about 2,500 Liberty students and faculty members issued a statement denouncing Trump after leaked video emerged of Trump bragging about what appeared to be unwanted groping of women. They also criticized Falwell for dismissing the incident by saying, "We're all sinners."
Calling all HuffPost superfans!
Sign up for membership to become a founding member and help shape HuffPost's next chapter
BEFORE YOU GO
PHOTO GALLERY
Donald Trump Loves Signing Things