WASHINGTON — The Trump administration will reverse an Obama-era ban on the importation of elephant trophies from Zimbabwe and Zambia after determining that sport hunting in those countries will help conserve the species, the U.S. Fish and Wildlife Service confirmed Wednesday.
The decision was made public not by the federal agency but via a celebratory news release early Tuesday from Safari Club International, a trophy hunting advocacy group that, along with the National Rifle Association, sued to block the 2014 ban.
Greg Sheehan, principal deputy director of the FWS, broke the news to the hunting organization during the African Wildlife Consultative Forum (AWCF) in Tanzania, an agency spokesperson told HuffPost. The forum, which runs through Friday, is being hosted by the Safari Club International Foundation and the United Republic of Tanzania.
African elephants have been listed as threatened under the Endangered Species Act since 1978. A provision of the law, however, allows for sport-hunted trophies to be imported if the government determines that hunting will help safeguard the population.
An FWS spokesperson provided HuffPost with a pair of nearly identical statements regarding the agency's findings for elephants in each country.
"Legal, well-regulated sport hunting as part of a sound management program can benefit the conservation of certain species by providing incentives to local communities to conserve the species and by putting much-needed revenue back into conservation," the spokesperson wrote. "The U.S. Fish and Wildlife Service has determined that the hunting and management programs for African elephants in [Zimbabwe and Zambia] will enhance the survival of the species in the wild."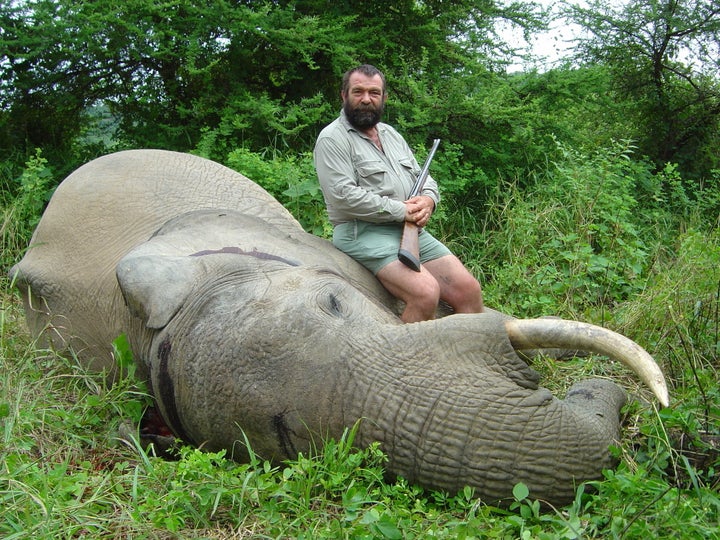 A notice — shared with HuffPost — regarding the agency's decision on elephants in Zimbabwe will be published Friday in the Federal Register, the spokesperson said.
"There now appears to be a greater effort on the part of [Zimbabwe Parks and Wildlife Management Authority] to work with NGOs, landowners, and safari area concessionaires to improve elephant management and anti-poaching efforts," the notice reads.
It is unclear when the agency's decision to allow imports of trophies from Zambia will be posted.
The findings allow for anyone who legally kills an elephant in Zimbabwe from Jan. 21, 2016, to Dec. 31, 2018, or in Zambia in 2016, 2017 and 2018 to obtain a permit to import their trophy into the United States, according to FWS.
Paul Babaz, president of Safari Club International, applauded the announcement, saying it demonstrates FWS "recognizes that hunting is beneficial to wildlife and that these range countries know how to manage their elephant populations."
But the number of Savanna elephants continues to dwindle. From 2007 to 2014, the population dropped by 30 percent, or about 144,000 animals, across 18 African countries, according to the 2016 Great Elephant Census. In Zimbabwe, it fell 6 percent. And "substantial declines" have been recorded along the Zambezi River in Zambia, although the population elsewhere in the country remained stable.
In a blog post Wednesday, Wayne Pacelle, president and CEO of The Humane Society of the United States, called the decision "jarring."
"For decades, Zimbabwe has been run by a dictator who has targeted and killed his political opponents, and operated the country's wildlife management program as something of a live auction," he wrote. (Zimbabwe's president, Robert Mugabe, appears to be under house arrest now, though, after the military took charge of the country late Tuesday.)
Pacelle added that the announcement coming from the Safari Club "suggests an uncomfortably cozy and even improper relationship between trophy hunting interests and the Department of the Interior."
The Interior Department is led by Secretary Ryan Zinke, an avid hunter who has moved to increase opportunities for hunting and fishing. Earlier this month, Zinke announced the creation of a so-called International Wildlife Conservation Council to advise him on "the benefits that international recreational hunting has on foreign wildlife and habitat conservation, anti-poaching and illegal wildlife trafficking programs."
Popular in the Community