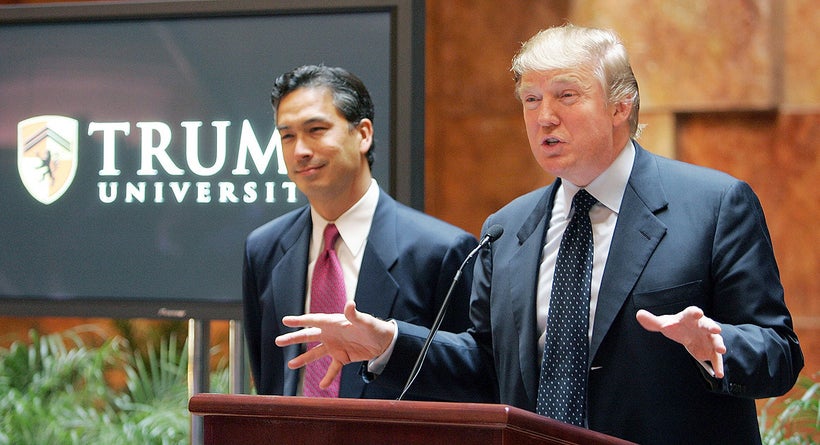 America's President-elect just lost a massive court case, paying a multi-million dollar settlement for his synonymous fake university called by New York's top law enforcement official, "a scam from beginning to end."
Trump's been fighting a losing battle in court for six years, ultimately paying through the nose to avoid a court verdict in a consumer fraud case that the mainstream press ignored this election season.
Today, Donald Trump has personally agreed to pay $25 million dollars to the victims of his Trump University scam, settling class action fraud and racketeering charges in federal court as well as New York state charges without a formal admission of guilt.
Winners in lawsuits do not pay multi-million dollar settlements.
New York Attorney General Eric Schneiderman released a statement which declares that Trump paid a seven-figure fine for breaking his state education laws.
Trump's fake university ran afoul of laws meant to protect residents from predatory private for-profit colleges that took your money and then gave you a cereal box diploma:
I am pleased that under the terms of this settlement, every victim will receive restitution and that Donald Trump will pay up to $1 million in penalties to the State of New York for violating state education laws. The victims of Trump University have waited years for today's result and I am pleased that their patience--and persistence--will be rewarded by this $25 million settlement.
In 2013, my office sued Donald Trump for swindling thousands of innocent Americans out of millions of dollars through a scheme known at Trump University. Donald Trump fought us every step of the way, filing baseless charges and fruitless appeals and refusing to settle for even modest amounts of compensation for the victims of his phony university. Today, that all changes. Today's $25 million settlement agreement is a stunning reversal by Donald Trump and a major victory for the over 6,000 victims of his fraudulent university.
That retaliatory lawsuit was judged a violation of the First Amendment, and he paid the student's attorney's fees after losing.
That student Tara Markeiff became lead plaintiff in the class-action fraud case settled today, but dropped out in March complaining that Trump's abusive litigation tactics were unbearable.
Earlier this year, then-Republican candidate Donald Trump crowed to the Republican primary audience that he never settles lawsuits, and did the same on cable TV, but on the eve of the trial scheduled for November 28th, in a San Diego federal court, he folded.
"I don't settle cases. You know what happens? When you start settling lawsuits, everybody sues you," he said on MSNBC in March, responding to a question about Trump University. "I don't get sued because I don't settle cases. I win in court."
He tweeted that the lawsuit was phony, but paid a fortune to avoid the courtroom, and avoid admitting guilt formally, even though he's paying a massive fine for violating New York's education laws.
New York's Attorney General called Trump University a fraud from "beginning to end."
"We have a law against running an illegal unlicensed university. This never was a university. The fraud started with the name of the organization, and you can't just go around saying this is the George Stephanopoulos Law Firm/Hospital/University without actually qualifying and registering, so it was really a fraud from beginning to end."
Those facts became central to the case against him personally for racketeering, which of the three lawsuits presented the highest risk after his legal team lost a hail mary bet to obtain summary judgement this summer.
America has never elected as President a politician who just paid a massive ten-figure sum to settle allegations of running an unlicensed private education company scam from beginning to end.
Calling all HuffPost superfans!
Sign up for membership to become a founding member and help shape HuffPost's next chapter
This post was published on the now-closed HuffPost Contributor platform. Contributors control their own work and posted freely to our site. If you need to flag this entry as abusive,
send us an email
.