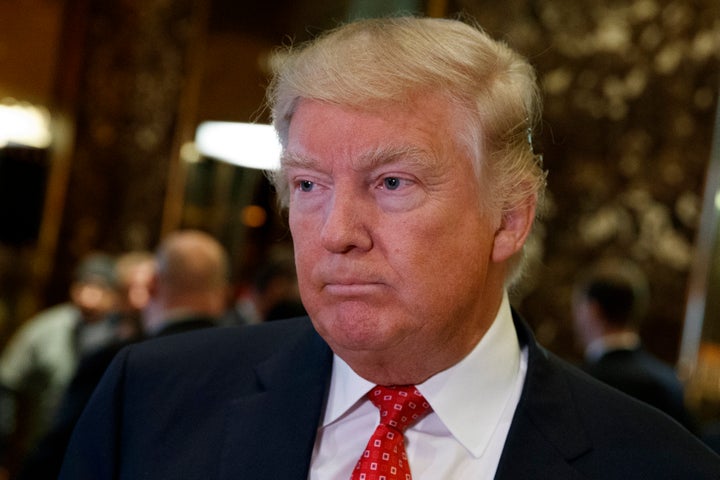 Only 37 percent of respondents approve of how Trump's managing the transition, while 51 percent disapprove. They rated him favorably versus unfavorably by the very same margins.
Trump's unfavorability ratings are much higher than those of his vice president-elect and the future first lady. Thirty-seven percent of voters rate Mike Pence favorably and 34 percent view him unfavorably. Melania Trump receives a 29 percent favorable rating, versus 22 percent unfavorable. Most voters say they don't know enough about her to say how they feel.
HuffPost Pollster's aggregate, which includes most publicly available polls, gives Trump an average favorability rating of about 43 percent, and an average unfavorability rating of about 49 percent.
Quinnipiac also shows a broad drop in optimism about Trump. Only 39 percent of voters find him honest, down from 42 percent in late November. Voters are also less positive about his leadership abilities, intelligence and level-headedness, and fewer respondents viewed him as a strong person. Asked whether Trump "cares about the average American," voters' views remain largely unchanged.
In late November, 36 percent of respondents said Trump's behavior since the election made them feel better about him, and only 14 percent said it made them feel worse. However, the most recent numbers reflect a different sentiment. Today, only 23 percent feel better about him, while 28 percent feel worse.
Even when Trump's favorability rating was at a post-election high in November, he was the most unpopular president-elect in modern history, according to Gallup.
Quinnipiac University surveyed 899 registered voters nationally between Jan. 5 and Jan. 9, using live interviewers to reach both landlines and cell phones.
Calling all HuffPost superfans!
Sign up for membership to become a founding member and help shape HuffPost's next chapter
BEFORE YOU GO
PHOTO GALLERY
Trumps Around The World