WASHINGTON – Taxpayers are now picking up most of Donald Trump's air travel costs, unnecessarily spending millions of dollars because he insists on flying aboard his luxury 757 instead of a practical plane.
And because the GOP presidential nominee owns both the company that owns the jetliner and the one that operates it, some percentage of that taxpayer money is likely winding up as profit in Trump's personal bank account.
The bombastic businessman has often bragged about the comforts of his ride, with its full bedroom, shower and 24-karat gold-plated bathroom fixtures. But because it seats so few passengers, Trump's Secret Service agents appear to make up more than half of the plane's flight manifests. And that means taxpayers are now legally required to pick up the majority of its staggering running costs.
Over the first three months of this year, after Trump asked for and received Secret Service protection, the agency's payments to his campaign accounted for 48 percent of the $1.7 million that it paid Tag Air Inc., the candidate's company that operates the aging jet.
Over June, July and August, as Trump became the GOP nominee and his security detail grew, the agency's payments to the campaign made up 78 percent of the $1.3 million that it paid to Tag Air, according to The Huffington Post's review of Federal Election Commission filings.
Politico, which first reported these payments, put the total the Secret Service paid to the Trump campaign at $1.6 million. But a closer look at campaign finance filings shows that the U.S. Secret Service covered more than $2.3 million of the $3.8 million Trump's campaign has paid Tag Air in 2016.
That figure is on pace to top $3 million by Election Day on Nov. 8 – a total that would be nearly double what taxpayers spent to fly Secret Service agents around with 2012 GOP nominee Mitt Romney.
The difference: Romney did what every other non-incumbent presidential candidate has done in recent history and chartered an airliner on which staff, Secret Service and the traveling press corps all flew together, thereby driving down the cost for everyone.
"It's eye-opening, I guess," said Bob Biersack, who spent three decades at the FEC before joining the nonpartisan Center for Responsive Politics. "Part of the Trump phenomenon."
"This is a public perception thing. At some point, people will begin to say, 'Wait a minute: this is ridiculous.'"
Biersack said the payments do not appear to be illegal and that the former reality TV show host was not likely to care about appearances. He pointed to the many tax breaks Trump's businesses have aggressively sought over the years. "This is not the first time he's used government assets to his own advantage, right?" he added.
Both the Secret Service and the FEC said election regulations do not allow any leeway for how the agency is to reimburse campaigns for travel. Trump's campaign did not respond to queries from HuffPost about the matter.
The $2.3 million the Secret Service spent to fly with Trump is only slightly less than the $2.6 million the agency has paid to the campaign of Democratic nominee Hillary Clinton ― even though she has had the agency's protection for twice as long as her Republican opponent.
Clinton, as the spouse of a former president, has had Secret Service protection since the start of her campaign in April 2015, whereas Trump asked for and received protection late last year. What's more, some of the agency's payments to the former secretary of state's campaign cover travel with former President Bill Clinton when he has been on the campaign trail.
The Democratic candidate chartered a 737 that carries Clinton, her traveling staff, Secret Service detail and the traveling press corps in the past month, which should hold down the agency's travel costs with her for the final two months of the campaign.
The last Republican candidate did the same thing in the final months of 2012. Romney's chartered McDonnell-Douglas MD-83 was only seven feet shorter than Trump's Boeing 757, but was configured essentially like a standard airliner and could carry some 150 passengers, even with a more spacious first-class section for Romney and his top staff.
In contrast, Trump's 757, which he purchased from Microsoft co-founder Paul Allen in 2011, boasts a lounge with a 57-inch television and home theater sound, a master bedroom appointed with silk wall coverings and a guest room with a mohair couch that converts to a bed. It can, however, only seat 43 people and it appears not to carry even that many on the campaign trail, based on the number aboard recent flights.
On a brief flight this month on which Trump invited a small group of reporters aboard, there were only about 20 passengers, not counting the crew. Nearly half appeared to be Secret Service agents.
FEC rules require that Secret Service agents pay a "pro-rata share of the travel" to the campaign. So if agents on any given leg make up three quarters of the passengers, the U.S. Government is required to pay three quarters of the cost to fly Trump's luxury liner.
What that figure is precisely for a given amount of time is known by the Trump campaign, but cannot be determined through the few public documents on file that describe Tag Air.
However, a 757-200 similar to Trump's can be chartered for about $13,000 per hour. Based on fuel consumption rates for that plane, as much as $8,000 of that is burned each hour in the air, more if the trip is a series of short hops. Maintenance, food, landing fees and crew salaries add many hundreds of dollars more per hour.
How much the plane generates in profit for Trump after subtracting these costs might be deduced from his tax returns, but he has refused to release those. Trump said he is under IRS audit and that his lawyers have told him it would be unwise to release the returns until this is finished.
And as pricey as his plane is to fly, he makes his travel even more expensive by insisting on returning to New York City at the end of each day so he can sleep in his own bed in Trump Tower's penthouse. Flying home, rather than overnighting in the next city on the campaign schedule, typically adds three to four hours of flying time per day, translating to $27,000 to $36,000 per day in higher flight costs.
Those higher costs, though, are being borne in large measure by taxpayers, particularly since the expansion of Trump's Secret Service detail upon his officially winning the nomination.
"How much the plane generates in profit for Trump after subtracting these costs might be deduced from his tax returns, but Trump has refused to release those."
Trump paid Tag Air $2.1 million to fly his plane around to campaign events in 2015. The money came from the checks he was writing to fund his campaign, as well as from the sale of "Make America Great Again" hats and other campaign souvenirs. Not a dime came from taxpayers.
This year has been a completely different story, first with the availability of Secret Service payments to defray his travel costs, and then with a flood of donor money following his signing of a joint fundraising deal with the Republican National Committee in May.
Trump's use of Republican donors' money at his own businesses since he signed that deal has been previously documented by news outlets including HuffPost. He sent his Mar-a-Lago resort in Palm Beach a check for $423,000 the very day the fundraising agreement was signed. In all, some $600,000 flowed from the Trump campaign to Trump properties that day.
He also increased the rent that his campaign pays at Trump Tower by a factor of five after signing the RNC deal, from $35,458 in April to $169,758 by July. That higher rent translates to a per-square-foot cost several times higher than what the Clinton campaign pays for its headquarters in Brooklyn.
This lavish spending, though, came at the expense of donors who willingly gave money to Trump. The Secret Service payments to fly on Trump's glitzy but inefficient plane hit taxpayers, potentially creating problems for him if public anger translates into a drop in support, the Center for Responsive Politics' Biersack said.
"The issue is that he's chosen that particular plane," Biersack said, adding that FEC commissioners likely never contemplated that a candidate would choose such an extravagant mode of transportation. Nor did anyone guess that taxpayers could wind up on the hook if it did happen, Biersack added. "It was never anticipated that the proportion of campaign travelers would be so heavily tilted toward federal officials."
"This is a public perception thing," he continued. "At some point, people will begin to say, 'Wait a minute: this is ridiculous.'"
Support HuffPost
The Stakes Have Never Been Higher
Before You Go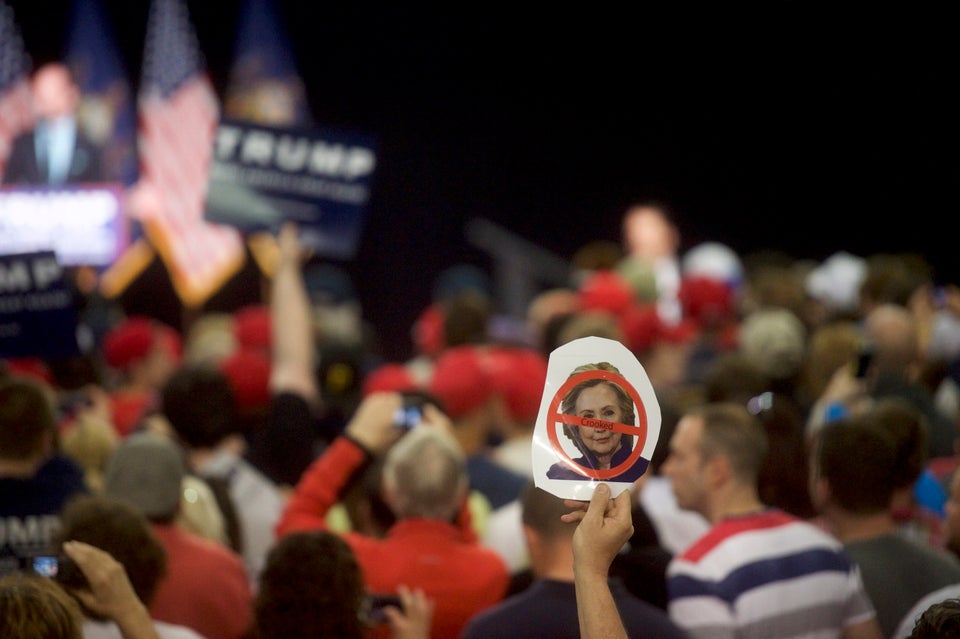 Donald Trump Is Name-Caller In Chief
Popular in the Community