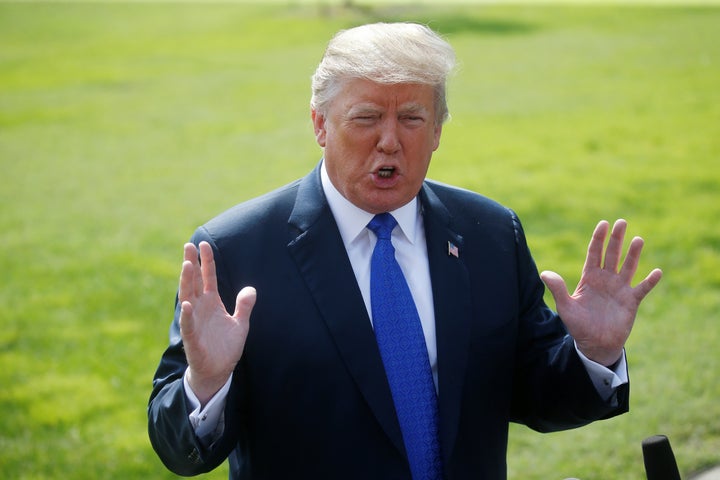 President Donald Trump on Tuesday afternoon suggested it would "not be acceptable" if his Supreme Court nominee Brett Kavanaugh were found to have lied to Congress.
"I don't think you should lie to Congress and there have been a lot of people over the last year that have lied to Congress," Trump told reporters gathered on the White House lawn. "For me, that would not be acceptable."
The president's comments echo those made by Sen. Jeff Flake (R-Ariz.) on Sunday. Flake said lying to the Senate Judiciary Committee would be an immediate dealbreaker on the nominee for him.
Trump also said he believes Kavanaugh is "doing very well right now," but added that the judge's fate will depend on the FBI.
Last Friday, the president asked the FBI to reopen its background investigation on Kavanaugh specifically to look into the sexual misconduct allegations against him. Republicans insist the agency must complete its report this week.
"A lot is going to depend on what comes back from the FBI in terms of their additional ... investigation," Trump said.
Last Thursday, the Senate Judiciary Committee heard from Christine Blasey Ford, the psychology professor who has accused Kavanaugh of sexually assaulting her in 1982. Kavanaugh was also given a chance to respond to the allegations, which he angrily denied. The next day, the committee voted yes on the nomination along party lines under a "gentlemen's and -women's agreement" that the FBI would investigate.
"It's a very scary time for young men in America," Trump told reporters.
Media reports and evidence provided by Kavanaugh himself have already turned up certain falsehoods in the judge's Senate testimony. A statement made by Blasey friend Leland Keyser does not, as Kavanaugh repeatedly told the committee, "refute" Blasey's story. Various inscriptions in his high school yearbook almost certainly refer to sexual claims and vomiting from intoxication instead of the more PG-rated explanations given by Kavanaugh. And interviews with several past classmates and roommates paint the judge as a heavy drinker from high school through college, despite his insistence that he never drank to the point of "blacking out."
The FBI has so far interviewed at least four people, three of whom were allegedly at the party where Blasey said she was assaulted. The fourth, Deborah Ramirez, accuses Kavanaugh of thrusting his exposed penis in her face at a college party. 
On Monday, a new allegation surfaced: During his college years, Kavanaugh was once involved in a bar fight in which he was accused of throwing ice at another man. 
The alcohol-related belligerence raises concern among Kavanaugh's critics, some of whom argue that the judge lacks the right temperament to serve on the Supreme Court.
Calling all HuffPost superfans!
Sign up for membership to become a founding member and help shape HuffPost's next chapter