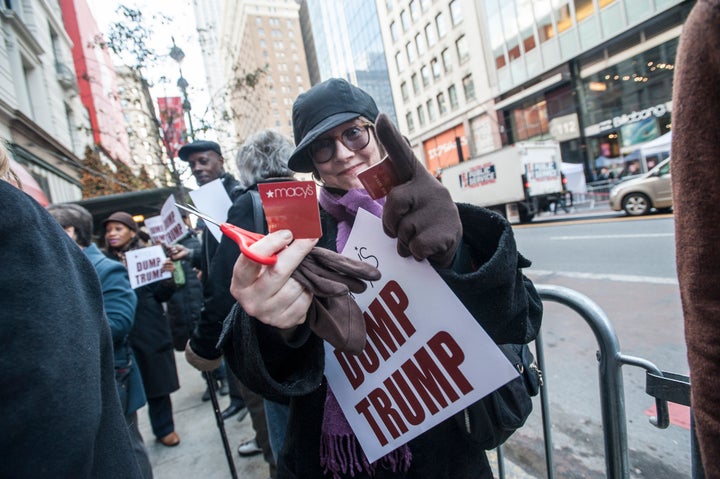 NEW YORK -- "The magic of Macy's is gone," said Jenny Izenstark, one of around 50 people who gathered outside the retailer's flagship store Tuesday afternoon to urge the company to fire Donald Trump.
Wearing an Obama/Biden pin, Izenstark, a cantor living in Manhattan, reached into her wallet and cut her Macy's credit card in half with a pair of scissors making its way around the crowd. "I stood in this same spot last year watching the Macy's Thanksgiving Day Parade," she recalled. "But I won't be there this Thursday. I can no longer support a brand that gives a platform to such a bigot."
Macy's, the second-largest department-store chain in the U.S., is under pressure to eliminate its Trump-branded line of apparel, including Trump ties, suits and cufflinks, after the real estate mogul mounted controversial attacks on President Barack Obama during the election. Critics have pointed to Trump's repeated demands for Obama's birth certificate and his references to African-Americans as "the blacks" in a radio interview.
"The claim that Donald Trump is a racist is an inflammatory remark that lacks any truth," Michael Cohen, Donald Trump's lawyer, told HuffPost. "Shame on the organizer of this event and its participants. The man doesn't have a racist bone in his body."
Macy's has refused to dump Trump despite an online petition that's called for an end to the partnership, and generated more than 650,000 digital signatures in less than a month, according to SignOn.org, the online organizing platform where it first appeared on Oct. 24.
Terry Lundgren, Macy's CEO, responded to the petition last week in a letter to its creator, saying the company's "marketing and merchandising are not representative of any political position." But Macy's latest ads featuring Trump do little to downplay the political heat surrounding the billionaire, branding experts said.
For example, in a Macy's commercial that first aired earlier this month, Trump appears in a scene with Kris Kringle, the version of Santa Claus portrayed in the 1947 film "Miracle on 34th Street." Trump, in a reference to his skepticism about Obama's birth certificate, probes Kringle. "What's with the get-up, Kris? Kringle responds, "I'm Santa Claus." Trump says, "Let me see for myself," and tugs on his beard.
On Tuesday, demonstrators clashed over Macy's decision to stick with Trump. "He's a patriot," shouted one man who stood on the outskirts of the crowd, wearing a Trump tie.
Michael Miller, a retired garment executive from Queens, barked back. "Trump's a racist," Miller said. "Patriots bring countries together; he divides us."
The Trump supporter, who declined to give his full name, said he planned to buy a dozen more Trump ties inside the store. "It's a good product, and I want to support a man who stands for freedom and employs thousands of Americans."
Cohen, Trump's lawyer, said the fact that only 50 or so people showed up to Tuesday's gathering, compared to the hundreds of thousands who SignOn says signed the online petition, suggests the petition is a total failure. "I question the legitimacy of the petition as well as the number of signatures collected," Cohen wrote in an email to HuffPost. "Mr. Trump remains confident that his relationship with Macy's will remain strong for many years to come."
But branding experts aren't as confident. A handful of advertising executives told HuffPost that they expect the retailer to sever ties with Trump after the holiday season.
"The problem now for Macy's is Trump is completely off-brand," said Donna Sturgess, a founding partner of Buyology Inc., a New York-based advertising firm that works with large retailers but not Macy's.
When Macy's launched Trump's fashion line in 2005, Sturgess noted, he was a rare breed: part business icon, part celebrity. But as Trump has ensnared himself in political mudslinging, he's become a less effective spokesperson for mass market brands like Macy's, she said.
"He's not talking as much about business success or how you can do well in business. He's talking about the election. What do you do with that?" Sturgess said. "Consumers don't buy men's shirts and ties because of their political persuasion."
The campaign to remove Trump from Macy's began in late October amid a spate of controversial remarks by the billionaire, including his offer to give $5 million to charity if the president reveals his college transcript and Trump's description of global warming as "a concept created by and for the Chinese to make U.S. manufacturing non-competitive."
Angelo Carusone, the director of online strategy for Media Matters who created the online petition and organized Tuesday's demonstration, said the effort picked up steam after Trump's election night rants on Twitter, in which the business mogul called for a "revolution."
Carusone led a campaign in 2009 that pushed advertisers to drop their support of Glenn Beck, then a Fox News anchor. He used the Twitter handle @StopBeck, and when advertisers did start bailing, the controversial TV host left Fox to start BlazeTV.
"Thousands of people across the country are canceling their Macy's credit card accounts because the company continues to work with Trump," Carusone told demonstrators Tuesday. But when contacted by email, Carusone said he's confirmed around 100 cancellations so far. "I'm comfortable we'll break into the thousands," he added.
If anything is going to change between Trump and Macy's, it's not going to happen until after the holiday season, said Sturgess. "Macy's has a significant amount of Trump-branded merchandise on its shelves right now," she noted, "so it's highly unlikely that they'll end the partnership and eat the cost of that merchandise before the busy holiday season."
On Macy's website Tuesday, $650 Trump suits were on sale for $229.99 and $69.50 dress shirts for $46.99.
Before You Go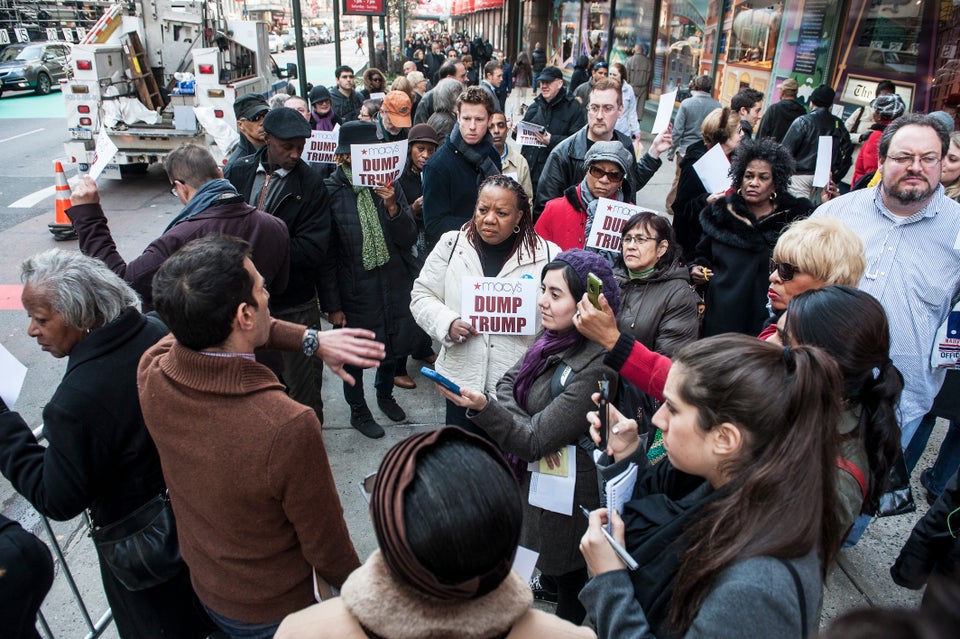 Dump Trump Protest At Macy's Herald Square Store
Popular in the Community