WASHINGTON ― President Donald Trump's company, the Trump Organization, is marking golf properties and related products in the U.S with a coat of arms that belongs to a different family, after being barred by British authorities from doing so in the United Kingdom, according to a New York Times report on Sunday.
The Trump emblem is a nearly exact copy of the crest Britain granted to American diplomat Joseph Edward Davies in 1939. There's just one tweak: where the original featured "integritas," the Latin word for integrity, the president's version substitutes, inevitably, the name "Trump."
The billionaire developer appears to have begun using the coat of arms after he bought the Mar-a-Lago estate in Palm Beach, Florida, in 1985. The property was being run by a foundation set up by Davies' third wife, cereal-company heiress Marjorie Merriweather Post.
Davies' grandson, former Sen. Joseph D. Tydings (D-Md.), told the Times Trump never asked for his permission to adopt the crest. The corrupted version of the emblem is now used on a range of Trump products ― even body wash.
British law is very specific about the use of these kinds of emblems. Trump first ran into that problem in 2007, when he started using the crest on promotional materials for a planned golf course in Scotland. Scottish media began to report on the snafu and suggested Trump had personally designed the coat of arms without consulting heraldic authorities.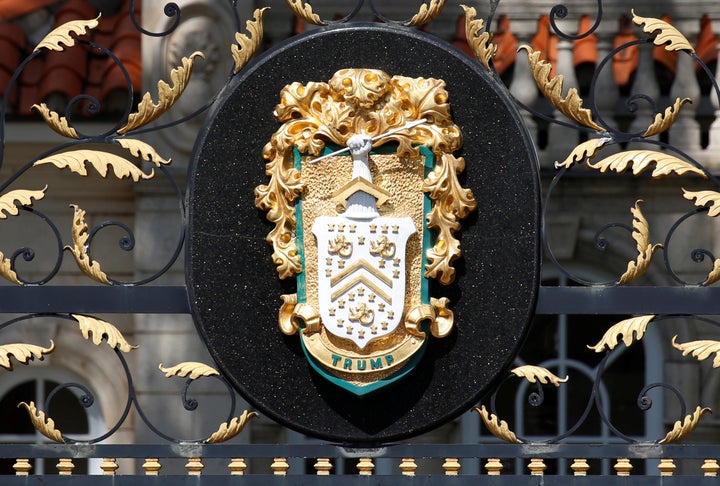 But British trademark regulators knew there was a different kind of problem: like some of those the president has sought to place in powerful positions, Trump had plagiarized. The Times secured Trump's failed application for a trademark using a freedom of information request. The newspaper confirmed with an expert herald at the College of Arms in London that the problem with the application was that the coat of arms was already in use.
Without similar regulation in the U.S., Trump has trademarked the coat of arms, and critics have little recourse. Tydings told the Times his cousins gave up on the idea of a lawsuit. "I just told the other members of my family that you can't win on this," he said. "You'll borrow for two generations to sue him ... I know Trump very well."
He believes his grandfather "would be rolling over in his grave to think [Trump] was using his crest."
Trump has appointed his sons to run the Trump Organization for the duration of his presidency, but he continues to profit from the company's properties ― crest and all. The president frequently talks about the virtues of his developments and hosts government business at them, boosting their profile and the perception that patronizing them is a way to win Oval Office approval.
"I think our brand is the hottest it has ever been," Eric Trump told the Times earlier this year.
Popular in the Community