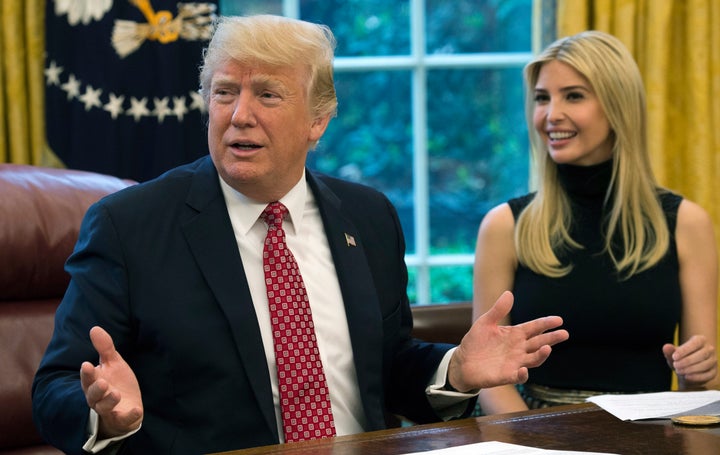 WASHINGTON ― The U.S. State Department has officially promoted President Donald Trump's personal real estate.
The department's ShareAmerica website posted an article on April 4 celebrating Trump's Mar-a-Lago estate with glitzy photos and flowery descriptions of the "ornate Jazz Age house," which was "designed with Old-World Spanish, Venetian and Portuguese influences." The piece was featured the next day on the websites and social media accounts of various American embassies abroad, all of which went largely overlooked until Monday, when the posts sparked a furor online.
Norm Eisen, chairman of Citizens for Responsibility and Ethics in Washington, lambasted the State Department on Twitter, arguing that it was illegal for the government to essentially advertise the president's personal property.
The State Department did not respond to phone calls or emails seeking comment.
Sen. Ron Wyden (D-Ore.) mocked the Mar-a-Lago promotion for its "kleptocratic glory" on Twitter:
Former government ethics officials and independent anti-corruption experts have roundly criticized President Trump's failure to divest his substantial business assets or place them in a blind trust. Trump aide Kellyanne Conway was sidelined weeks ago after promoting his older daughter's clothing line on national television.
The State Department's article recounts the efforts of heiress Marjorie Merriweather Post to establish Mar-a-Lago as a winter retreat for American presidents. Post built the estate in the 1920s and willed it to the U.S. government in 1973 as a retreat for presidents and visiting foreign dignitaries. The government returned Mar-a-Lago to the Post Foundation in 1981 because it was just too expensive to keep up. The State Department refers to Post's thwarted last wish as "a dream deferred" ― a bizarre evocation of Langston Hughes' 1951 civil rights poem "Harlem," which begins, "What happens to a dream deferred?"
UPDATE: 7:28 p.m. ― The original post on the State Department's ShareAmerica site was removed later on Monday. The page now carries a different message: "The intention of the article was to inform the public about where the President has been hosting world leaders. We regret any misperception and have removed the post."
Popular in the Community