President Donald Trump on Friday rallied conservative supporters at the March for Life on the National Mall in Washington, D.C., telling attendees that he was "proud to stand with you."
"Sadly, the far left is actively working to erase our God-given rights," he said. "They are coming after me because I am fighting for you."
"We are here for one simple reason: to defend the right of every child, born or unborn, to fulfill their God-given potential," he said.
He commented on the "tremendous turnout" of the "thousands and thousands" of attendees, praising them for leading "the pro-family, pro-life nation."
"When we see the image of a baby in the womb, we glimpse the majesty of God's creation," he said. "Unborn children have never had a stronger defender in the White House."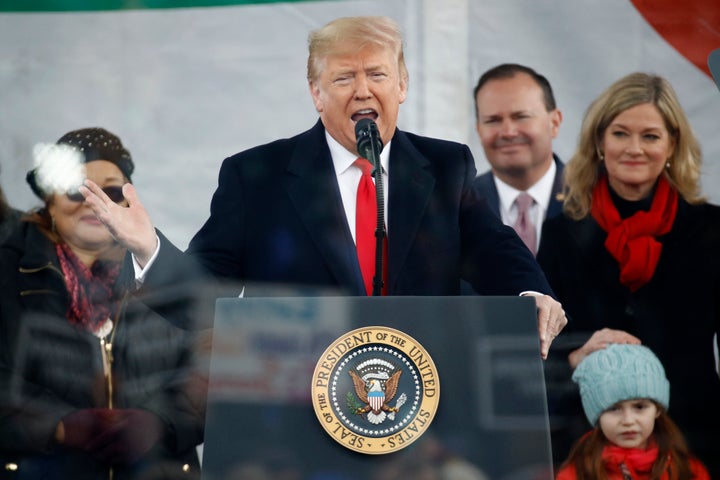 As he faces an impeachment trial in the Senate and a re-election campaign, Trump has capitalized on the support of conservatives and evangelical Christians, and used social issues like abortion to rally his base. Conservatives have stood by him, despite his record of views and actions that directly contradict their professed beliefs.
In doing so, she equated defenders of slavery with modern abortion rights activists.
Lincoln "contended with the pro-choice arguments of his day. They suggested that a state's choice to be slave or to be free had no moral question in it," DeVos said. "Well, President Lincoln reminded those pro-choicers that is a vast portion of the American people that do not look upon that matter as being this very little thing. They look upon it as a vast moral evil."
Trump has carried out his promise to GOP voters that he would appoint conservative judges to the nation's courts — including the Supreme Court, where Republicans have long hoped that a conservative majority would allow the dismantling of Roe v. Wade, the landmark 1973 ruling protecting a woman's right to an abortion.
Underscoring the significance of Friday's event as a gathering for his base, Trump left the stage to the Rolling Stones' "You Can't Always Get What You Want," a song that frequently plays at the end of his campaign rallies. 
Calling all HuffPost superfans!
Sign up for membership to become a founding member and help shape HuffPost's next chapter