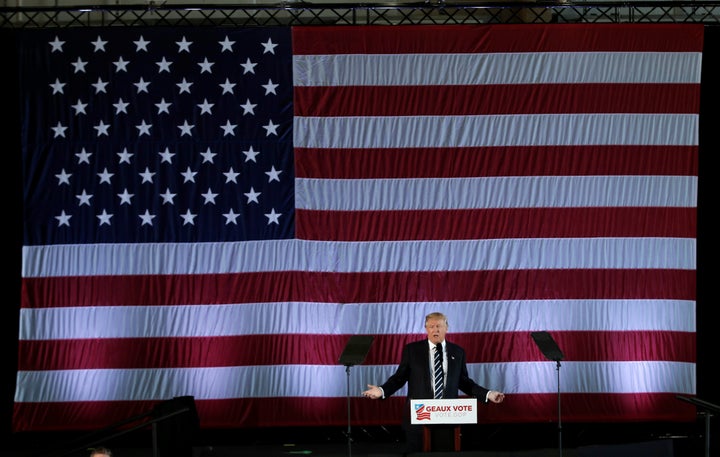 Ever since Donald Trump claimed Saturday that Sen. John McCain (R-Ariz.) isn't a war hero -- or, maybe, is one only because he was captured in Vietnam -- cable networks have covered those remarks without pause.
The national media are obsessed with Trump, who has ridden the feedback loop of press attention to the top of the Republican presidential primary polls. Trump's comments last month about Mexican immigrants being "rapists" drew extensive coverage as well. But the McCain swipe seemed to send TV bookers into a unique frenzy.
Over four days, The Huffington Post found 162 people -- rival presidential candidates, other politicians, strategists, analysts, journalists and former prisoners of war -- have been asked to offer their take on Trump's comment and/or how it will affect the 2016 primary.
Not included in the list is White House Press Secretary Josh Earnest, whose take on the fracas was broadcast when he delivered it during his daily briefing. Nor are MSNBC viewers, who were polled on Monday as to whether the McCain comments made Trump unpresidential.
All told, 20 current and former lawmakers were asked to address L'Affaire Trump. Trump himself called in to ABC's "This Week" and "Fox & Friends" to respond, as well as commenting on camera on Fox News' "The O'Reilly Factor." McCain went on air too, as did two of his children.
Here is the complete list, compiled through a search of CNN, MSNBC, Fox News and the broadcast network Sunday shows from noon Saturday through noon Tuesday, using TVEyes. The list doesn't include hosts, unless they weighed in as a guest on another program.
Alan Colmes, radio host
Amber Smith, Concerned Veterans for America
Amy Holmes, MSNBC contributor
Ana Navarro, CNN commentator
Andrea Mitchell, NBC News
Angela Rye, Impact Strategies
Ann Coulter, conservative commentator
Anthony Terrell, NBC News
Barry McCaffrey, retired general
Ben Domenech, The Federalist
Ben Ferguson, host of "The Ben Ferguson Show"
Ben Sasse, senator from Nebraska
Benjy Sarlin, MSNBC
Betsy Woodruff, The Daily Beast
Bill Kristol, Weekly Standard
Bill Richardson, former governor of New Mexico
Bob Cusack, The Hill
Bob Kerrey, former senator from Nebraska
Bob Vander Plaats, CEO of The Family Leader
Brad Woodhouse, Americans United for Change
Bret Baier, anchor of Fox News' "Special Report"
Brianna Keilar, CNN
Brit Hume, Fox News senior political analyst
Caitlin Huey-Burns, Real Clear Politics
Carl Cameron, Fox News
Carl Higbie, former Navy SEAL
Charles Blow, New York Times columnist
Charlie Plumb, retired captain, former Navy pilot and POW with McCain
Charlie Rangel, congressman from New York
Chris Cillizza, The Washington Post
Chris Dodd, former senator from Connecticut
Chris Jansing, NBC News
Corey Lewandowski, campaign manager for Donald Trump
Cornell Belcher, Democratic strategist and analyst
Damien Lemon, comedian
Dan Caldwell, legislative director of Concerned Veterans for America
Dana Bash, CNN
Daniel Halper, Weekly Standard
Danielle Pletka, Foreign and Defense Policy Studies, American Enterprise Institute
David Chalian, CNN political director
David Corn, Mother Jones
Deneen Borelli, Conservative Review
Donald Trump (on Bill O'Reilly's show)
Donna Brazile, CNN political commentator
Ed O'Keefe, The Washington Post
Ed Rendell, former governor of Pennsylvania
Ed Rollins, Republican strategist
EJ Dionne, Washington Post columnist
Elahe Izadi, The Washington Post
Ellis Henican, political strategist
Errol Louis, New York 1 political anchor and CNN analyst
Eugene Robinson, The Washington Post
Everett Alvarez, retired commander and former POW
Frank Luntz, pollster and Fox News contributor
Geraldo Rivera, Fox News senior correspondent
Gloria Borger, CNN chief political analyst
Guy Benson, Townhall.com
Gwen Ifill, PBS
Harold Ford Jr., former congressman from Tennessee
Howard Fineman, The Huffington Post
Howard Kurtz, Mediabuzz host
Jack Jacobs, retired colonel and NBC/MSNBC analyst
Jack McCain, son of the senator and a former Navy helicopter pilot
Jackie Kucinich, The Daily Beast
James Rosen, Fox News chief Washington correspondent
Jamie Weinsten, Daily Caller
James Williams, retired major general, U.S. Marine Corps
Jane Harman, former congresswoman from California
Jane Timm, MSNBC reporter on the trail with Trump in South Carolina
Jeffrey Lord, former political director for Ronald Reagan
Jehmu Greene, former 2008 Clinton campaign adviser
Jennifer Granholm, former governor of Michigan
Jeremy Peters, The New York Times
Jim Jordan, congressman from Ohio
Jim Webb, former senator from Virginia and 2016 presidential candidate
Joan Walsh, Salon
John Heilemann, Bloomberg Politics
John Kirby, State Department spokesman
John Leboutillier, former congressman from New York
John McCain, senator from Arizona
John McCormack, Weekly Standard
John Pedevillano, retired lieutenant and WWII veteran
John Stanton, BuzzFeed
Jon Karl, ABC News
Jonathan Allen, VOX
Jonathan Alter, columnist and MSNBC analyst
Joy Reid, MSNBC
Julie Pace, The Associated Press
Kathleen Parker, Washington Post columnist
Katty Kay, BBC
Katy Tur, NBC reporter who recently interviewed Trump
Kayleigh McEnany, Political Prospect
Kevin Madden, Republican strategist and CNN commentator
Kristen Welker, MSNBC
Larry Sabato, director of the University of Virginia's Center for Politics
Laura Ingraham, radio host
Lauren Fox, National Journal
Lee Ellis, retired colonel and former Vietnam POW
Leo K. Thorsness, retired colonel and McCain's cellmate in Vietnam
Lindsey Graham, senator from South Carolina and 2016 candidate
Liz Mair, Republican strategist
Luke Russert, NBC News
LZ Granderson, ESPN
Maggie Haberman, The New York Times and CNN analyst
Marc Lamont Hill, HuffPostLive host and CNN commentator
Marco Rubio, senator from Florida and 2016 candidate
Margaret Hoover, CNN political analyst
Mark Halperin, Bloomberg Politics
Mark Leibovich, New York Times Magazine
Mark Murray, NBC News
Mark Preston, CNN
Martha Pease, brand expert
Matt Lewis, Daily Caller
Matt Schlapp, chairman of the American Conservative Union
Matt Welch, Reason Magazine
McKay Coppins, BuzzFeed
Megan McCain, radio host and the senator's daughter
Michael Cohen, executive vice president of the Trump Organization
Michael Eric Dyson, Georgetown University
Michael Needham, CEO of Heritage Action for America
Michael Smerconish, radio and CNN host
Michael Steele, former chairman of the Republican National Committee
Mike Emanuel, Fox News
MJ Lee, CNN
Mollie Hemingway, The Federalist
Molly Ball, The Atlantic
Montel Williams, TV host
Nia-Malika Henderson, CNN
Nick Confessore, The New York Times
Orson Swindle, retired lieutenant colonel and former POW
Patrick Murphy, former congressman from Pennsylvania
Patti Solis Doyle, former 2008 Clinton campaign manager and CNN commentator
Peter Baker, The New York Times
Peter King, congressman from New York
Richard Haas, Council on Foreign Relations
Rick Perry, former governor of Texas and 2016 candidate
Rick Santorum, former senator from Pennsylvania and 2016 candidate
Rick Wilson, GOP media consultant
Robert Costa, The Washington Post
Robert Kiger, Trump supporter
Robert Tranum, Republican strategist
Robert Zimmerman, Democratic strategist
Ron Brownstein, National Journal
Ron Christie, Republican strategist
Ruth Marcus, The Washington Post
Ryan Lizza, The New Yorker and CNN commentator
S.E. Cupp, CNN commentator
Sally Kohn, CNN commentator
Scott Brown, former senator from Massachusetts
Scott Walker, governor of Wisconsin and 2016 candidate
Sharyl Attkisson, investigative journalist
Stephen Dinan, The Washington Times
Stephen Hayes, Weekly Standard
Steve Deace, radio host
Steve Rattner, former Obama car czar
Tammy Bruce, radio host
Tara Dowdell, Democratic commentator
Tara Setmayer, Republican strategist
Tom Cotton, senator from Arkansas
Tom Friedman, New York Times columnist
Tracy Potts, NBC
Will Hurd, congressman from Texas