At a campaign stop in Mount Pleasant, South Carolina, on Monday, Donald Trump quipped, "Who the hell wants to take out $2 million worth of commercials when I have enough cameras back there that can get the word around?"
He might have had a point.
By at least one reckoning, Trump received nearly $3 million worth of airtime from three major news networks on Monday alone, the day he held a widely covered press conference in Charleston, South Carolina.
"Without question, Donald Trump's single biggest contributors to his presidential aspirations are Fox News, CNN and MSNBC," states the report from 0ptimus, a data and analytics consulting firm based in Washington, D.C.
Some major caveats should be noted here. 0ptimus -- that's a zero, not an "O" -- counts among its clients Sen. Marco Rubio (R-Fla.), one of Trump's competitors for the GOP presidential nomination, as well as the Republican National Committee, a group with which Trump has not always seen eye to eye.
More to the point, while the 0ptimus report describes news coverage of Trump on Feb. 15, it doesn't include analogous data for any other candidates, whether Democratic or Republican. In other words, the report's findings about Trump really only apply to the events of Feb. 15. They can't be used as the basis for any kind of larger conclusions about the 2016 presidential race.
The report examines the media coverage of Trump's Charleston press conference, both as it was happening and then throughout the rest of the day. CNN and MSNBC broadcast the entire 40-minute event live, while Fox News aired only the first half.
"We can get a good approximation for the value of this time by looking at what it would cost to have bought comparable airtime on the same channel," the report says.
"For example, buying a 30-second ad spot on Fox News, nationwide, in the 2 p.m. ET time block would cost around $10,000," it continues. "So if you wanted a minute of time, you'd have to pay $20,000. If a campaign wanted to buy 20 minutes of time (like Trump received during his press conference), the cost would be $400,000."
Using that logic, 0ptimus determined that the airtime given to Trump's presser as it was happening was worth a whopping $1.01 million.
"To put this in perspective, the very largest of the SuperPACs supporting candidates in this primary are rarely spending $1M dollars a day, if at all," the report says.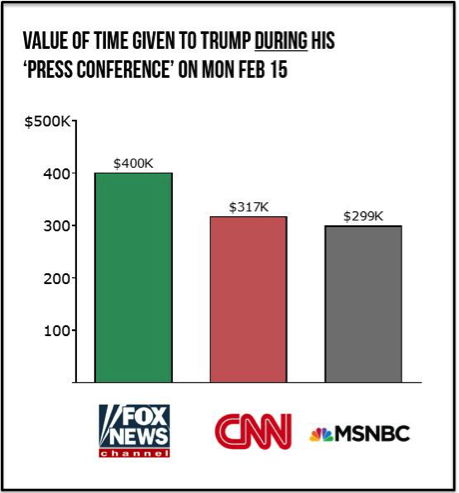 The report goes on to examine the three networks' follow-up coverage of Trump's press conference on the afternoon and evening of Feb. 15.
"This post-coverage took many forms: Quick re-caps of the conference from reporters, soundbites from Trump's major quotes, panel discussions of the conference," the report states. "CNN even had Mr. Trump call-in live to discuss his 40-minute press conference."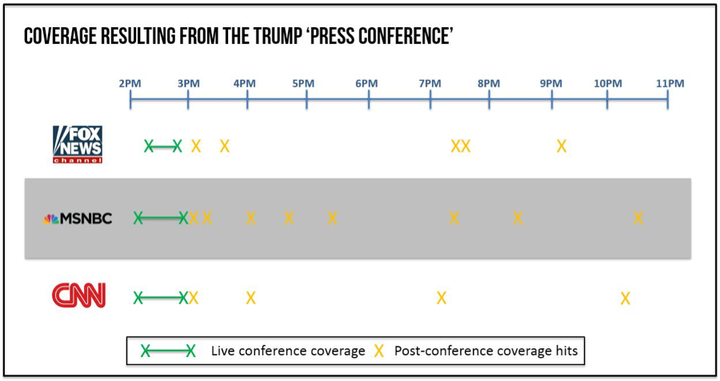 Taken together, the report says, all this coverage adds up to "the equivalent of $2.8M dollars in free tv media."
MSNBC had no comment on 0ptimus' report Friday. Fox News and CNN didn't respond to a request for comment.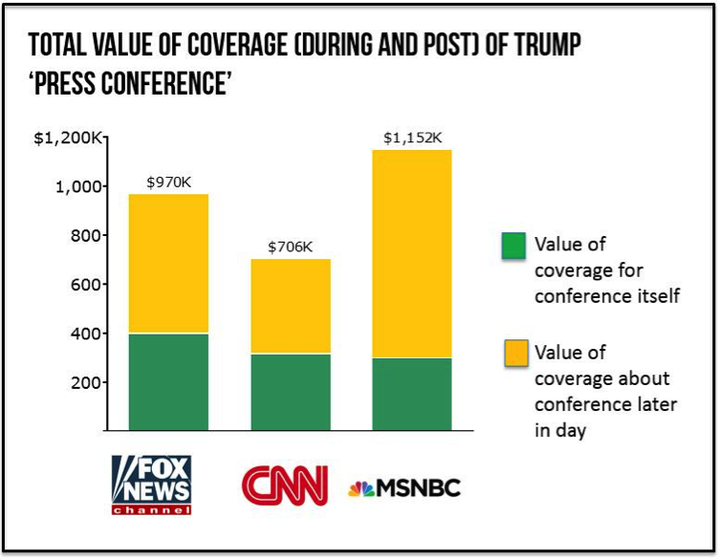 Again, since the report doesn't make any data-based comparisons between Trump and any other candidate, it can't be used to draw conclusions about the media's overall treatment of Trump. There just isn't enough context in 0ptimus's report to know whether or not these networks are giving him a significant advantage over the rest of the field. However, critics have long complained that the media showers disproportionate attention on the billionaire businessman.
That, of course, is a mutually beneficial relationship. Trump's celebrity, his pugilistic style and his penchant for outrageous comments all make for good ratings and lots of clicks. Meanwhile, Trump gets the coverage he wants, and plenty of press accommodation to boot.
And while his front-runner status in the Republican primary certainly makes him worthy of news coverage, the sheer amount of attention Trump receives might be unprecedented, if not unwarranted.
A Huffington Post analysis in January, for example, found that when Trump did make a campaign ad, and bought airtime on New Hampshire TV stations ahead of that state's primary, the three major cable news channels went on to play the ad 60 times in a 24-hour period -- free of charge.
Elizabeth Wilner, senior vice president at Kantar Media Intelligence, told HuffPost at the time that Trump had far outstripped his rivals in generating free media, and that she believed the value of his coverage to be in the hundreds of millions of dollars.
Another analysis by Media Matters found that in 2015, Trump personally appeared on Fox News 10 times in May and June -- more than any of the other Republican candidates -- for a total of 1 hour and 48 minutes of airtime.
During his 40-minute press conference on Feb. 15, Trump lashed out at his chief rival for the nomination, Sen. Ted Cruz (R-Texas). Trump, according to a report in The New York Times, called Cruz "unstable" and "dishonest."
He then asked the media to help publicize these attacks against Cruz, saying that it would help him save money. "Psychologically," he said, "I like to watch my costs."
Related
Popular in the Community