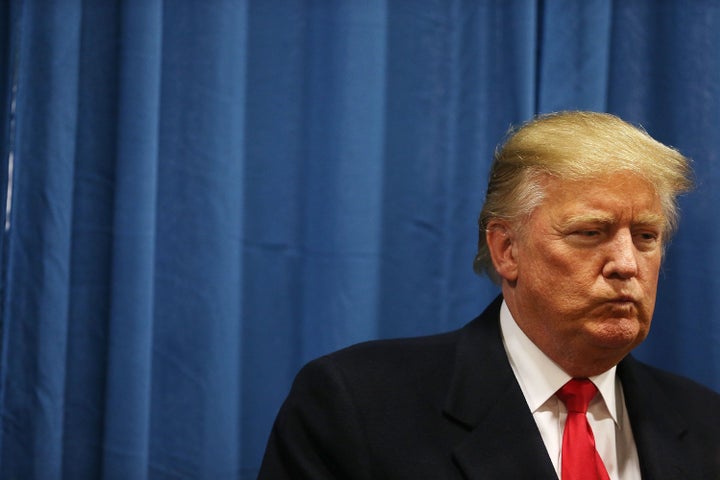 Events of the past seven months suggest otherwise.
Trump's decision to bow out of the debate led to dozens of cable-news segments Wednesday, and landed him on the front pages of both The New York Times and The Washington Post. The master showman, who blamed Kelly's supposed bias against him for his decision, has once again pushed his Republican rivals to the margins -- this time with the Iowa caucuses just five days away.
Far from being a dramatic 11th-hour gesture, Trump's boycott was simply yet another hijacking of the media spotlight -- the latest in a series that dates back to his campaign launch in June, when he went into a xenophobic rant against Mexican immigrants.
News executives can argue that Trump deserved this week's outpouring of attention because of his front-runner status and because his candidacy is a phenomenon that transcends culture, media and politics. That's true, to a point. But Trump was also the most-covered candidate long before pundits and polling wizards thought he had any chance of becoming the nominee, before he was filling massive stadiums and appearing on "Saturday Night Live." And that coverage often came at the cost of journalistic norms.
Many of his demonstrably false assertions have gone unchallenged in TV interviews, including his oft-repeated claim that he was one of the only people to foresee the disastrous consequences of invading Iraq and to speak out against it. (In reality, the remarks Trump's been holding up as an example of his prescience were made in 2004, over a year after the war had already started.)
He does all this, moreover, while running a campaign unmatched in its hostility to reporters. In November, network bureau chiefs raised concerns with Trump's top aides, citing, among other things, instances where their reporters were kept in a press pen long after the candidate himself had left the stage. But the situation has persisted, along with concerns that the Trump campaign may be using the Secret Service to enforce its restrictions on the media.
Instead of boycotting Trump events in protest of this treatment, the press is still flocking to them -- even as the vitriol continues to pile up.
The Trump campaign recently ejected a New York Times reporter from an event just days after he'd written a story critical of Trump's ground game. Other reporters were warned the same day that they'd be removed from the event if they tried to talk to Trump supporters. Trump's campaign manager once threatened to blacklist a CNN reporter for covering a protest inside an event.
The Trump campaign has also barred reporters from BuzzFeed, The Des Moines Register, Fusion and The Huffington Post, which had previously shifted most of its coverage of the candidate to the site's entertainment section.
Trump not only bashes journalists on Twitter to his 5.8 million followers, but has ridiculed reporters by name at rallies and at one point mocked a Times reporter with a disability. He also regularly complains that TV cameras aren't panning to show the crowd. Last week he tried to order photographers at a Las Vegas rally to get pictures of the audience.
Trump has taken credit for the New Hampshire Union Leader being removed from a Republican debate. And even before Trump complained about National Review's "Against Trump" issue, the conservative publication had already been yanked from an upcoming CNN debate.
If anyone knows the real degree of Trump's hold on the media, it's Kelly herself. After the first Republican primary debate, where she'd challenged Trump on his history of sexist behavior, he responded with what was widely taken to be a vulgar implication that Kelly was menstruating at the time. He appeared, four days later, on "Fox & Friends" -- by phone.
Trump threatened to boycott Fox News the following month, but was on the channel soon thereafter, with nary an apology offered to Kelly, the network's fastest-rising star. He received more than twice as much airtime on Fox News from May through December as any other Republican candidate.
So it's fair to see why Trump would assume Fox News would remove Kelly from Thursday's debate at his request. But the network hasn't said it will do so, and there's nothing to suggest that will change.
Still, this doesn't mean the media has stopped making concessions for Trump. Even amid the debate fracas, Trump is scheduled to appear Wednesday night on Fox News' top-rated show, "The O'Reilly Factor."
On Wednesday, Trump announced plans to hold an event for veterans in Des Moines, Iowa, on Thursday evening, to compete with the Fox News debate. Campaign manager Corey Lewandowski told reporters soon after that "all major networks" are invited to carry Trump's event live.
Popular in the Community