President Donald Trump launched another Twitter tirade against the media Sunday, slamming a days-old story about his lax work habits and even bashing his usual favorite Fox News, calling for an "alternative."
Trump also called on reporters who wrote about Russia's interference in the 2016 U.S. presidential election to return their "Noble" prizes. There are no Noble prizes for reported stories, nor are there Nobel Prizes. There are Pulitzer Prizes for journalism; there is a Nobel Prize for literature.
That particular three-tweet rant about Noble prizes subsequently vanished. But hours later, Trump called his comments "sarcasm" — insisting he meant to say "Noble" prizes all along (even though he had earlier called on the "Noble Committee" to rescind the awards).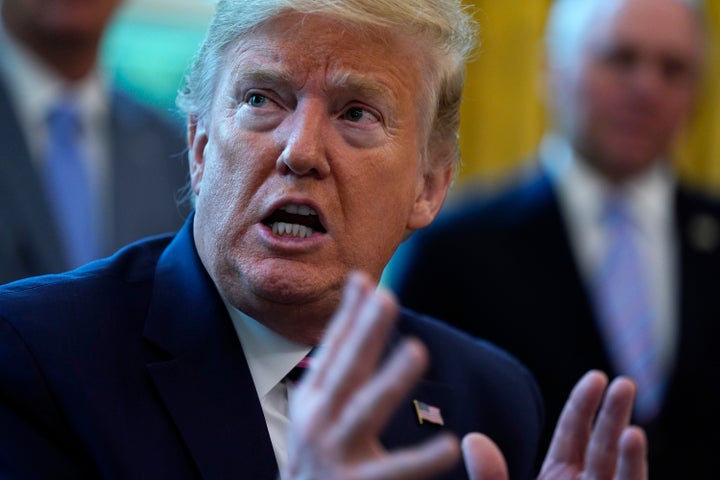 Trump's 10-tweet media attack (as of Sunday evening) first scorched The New York Times for what he called its "phony story" Thursday reporting that he often doesn't arrive in the Oval Office until noon after spending the morning watching TV news — and enjoys eating Diet Coke and French fries.
He called himself the "hardest-working president in history," who hasn't left the White House in "many months." He held a campaign rally just last month and several in February.
"I work from early in the morning until late at night, haven't left the White House in many months (except to launch Hospital Ship Comfort) in order to take care of Trade Deals, Military Rebuilding etc. ... anything to demean!" he tweeted. Trump originally misspelled hamburger as "hamberger," but it was later corrected.
Trump also attacked reporters who covered the Russian election interference scandal, insisting they had been "proven totally wrong" and should return their "Nobles" to "the REAL REPORTERS & JOURNALISTS who got it right."
He also asked: "When will the Noble Committee DEMAND the Prizes back?"
Though the original Noble tweets were removed, Trump later added another tweet claiming he was simply being sarcastic — the same explanation he used Friday after he suggested at a news briefing the previous day that a disinfectant "injection" might work against COVID-19.
Then Trump came for Fox News, charging the network with trying to be "politically correct." He accused Fox News host Chris Wallace of being "nastier to Republicans" than the CBS news program "Face the Nation" — which he referred to as "Deface the Nation" — or "Sleepy Eyes" Chuck Todd of NBC.
"The people who are watching Fox News, in record numbers (thank you President Trump), are angry," he tweeted. "They want an alternative now. So do I!"
Popular in the Community