President Donald Trump attacked the news media yet again at a rally on Friday, just hours after law enforcement apprehended a suspect in connection with over a dozen package bombs mailed to Democratic public figures and CNN this week.
At a rally in Charlotte, North Carolina, Friday evening, Trump first thanked law enforcement for capturing the mail bomb suspect, identified as 56-year-old Cesar Sayoc from South Florida. The president said the "terrorist actions" should be punished "to the fullest extent of the law," and added that "political violence must never, ever be allowed in America."
Then, moments after saying that the nation was having "a broader conversation about the tone and civility of our national dialogue" and that we should "unify as a nation in peace, love and harmony," Trump attacked the news media for its "tone" and "driv[ing] people apart."
"The media has a major role to play, whether they want to or not. They have a major role to play as far as tone," Trump said, as the crowd booed and chanted "CNN sucks!" "The media's constant unfair coverage, deep hostility and negative attacks only serve to drive people apart and undermine healthy debate."
The mail bombs were all sent to people who have been critical of Trump, including former President Barack Obama, former President Bill Clinton, Rep. Maxine Waters (D-Calif.) and Sen. Kamala Harris (D-Calif.).
"Yet when a Bernie Sanders supporter tried to murder members of Congress... we did not use that heinous attempt at mass murder for political gain because that would have been wrong," Trump said, in an apparent reference to the shooting at a congressional baseball practice in Virginia last year. Reports suggested the suspect supported Sen. Bernie Sanders' (I-Vt.) 2016 presidential campaign.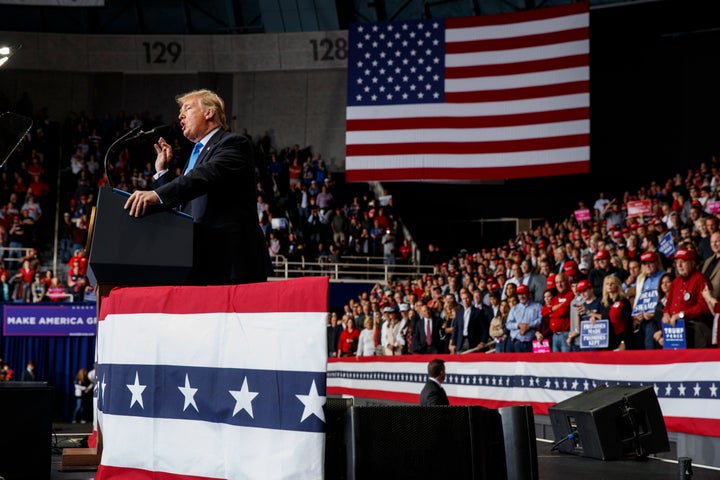 Early Friday, Trump appeared to downplay the mail bombs, saying on Twitter: "Republicans are doing so well in early voting, and at the polls, and now this 'Bomb' stuff happens and the momentum greatly slows - news not talking politics. Very unfortunate, what is going on."
"As part of a larger national effort to bridge our divides and bring people together, the media also has a responsibility to set a civil tone and to stop the endless hostility and constant negative and oftentimes false attacks and stories," Trump said. "They've got to stop, bring people together."
Carla Russo contributed reporting.
Popular in the Community