When President Donald Trump on Thursday met with victims, families and others affected by the shooting at Santa Fe High School in Texas, which left 10 people dead and 13 wounded, at least one parent was not impressed with his demeanor, continuing a pattern of the president failing to show empathy during tragedies.
According to Hart, Trump repeatedly brought up arming teachers, a policy proposal he has frequently promoted after school shootings. 
Hart, an Army veteran, said she also suggested employing veterans as sentinels in schools. She said Trump responded, "And arm them?" She replied, "No," but said Trump "kept mentioning" arming classroom teachers. "It was like talking to a toddler," Hart said.
She said the president also focused on the shooter and his appearance, repeatedly describing him as "wacky."
The White House did not immediately respond to a request for comment on the meeting, which was closed to reporters.
On Thursday, deputy press secretary Hogan Gidley told reporters on Air Force One that the meeting was "very impactful" and "a very emotional time."
"I don't want to get into the private meeting as it relates to the grieving families that experienced such a horrific tragedy. But it was very impactful. It was a very emotional time," he said. "They've suffered a great loss and a great tragedy. And out of respect for them and the grieving process, I'm not going to get into the details of the meeting."
While presidents have long assumed the role of "consoler-in-chief" as part of their leadership duties, Trump has regularly demonstrated a lack of empathy in responding to tragedies, from school shootings to deadly storms.
After the shooting massacre at Marjory Stoneman Douglas High School in February, survivor Samantha Fuentes told The New York Times that Trump "didn't make me feel better in the slightest" and that she had "never been so unimpressed by a person in my life."
During a White House listening session after the shooting, Trump was seen holding a notecard reminding him to tell victims and families that "I hear you."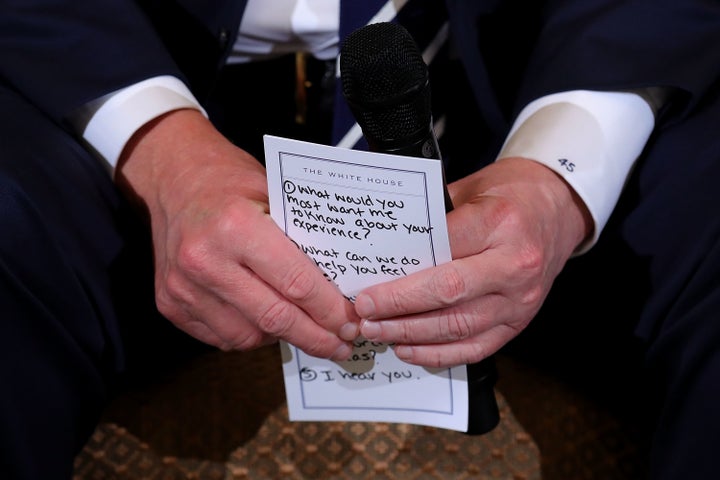 Other attendees of Thursday's meeting with Trump reported more positive interactions. John Tisdale, the brother-in-law of substitute art teacher Cynthia Tisdale, wrote in a Facebook post that her widower, William, "enjoyed meeting President Trump Thursday."
"He was concerned about what was going on with them, and the families," he said. "He listened to their ideas, how things could be maybe put in a place to change or prevent this from happening again."
If you have more information about Trump's meeting, email marina.fang@huffpost.com.
This story has been updated with additional details from Trump's meeting.
Calling all HuffPost superfans!
Sign up for membership to become a founding member and help shape HuffPost's next chapter