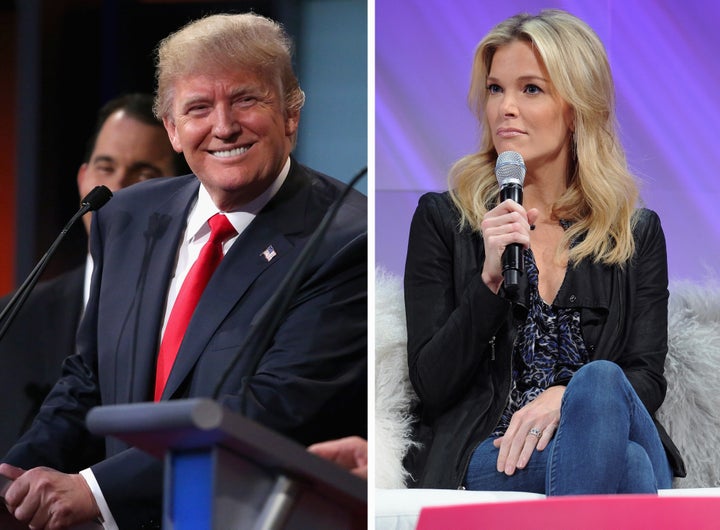 In the most recent installment of Trump vs. Kelly, the reality TV star blasted the newscaster on CNN Friday evening.
"She gets out and she starts asking me all sorts of ridiculous questions," Trump told CNN's Don Lemon. "You could see there was blood coming out of her eyes, blood coming out of her wherever."
As outrage over Trump's comment spread, he took to Twitter Saturday to deny that he meant to imply Kelly was menstruating:
He also addressed the controversy in a statement -- in the process changing his own words from "wherever" to "whatever:"
Mr. Trump made Megyn Kelly look really bad --- she was a mess with her anger and totally caught off guard. Mr. Trump said "blood was coming out of her eyes and whatever" meaning nose, but wanted to move on to more important topics. Only a deviant would think anything else.
But immediately after the debate, the reality TV star took to Twitter to gripe about Kelly's professionalism, also retweeting a follower who called the Fox News host a "bimbo."
Trump's campaign against Kelly continued Friday morning, when he called into MSNBC's "Morning Joe" to deny he had said disparaging things about women.
"The question on the women, I didn't say many of those things," Trump said. "I don't remember that on 'The Apprentice.' I don't know where they got some of the words, to be honest with you. In fact, I'm going to have somebody call up and find out where the words came from, because I don't recognize those words."
Trump claimed the moderators had singled him out for tougher scrutiny than his debate partners."I just don't think it was very professional," he added.
I have tried to give a great deal of latitude to Donald Trump in his run for the Presidency.

He is not a professional politician and is known for being a blunt talker. He connects with so much of the anger in the Republican base and is not afraid to be outspoken on a lot of issues. But there are even lines blunt talkers and unprofessional politicians should not cross.

Decency is one of those lines.

As much as I do personally like Donald Trump, his comment about Megyn Kelly on CNN is a bridge too far for me.

In a CNN interview, Mr. Trump said of Megyn Kelly, "You could see there was blood coming out of her eyes. Blood coming out of her wherever."

It was not the "blood coming out of her eyes" part that was the problem.

I think there is no way to otherwise interpret Mr. Trump's comment. In an attempted clarification, Mr. Trump's team tells me he meant "whatever", not "where ever."
In his statement Saturday, Trump called Erickson a "loser" (naturally):
[N]ot only is Erick a totally loser, he has a history of supporting establishment losers in failed campaigns so it is an honor to be uninvited from his event. Trump is an outside and does not fit his agenda.
Trump also faces a backlash on Twitter, where users -- including a number of the Republican presidential candidates -- have expressed support for Kelly and condemned Trump using the hashtag #IStandWithMegyn.
A Fox News spokeswoman declined to comment on Trump's meltdown but said Kelly would appear on Howard Kurtz's show, "Media Buzz," on the Fox News Channel Sunday at 11 a.m. EST to discuss the debate.
CORRECTION: An earlier version of this piece misstated the time Howard Kurtz's show airs. It airs on 11 a.m. Sunday, not 12 p.m.
Related
Popular in the Community