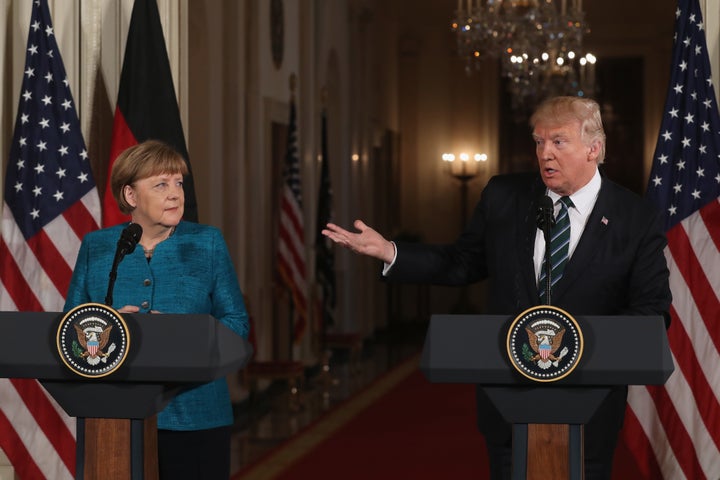 WASHINGTON ― President Donald Trump's prepared remarks at Friday's joint appearance with German Chancellor Angela Merkel focused on how trade deals had to be fairer and how countries like hers had to spend more on their NATO obligations.
It took a single question from a German reporter to undo that message and bring it right back to the issue the White House has been working to escape for two weeks: Trump's unfounded tweet alleging former President Barack Obama had wiretapped him at his New York skyscraper.
What, the German reporter wanted to know, did Trump think now that his claim had been proven false, and did Trump ever regret sending a tweet?
"Very seldom. Very seldom," Trump said. "We have a tremendous group of people that listen and I can get around the media when the media doesn't tell the truth, so I like that."
"As far as wiretapping, I guess by this past administration, at least we have something in common, perhaps," Trump said, turning to Merkel beside him.
Merkel responded with a shocked expression but said nothing.
If anything, Trump managed to exacerbate the situation, reviving the diplomatic headache created when it was revealed in 2013 that U.S. intelligence had eavesdropped on Merkel's cell phone, as well as the unfounded assertion that Obama had outsourced the Trump Tower surveillance to British intelligence. The British government denied the claim Friday.
Trump said he was citing "a very talented lawyer on Fox" ― presumably Fox contributor Andrew Napolitano: "So you shouldn't be talking to me, you should be talking to Fox. OK?"
During the campaign, Merkel was among the foreign leaders Trump loved to bash most. He accused her of "ruining" Germany, primarily, in his view, with her willingness to accept Syrian refugees. The criticism intensified after she beat him out for Time's "person of the year" in 2015. (Trump won the honor in 2016, after winning the presidency.) This January, Trump even blamed an attack in a Berlin Christmas market by a Tunisian on Merkel's acceptance of "all these illegals."
For her part, Merkel has not been shy in standing up to Trump. In a phone call with him shortly after he signed the first version of his ban on travelers from a handful of majority-Muslim nations in late January, her spokesman said she had explained to him the responsibility of accepting war refugees under international treaties.
And on Friday, Merkel said Germany had increased its defense spending by 8 percent in the past year, and planned to increase it again. What's more, she said, national security went beyond defense spending, and rightfully included money spent to help people in poor and war-torn countries build better lives. "It's also promoting development assistance, but it's also helping missions in Africa, for example, in trying to stand up for their own safety and security," Merkel said through a translator.
The two have divergent views on other issues, as well. Merkel supports work to reverse human-caused climate change. Trump has called climate change a hoax perpetrated by the Chinese and has eliminated programs to stop it from his proposed budget. She is an advocate of free trade, while Trump has promised to tear up trade deals.
Merkel will play host to Trump this summer, at the G-20 summit of the world's major economies in Hamburg.
REAL LIFE. REAL NEWS. REAL VOICES.
Help us tell more of the stories that matter from voices that too often remain unheard.